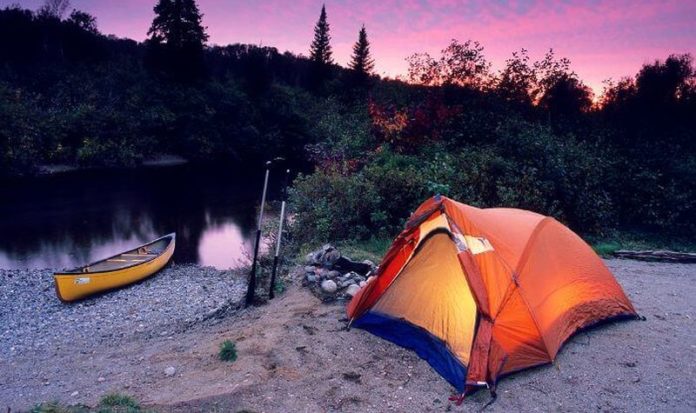 All of you making last-minute plans for this weekend, it's time you check out something different- campsites! Yes. For the unaware, there are a bunch of adventurous and interesting campsites around the city which are perfect to spend a long weekend, be it with friends, partner or with full famjam. Check them out RN.
1. Camp Mustang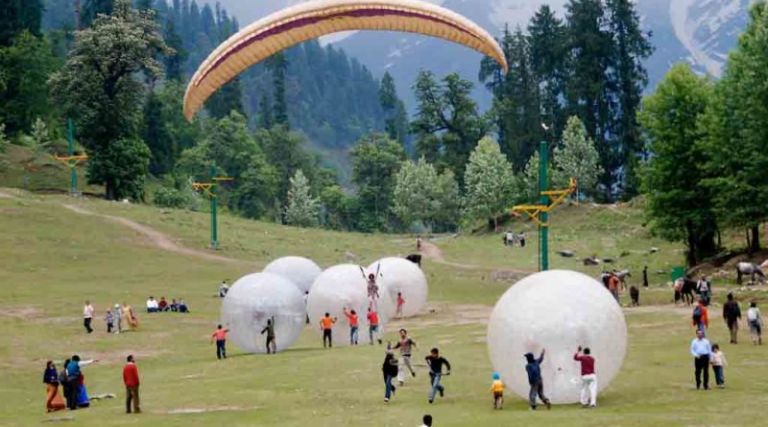 Situated in the countryside farms of Manesar, Camp Mustang offers loads of outdoor adventures. It is a perfect destination as you can explore fun activities like trekking, air rifle, rock climbing, cycling, farming and many more. You can plan a visit with your cousins, friends or for #FamBam time and it's only 20 km from Gurgaon. For all the foodies, they have both vegetarian and non-vegetarian cuisine and barbeque is also arranged near the campfire.
Where: Near, Badshahpur, Garat Pur Bas, Haryana
Distance From Delhi: 37 km
Drive From Delhi: 1 hourF
Contact: 099110 39423

2. Camp Wild Dhauj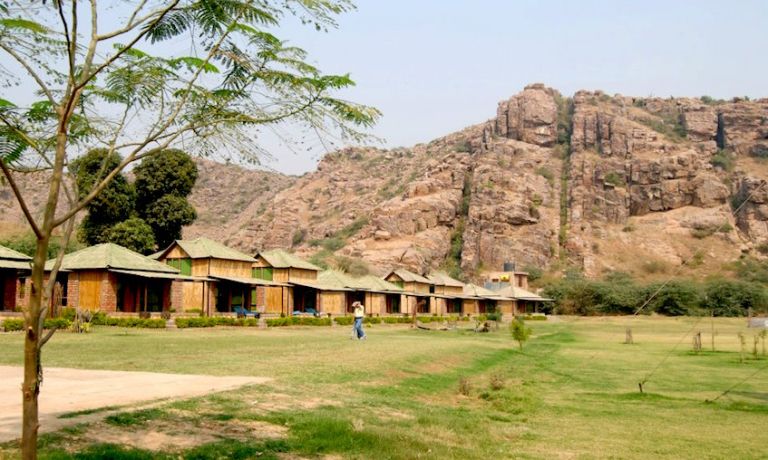 Amidst the super happening location, Camp Wild Dhauj is one of the most beautiful sites when it comes to camping. They offer fun activities for everyone including hot air balloon, paintball, natural rock climbing, hiking, rappelling and much more. Apart from this, they have a wide range of off site visits, from the Taj Mahal to Jaipur to Rishikesh. Also to complete your weekend, you can enjoy bonfire night, and sing, dance the night away before heading back to your monotonous life!
Where: Manger – Dhauj Rd, Mangar, Haryana
Distance From Delhi: 35.4 km
Drive From Delhi: 1 hour
Contact: 099992 73336

3. The Blue Camp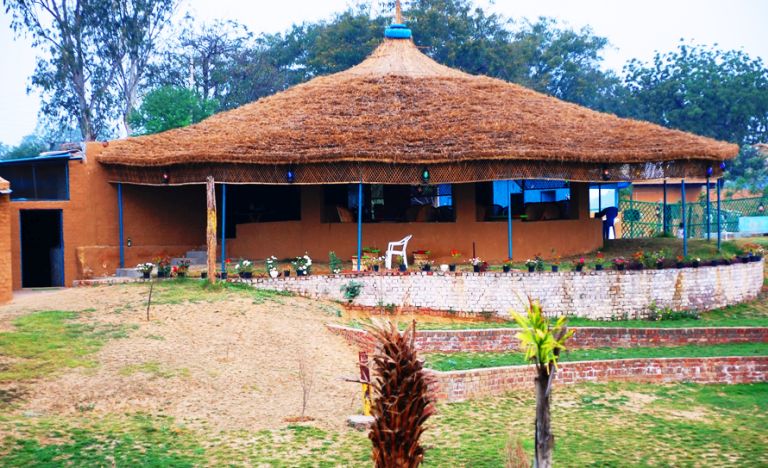 The proper vacay feels comes when you are away from your home, and what could be better than driving to the Damdama lake for a soothing and peaceful camping experience. The scenery is breathtaking and the greenery all around will make it even worthwhile to stay. You can enjoy at Obstacle Park (Tyre Balance, Monkey Crossing, Ladder Crossing, Balance walk), do village activities (Pottery making, Tug of war), some recreational activities (Hiking, Fishing, Boating), rain dance, bonfire and many more. You can even talk and socialize with other campers.

Where: Damdama Lake, Damdma, Haryana
Distance From Delhi: 38 km
Drive From Delhi: 1 hour 15 minutes
Contact: 098117 73492

4. Adventure Camp Sohna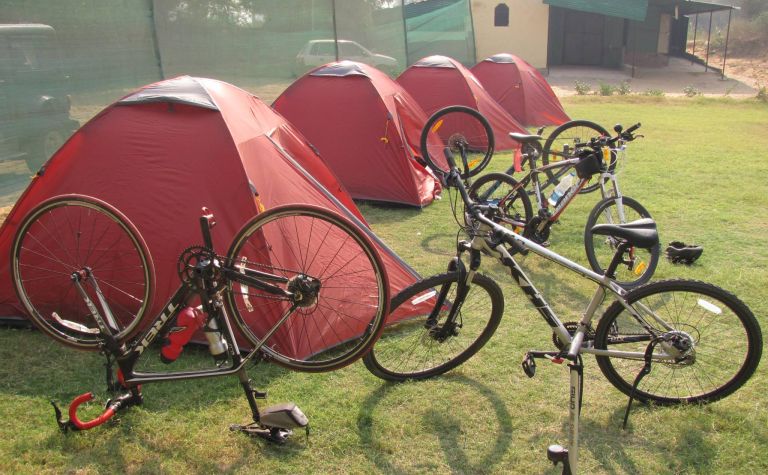 Adventure Camp Sohna believes in self camping, so keep in mind to carry your own camping gear or you can even hire the same from them. You can indulge yourself in numerous super cool activities like paintball, mountain biking, rock climbing, rappelling and many more. But the best part about the Adventure camp is that you all can get to spend peaceful time away from the hustle bustle of the city. After the tiring activity session, you can hog on to their buffet-style cuisine.
Where: Eco Towers, A-14, Sector 125, Noida, Uttar Pradesh
Distance From Delhi: 28 km
Drive From Delhi: 40 minutes
Contact: 0120 428 2323

5. Bikamp Aravallis Camp Resort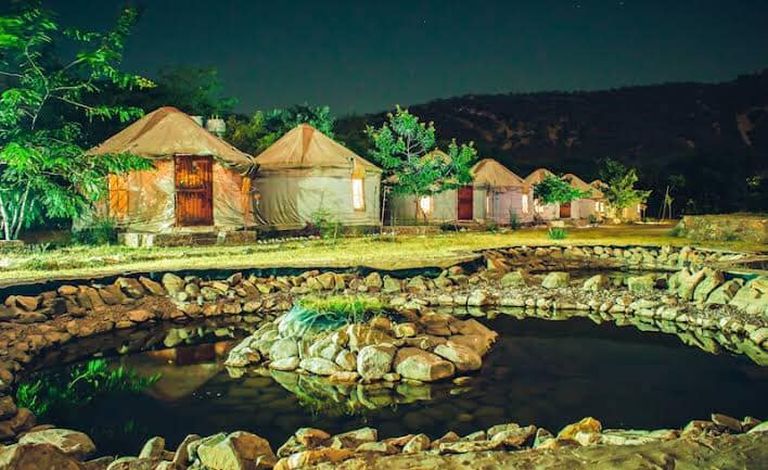 If you are that kind of person who craves for picturesque views, mountains, and cool breeze, then Bikamp Aravallis Camp Resort is a place for you guys! You can expect proper hygiene and safety while you are staying in amazing camps. Enjoy fun activities like rock climbing, ATV riding, sitting by the campfire and many more. In short, you can have one heck of a time with your gang! So, peeps don't wait and start packing your camping gear.
Where: Beri K Hanuman Ji Rd, Norang Pura, Rajasthan
Distance From Delhi: 200 km
Drive From Delhi: 3 hours 30 minutes
Instagram
Contact: 098188 24450

6. Damdama Natural Adventure Camp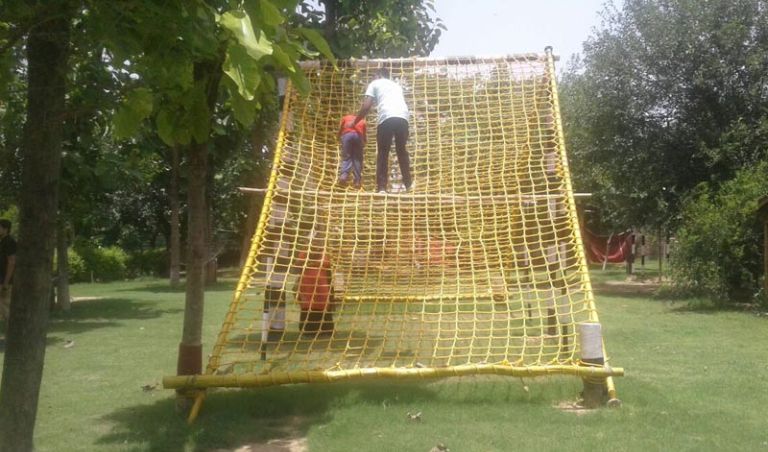 It's time to head out away from the city's hustle bustle to nearby two hours drive, Damdama Lake for a serene and magical camping weekend! Their camping program includes activities Burma bridge, Commando Net, Tyre Glider, Monkey Crawl, Rope Climbing, Tyre Wall, Badminton, Cricket, Volleyball, and many more. You can also chill there by doing some boating in the Damdama Lake. You should definitely head to this place if you are looking for some activities, fun and peaceful time.
Where: Khobri, Harchandpur, Near Sohna, Gurgaon , Haryana
Distance From Delhi: 42 km
Drive From Delhi: 1 hour 20 minutes
Contact: 093128 34583
7. Camp Aqua Forest Resort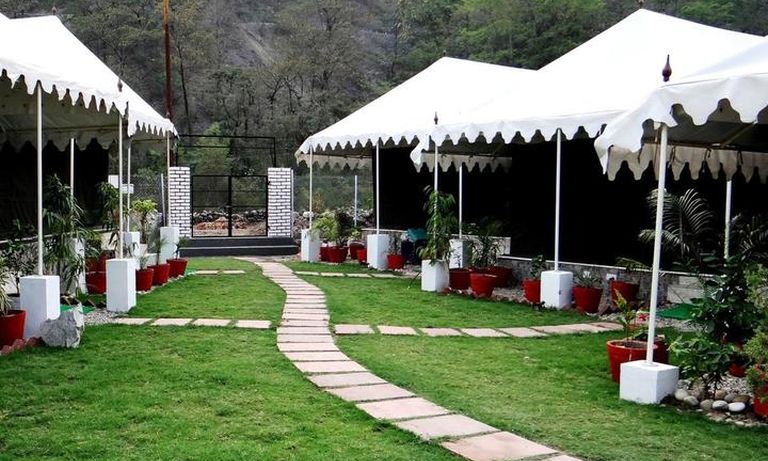 What can be better than camping in Rishikesh, around the lush greenery surrounding and flow of holy Ganges? Camp Aqua Forest Resort provides good food and accommodation, apart from that they also have rock climbing, bonfire, trekking, and many more adventurous activities. And if that's not enough, then these guys have nature and bird walks. How cool is that? So it's time to get lost in the beauty of nature for a while.
Where: Neelkanth Mandir Road, Ghattugad, Rishikesh
Distance From Delhi: 261 km
Drive From Delhi: 6 hours
Contact: 099978 92243

(Featured Image Source: travel triangle)