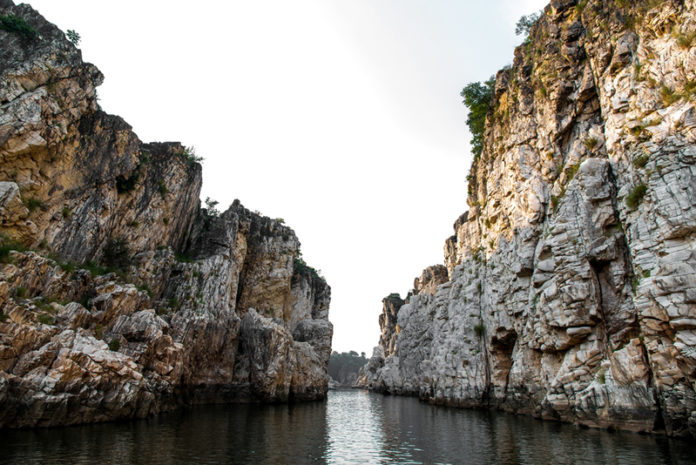 Since its already mid-April, we are sure most of you must have already started making plans for the summer. Or you would have at least started giving some thought to it. While International holidays may not always be feasible, you would also not want to go to those same old, done to death destinations in India. So, we have put together a list of 8 offbeat vacay destinations for you to explore this summer.
1. Mawlynnong Village – Meghalaya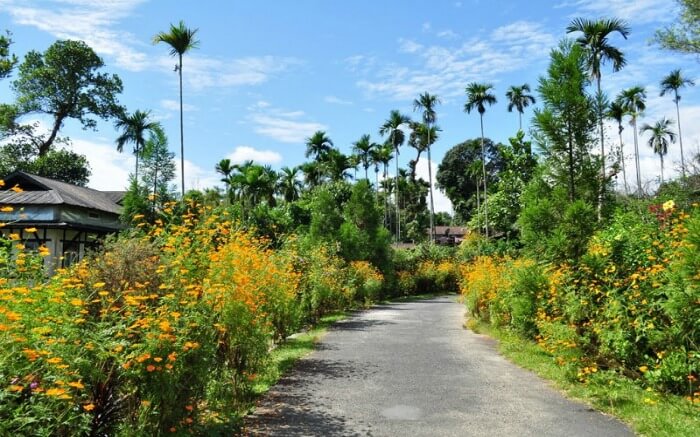 Mawlynnong Village (also known as God's Own Garden) is located in the East Khasi Hills district of Meghalaya. Mawlynnong was awarded the title of Cleanest Village in Asia by Discover India in 2003. It also boasts of 100 per cent literacy and a women empowerment scenario that the rest of the world can only dream of! But that's not the only reasons why should be visiting this place. There is also a lot to see in this village, the major attraction being the living root bridges. Made by connecting the ariel roots of one massive rubber tree to another, these bridges have been declared a UNESCO World Heritage site. Since this village lies on the Indo-Bangladesh border, you will also be able to see the Bangladesh landscape from here. Since this village is well connected to major cities like Shillong and Cherrapunji, it can be easily reached by road.
How to get there: The nearest airport from Mawlynnong is Shillong, at a distance of 78 km. So, from Delhi, you can take a flight to Shillong from where you can take a bus or a taxi to get to the village. The nearest railway station is in Guwahati which is 172 km, so from Delhi to Guwhati you can take a train and then again you can opt for a cab or bus from there.
2. Halebid – Karnataka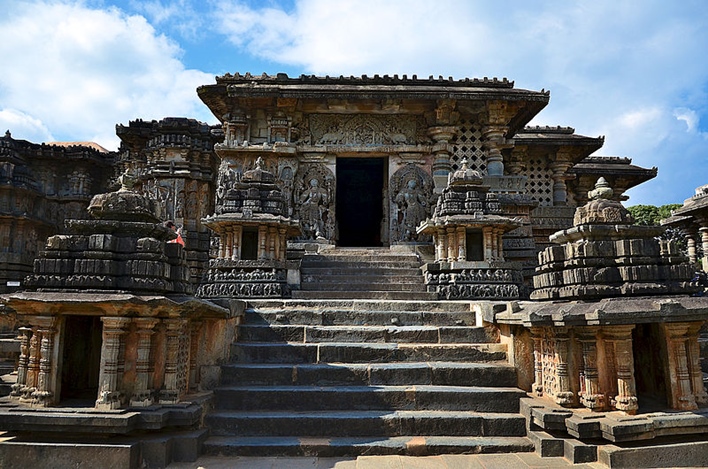 Formerly known as Dwarasamudra, Halebid (or Halebidu) is located in the Hassan district of Karnataka state. This was once the regal capital of the Hoysala empire but is now is in ruins. However, it still attracts tourists, thanks to its rich heritage and striking art and architecture. It houses a beautiful collection of temples, shrines and sculptures. The Hoysaleswara temple, Belur, Shantaleswara temple, Kedareswara temple are some of the important places you must visit while you're here. There is also an archaeological museum here which will take you for another ride through the past. A number of Jain temples and other significant structures add to the spirituality of the place.
How to get there: Halebid can be easily reached by road, by air and by rail. You can take a flight from Delhi to Bangalore and then go to Halebid by road. It is 226 kms from the Bangalore airport.
3. Majuli – Assam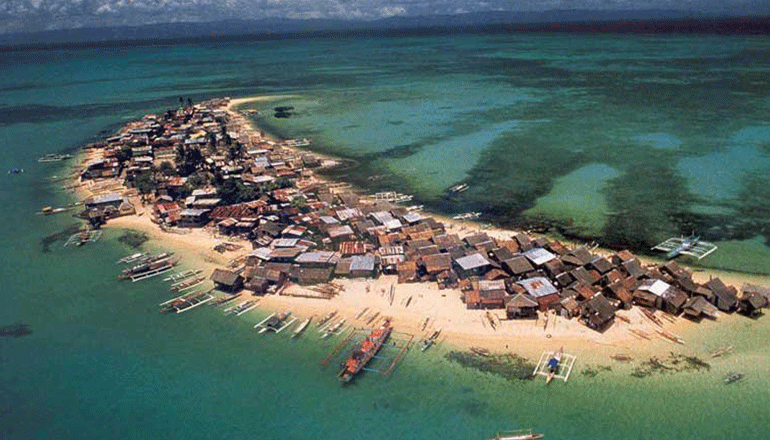 Majuli island is the world's largest river island in the midst of the Brahmaputra. Tribal and farming communities inhabit the majority of Majuli Island. You can hire a bike and enjoy the picturesque views of rice paddies, small villages and roads lined with bamboo archways. On the roadside, you can watch villagers practising the ancient craft of hand looming that the region is famous for. You can also purchase the brightly coloured textiles at local road stalls. For many Hindus, Majuli Island is a pilgrimage site. There are with 22 satras on this island. You can visit each of these on the island or select just a few. A satra is a Vishnu monastery where teachings, plays and prayers are conducted. Majuli island is also popular for bird watching too. Fun fact: The island shrinks to less than half its size, in monsoon season!
How to get there: Majuli Island is accessible only via ferry from the banks of the tiny town of Nimatighat (about 12 km from Jorhat). You can take a flight fromDelhi to Jorhat and then go to Nimatighat by road and take the ferry from there. A ferry ride costs 30 rupees per person and an additional 700 rupees if you want to take your car. A car is advisable as there is limited transport to get around the island. Although renting a bicycle is a feasible option once you're in town.
4. Khajjiar – Himachal Pradesh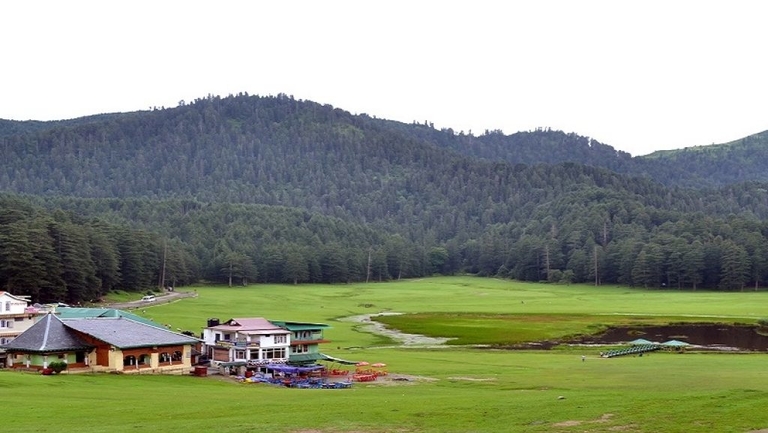 Khajjiar is a small town near Dalhousie and is often referred to as the 'mini-Switzerland of India'. It is located at an altitude of 6,500 feet and is known for its nine-hole golf-course which lies nuzzled in the middle of lush greenery and a breathtaking landscape. Khajjiar, a small plateau, also houses a small lake and is surrounded by green meadows and dense forests. The Khajjiar Lake and the Chamera Lake add to the charm of this place. Trekking happens to be the best way to explore this town. It also serves as the starting point for treks to Chamba, Dalhousie and Kalatop Wildlife Sanctuary. It is also known for its beautiful temples and the Khajji Naga Temple is the most sacred shrine in Khajjiar.
How to get there: This town can only be reached by road and is well connected with other towns in the Chamba Valley. From Delhi you can either take a train or a flight to Pathankot and then from there you can head to Khajjiar by road, it is 98.4 kms and should take you approximately 3 and a half hours.
5. Talasari Beach – Odisha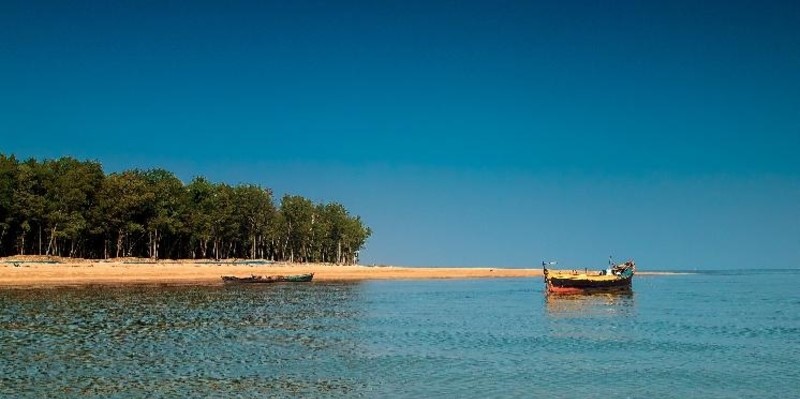 On the North Eastern coast of India, the Talasari Beach is located in the Baleswar district of Odisha. TheTalasari shoreline is flawless and peaceful and hence is also called the 'Virgin Beach'. It is surrounded by coconut and cashew trees and is known to be the last beach on the northeastern coast of Odisha. It is also referred to as a fisherman's paradise as it doesn't experience many tourists. You can enjoy a boat ride on this pristine beach in its super clean backwaters as well as the main beach. There are also some attractions you can explore around this beach such as the Science Centre, the Marine Aquarium and the Lankeshwari Temple. The beach can be reached by boat during high tides, but other times you can simply walk on the dried river beds towards the beach.
How to get there: The nearest Airport is the Kolkata airport, from where you can hire a taxi to get to this beach. You can take a flight from Delhi to Kolkata and then drive down to Talasari Beach (200 km).
6. Nubra Valley – Ladakh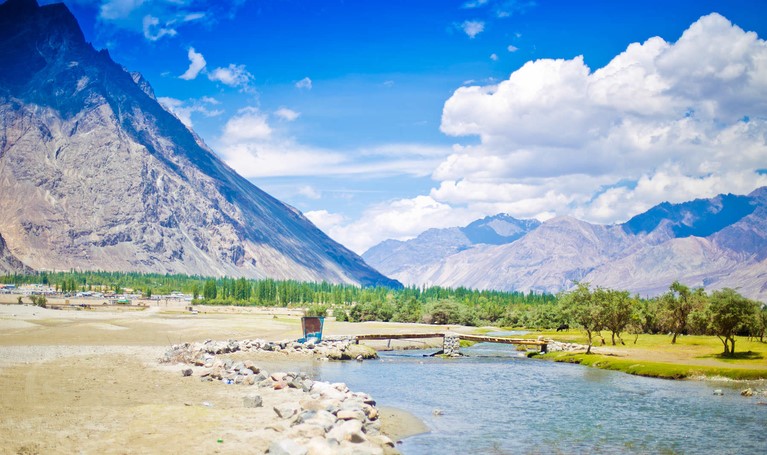 Nubra Valley, also known as the Orchard of Ladakh, is a tri-armed valley located to the northeast of the Ladakh Valley. The average altitude of Nubra is about 10,000 ft above from the sea level and is surronded from all sides by the snow-capped Himalayan ranges. The main attraction of Nubra Valley are Shaggy double humped Bactrian Camels around sand dunes; Panamik, a beautiful scenic village famous for its hot springs; the Yarab Tso Lake, Diskit Monastry or Diskit Gompa, Hunder Monsatry, Lacchung Temple, Maitreya Buddha Statue, Samstanling Monastery, and the world's highest motorable pass, Khardung La Pass (18,380 feet). You can see apricot trees loaded around the entire village, making this beautiful valley a must see place in Ladakh.
How to get there: Kushok Bakula Rinpoche Airport in Leh is the nearest airport (120 kms) and the valley can be accessed by a private cab or bus after your flight. From Delhi you can take a flight to the Leh Airport and then go to the valley by road.
7. Valley of Flowers – Uttarakhand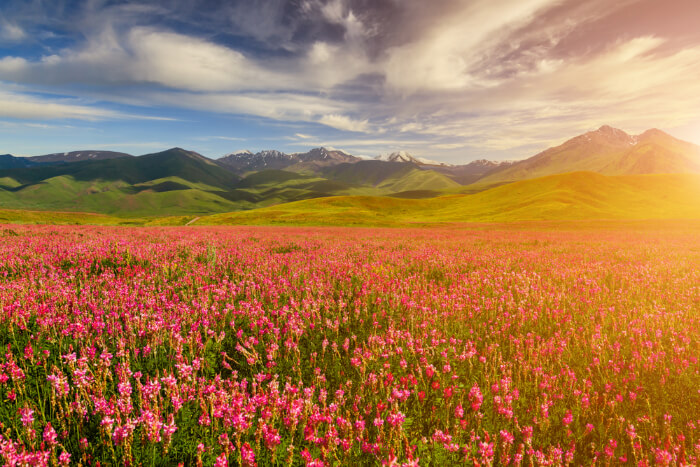 A world heritage site, the Valley of Flowers is a sprawling expanse of 87 kilometres in the Chamoli district of Uttarakhand. It is set in the backdrop of the majestic Zanskar Ranges and is actually situated at the conversion point of the Himalayan ranges Zanskar and Western and Eastern Himalayas. This valley is famous for its exotic varieties of medicinal herbs and is filled with blooming flowers of rare varieties, especially the endemic alpine flowers such as the golden lilies. About 520 high altitude plants are found here. Even the animals found here are of rare and/or endangered species. Among the most commonly found animals are a snow leopard, Musk Deer, Red Fox, Common Langur, Himalayan Brown Bear and many more. The best time to visit this valley is between the months of June and September. You must also keep in mind that you can only enter the valley during day time i.e., between 7:00 AM and 2:00 PM, and you will have to leave before 5:00 PM.
How to get there: The Valley of Flowers is well connected with most of the important towns and cities of Uttarakhand. The nearest airport is Dehradun Airport. From Delhi, you can take a flight to Dehradun, from where you can go by road to Govind Ghat (300 km). From there you will have to commence a trek of 16 km.
8. Bhedaghat – Madhya Pradesh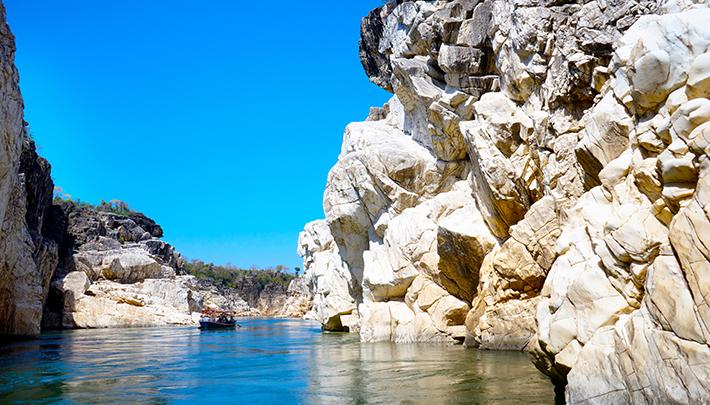 Bhedaghat is a town and a Nagar panchayat in Jabalpur district of Madhya Pradesh. It is situated by the side of the river Narmada and is approximately 20 km from Jabalpur city. Bedhaghat is also known as the Land of the Marble Rocks because of the 100 ft tall resplendent rocks on either side of the Narmada. These white rocks with black and green volcanic seams look even more beautiful on a moonlit night. You can also enjoy boat rides during the moonlit nights for a memorable experience. A ropeway and cable car is also available here that takes you through the valley making an unforgettable experience of exploring the marvel of nature and striking sight. As you sail along the river, the mountains are known to change shape. The calm Narmada also descends a massive 98 ft creating the stunning Dhuandhar falls. Another famous tourist attraction in Bedhaghat is the Çhausath Yogini Temple' which is an abode for Goddess Durga. It includes the carvings of 64 yoginis!
How to get there: It is very convenient to reach Bedhaghat by air, as the nearest airport to this place is Jabalpur which is just 23 km away. From Delhi you can either take a flight or a train from Delhi to Jabalpur and then go by road to the Flower Valley.
Featured Image Source: Outlook India