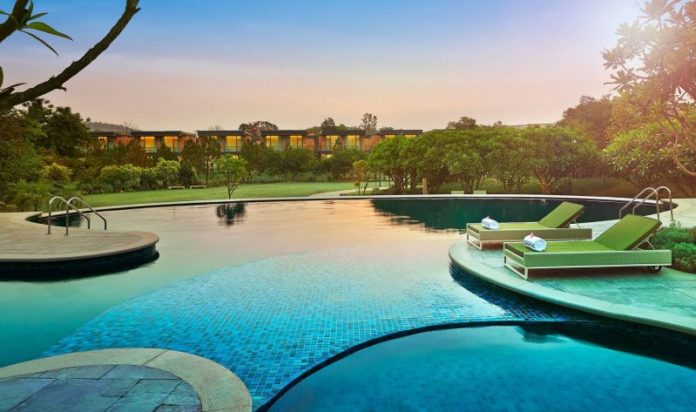 Finally, a long weekend is upon us and we can't help getting excited about all the fun things we're going to do in our free time! Of course, taking a mini vacay must be on top of everybody's list. But don't worry if you don't have elaborate plans this Good Friday weekend. Simply check out these 7 amazing resorts around Delhi and head there for a staycation this weekend with full family. Sounds like a plan, right?
1. Botanix Nature Resort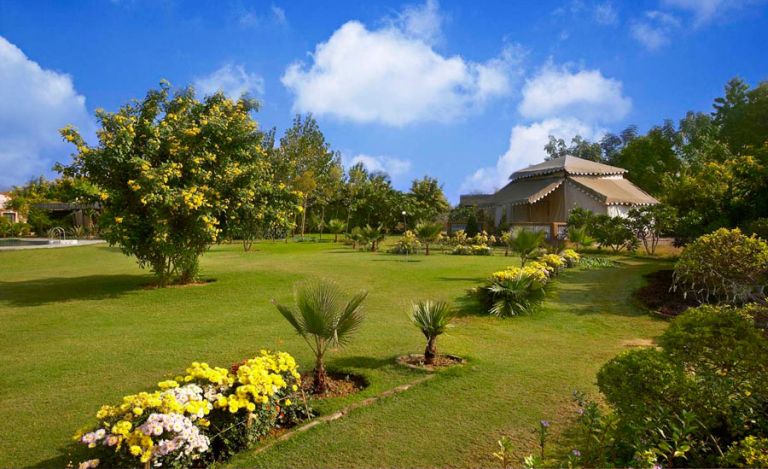 Nestled in the foothills of the Aravalli Hills, on the edge of Damdama Lake, Botanix Nature Resort boasts of gorgeous gardens where you can enjoy the beauty of nature. You can go chill in the lawns and try activities like Tree Go Bridge, Tug of War, Spider's Wall, Walk On Air, Balance Walk, Swinging Bridge, and lots of more amaze stuff. It's a complete #FamJam spot and you can also indulge in ATV bike rides, bullock cart ride, zorbing (rolling downhill) and a football match with your siblings. And if nothing else, go splish-splash in the pool! If you have adventure-loving adults and thrill-seeking youngsters in your family, you should totally head here!
Where: Damdama Village, Near Damdama Lake, Sohna Rd, Damdama, Tehsil, Sohna, Haryana
Distance from Delhi: 54 km
Drive from Delhi: 1 hour 54 minutes
Contact: 0124 438 2565
2. The Roseate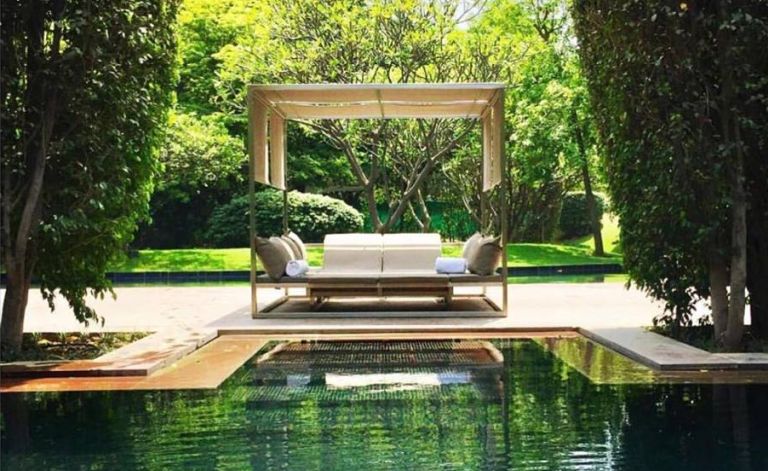 This resort offers a jaw-dropping view with lush greenery all around and tons of relaxing experiences! The Roseate provides facilities like trekking, yoga and a fitness centre. Right from the time you enter till the time you check out, you will be provided with superior and personalised service. Sounds fancy right! So if you have pampered family members who prefer uber luxury even on vacations, then you must opt for this one.
Where: National Highway 8, D Block, Samalka, New Delhi
Distance from Delhi: 30 km
Drive from Delhi: 1 hour 2 minutes
Contact: 011 3355 2211

3. The Gateway Resort Damdama Lake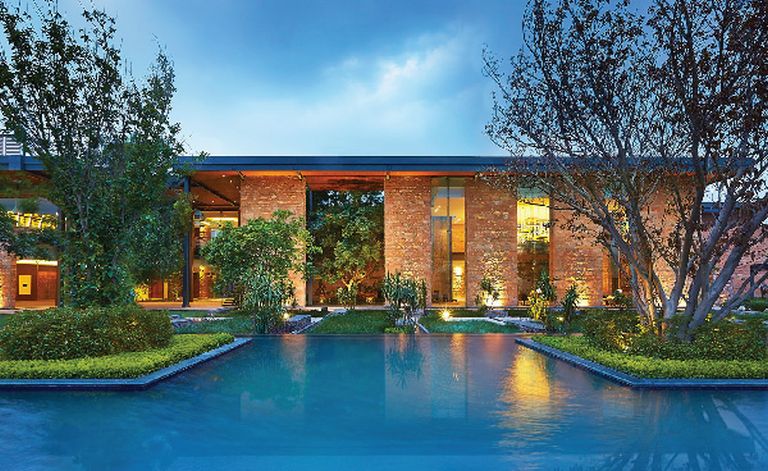 The Gateway Resort is going to give your travel goals to a whole new level! It has an infinity pool and lots of activities which you and your ones can enjoy together. You can recharge your mind with a brisk walk through acres of lush greenery and a specially designed spa. Apart from warm Indian hospitality, you can also experience a stay that will leave you wanting more!
Where: PO Damdama, Off, Sohna – Gurgaon Road, Gurugram, Haryana
Distance from Delhi: 55 km
Drive from Delhi: 1 hour 50 minutes
Contact: 0124 267 7200

4. Surjivan Resort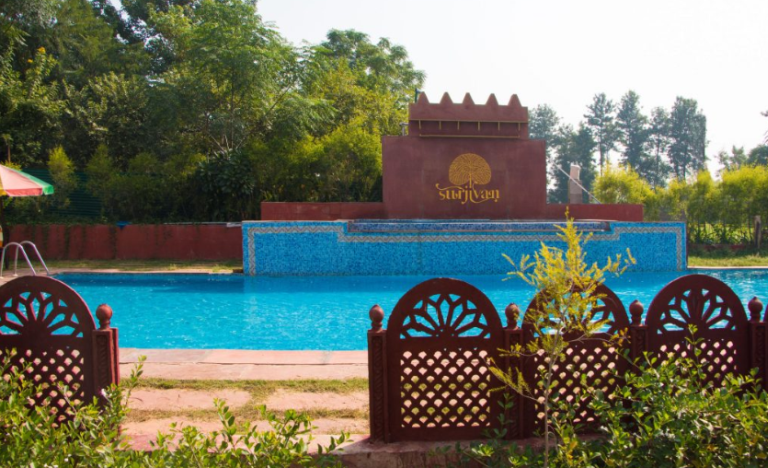 As soon as you step in here, you will be greeted with an old world charm. Surjivan Resort is a perfect spot to reconnect with the simplicity of ethnic living. The resort has a village like set up with clay walls and thatched roofs. You can indulge in numerous activities like Village Safari on a tractor, gun shooting, zip lining, rappelling and much more. The food here is served according to rural customs, with floor seating. BTW the cuisine they serve is typical Rajasthani, so be prepared to be treated with some amaze food from the region.
Where: Naurangpura-Tauru Road, Opp ITC Grand Bharat Hotel, Gurugram, Haryana
Distance from Delhi: 58. 2 km
Drive from Delhi: 2 hours 5 minutes F
Contact: 085060 60606
5. Heritage Village Resort & Spa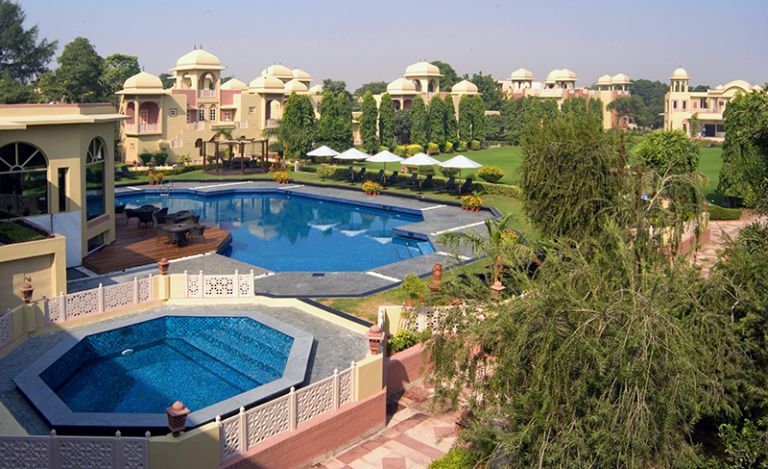 As the name suggests, it's a resort which gives you total feels of a heritage spot! The moment you enter, you'd feel as if you are in a Rajasthani haveli. Heritage Village Resort & Spa is surrounded by vast acres of lush greenery with picturesque backdrops. Kids can play by the poolside while you and your partner can indulge in some spa rejuvenation. Also, this resort is pet-friendly, so you can bring your four-legged friend along on the staycation. This one is the perfect spot if you have a nuclear family, with young kids and a cute, little pet!

Where: NH8, Manesar, Gurugram, Haryana
Distance from Delhi: 51 km
Drive from Delhi: 1 hours 10 minutes F
Contact: 0124 287 1500

6. The Lalit Mangar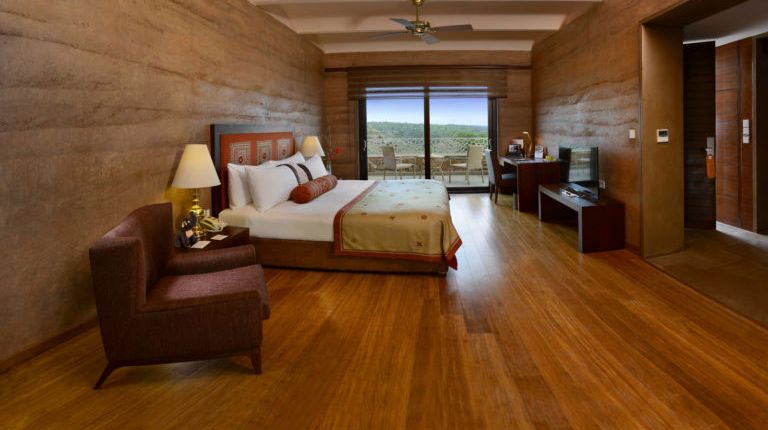 Situated in the middle of a forest, The Lalit Mangar offers an amazing view. You can indulge in activities like rock climbing, cycling, pottery, spa and many more. It's an ideal retreat for all the adventurous souls. They offer 34 luxurious suites, all with spectacular views. You can also relish a gourmet dining experience at the restaurant or can swill back a drink or two at their stocked bar.

Where: Camp Wild Road, Dera Mandi, Faridabad, Haryana
Distance from Delhi: 52 km
Drive from Delhi: 1 hours 5 minutes
Contact: 0129 715 7777

7. Karma Lakelands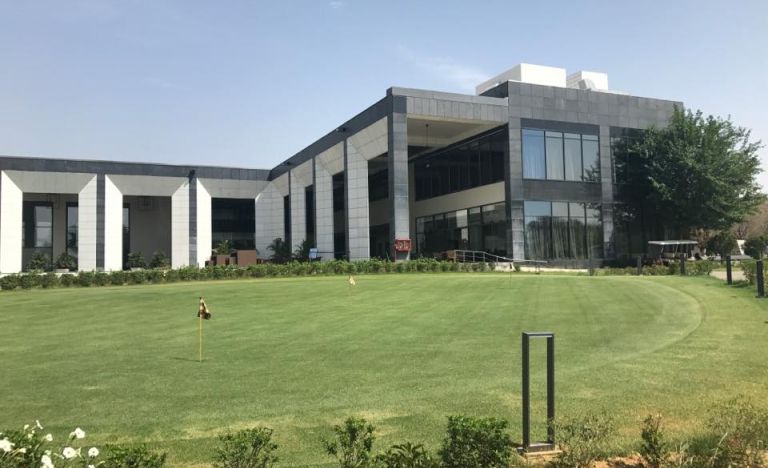 At the rim of the capital, this luxurious resort is nothing less than a palace! It offers luxury, comfort, and peace which makes a perfect place to escape with your loved ones. Karma Lakelands has both indoor and outdoor swimming pools. And yes, it's a perfect spot to play golf too. You can also indulge in activities like squash, tennis, badminton, and many more. For the fitness freaks, they offer a gym and spa too. So, wait no more, and start planning your trip RN! So, if you have a big extended family, complete with grandpas and grandmas, then you must head here this weekend!

Where: NH-8, Sector 80, Gurugram, Haryana
Distance from Delhi: 49 km
Drive from Delhi: 1 hour
Contact: 095999 44988
(Featured Image Source: makemytrip)