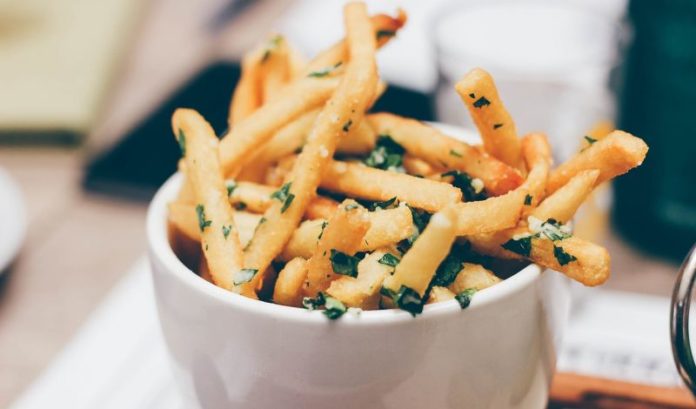 Fries have got to be the greatest comfort food of all time! No matter the weather outside, no matter your mood, no matter the company, fries fit well in every situation. BTW now there are all kinds of innovative fries available in your city So if you want to experiment, check out these 9 innovative fries and find out where to get them in your city.
1. Chocolate Fries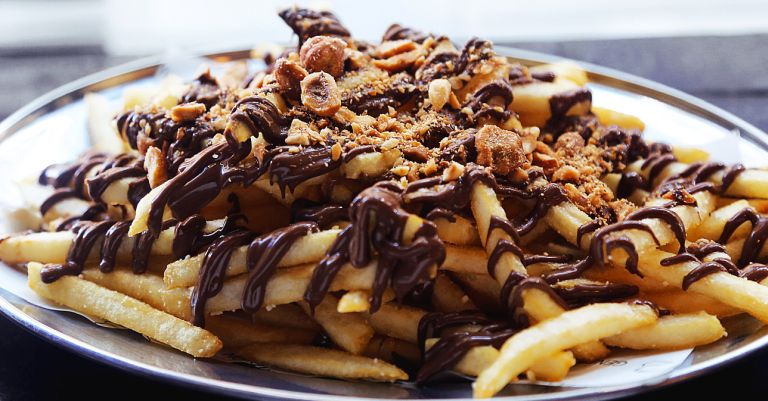 Have you heard of chocolate fries? A portion of fries topped with melted chocolate syrup sound SUPER tempting! While tandoori and peri peri fries are quite common, Jack 'n' Chill-All American Creamery came up with a different kind of fries. They also have Oreo and Nutella fries, which sounds even more fancy. Now doesn't that makes your mouth water?

Where: Jack 'n' Chill-All American Creamery- GK 1 & Anand Vihar
Contact: 01147000887

2. Belgian Fries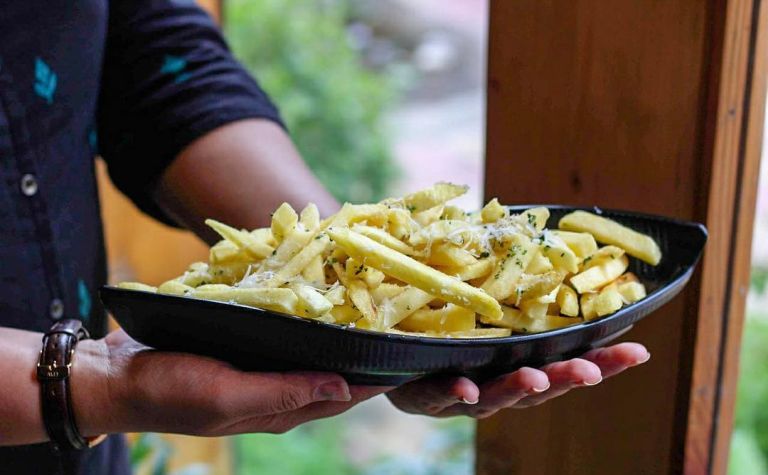 Do you agree that cheese makes everything taste a gazillion times better? The deep fried fries jogged along with spices, garnished with heaps of mayo and molten cheese, with oregano sprinkled all over them will make you crave more. Big Fat Sandwiches and Being Truckers serves amazing mouth watering belgian fries with an option to choose the toppings.

Where: Big Fat Sandwiches- GK 2, DLF Phase 2
Being Truckers- Sector 47, Noida

Contact: Big Fat Sandwiches- 011 42244211
Being Truckers- +91 9910391128

3. Wasabi Fries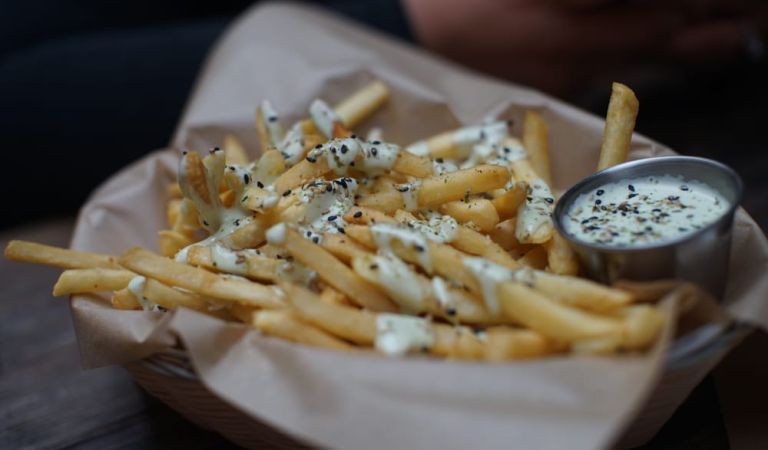 Ever heard of Wasabi fries? The fries are either dipped in wasabi sauce or aur served along with the sauce for dipping which totally depends on the cafe serving it. Confused what's wasabi sauce. It's a common Japanese spices which has a strong and spicy taste. Ivy & Bean serves Chilli Fries with Wasabi Mayo. The spicy flavour of the fries with combination of mayo and wasabi together is no less than a treat for our souls. You gotta grab these for sure.

Where: Ivy & Bean- 119, 1st Floor, Sishan House, Shahpur Jat, New Delhi
Contact: 011 41090119

4. Pizza Fries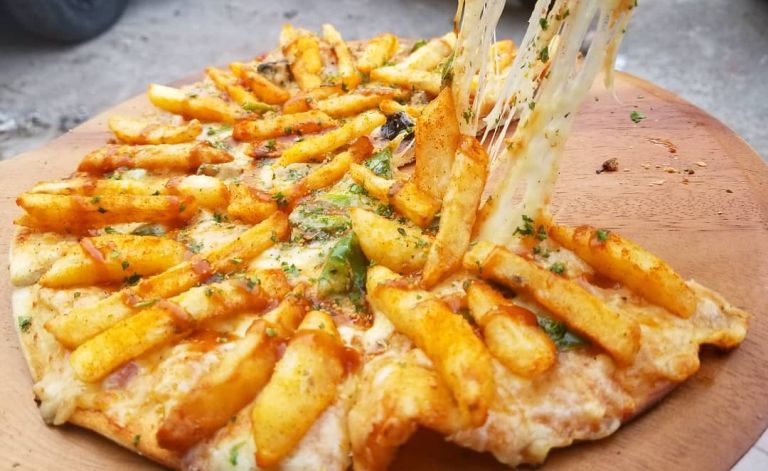 Often times, choosing between our regular pizzas or fries, becomes a little confusing, but you should be happy to know that the dilemma is over now. Shake Eat Up whips up this delicious-looking Fries Pizza, which basically brings two of our favourites together, fries and pizza! It is topped with variety of sauce and cheese. So, if we've tempted you enough, then go try this dish at once.
Where: Shake Eat Up – 2509, Ground Floor, Hudson Lane, Delhi University-GTB Nagar, New Delhi
Contact: +91 9013537642
5. Mexican Fries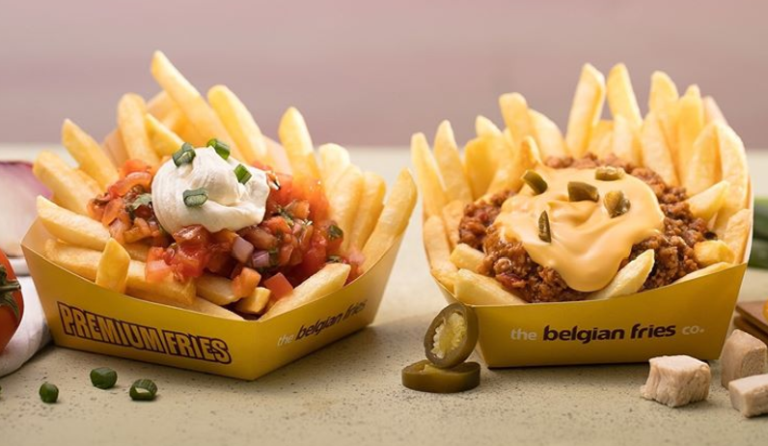 Regular potato fries topped with salsa and cheese sauce makes them Mexican Fries. Tempting though? Sprinkled with veggies and salsa sauce, The Belegain Fries Company fries are overloaded with cheese.You should defo check their outlet if you are in the mood for a twist to fries!
Where: The Belgian Fries Company- Vasant Kunj, Noida & Gurgaon
Contact: 011 4010460
6. Unicorn Fries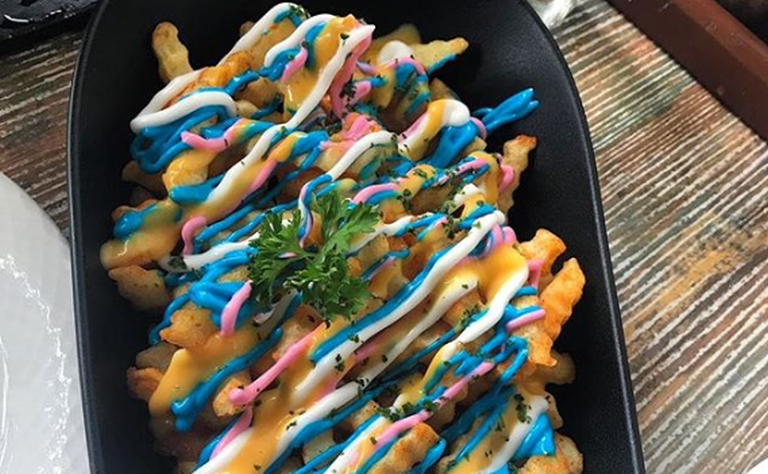 Whimsical, colourful and totally Insta-worthy are the words to describe Unicorn Fries. Slathered in blue, pink and white sauces, these dreamy Cheesy Unicorn Fries are completely a sight to behold! You can find Unicorn fries at our favourite Big Yellow Door cafe. Troop over to BYD for these magical Cheesy Unicorn Fries which are to adorable and yummy at the same time.
Where: Big Yellow Door- SatyaNiketan & GTB Nagar
Contact: +91 7042294298
7. Cheese Bacon Fries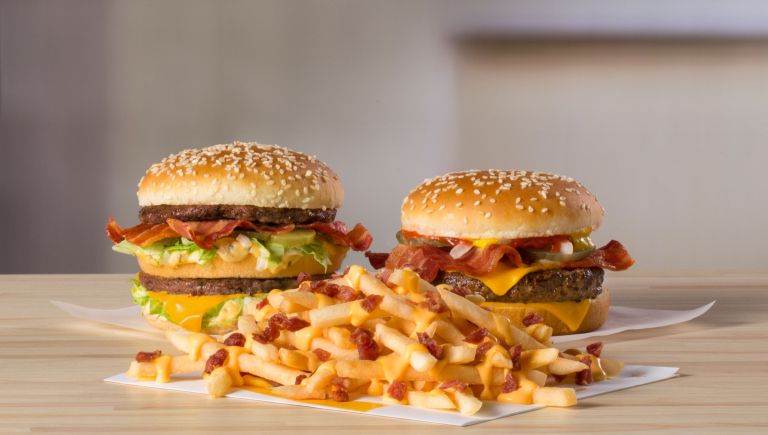 Have you tried Cheese Bacon Fries? They are covered with molten cheese and smoked bacon(meat) bits, try them today if you haven't. You can grab them at AMA Cafe. And mind you, these ain't your regular fries, as they come loaded with sauces, bacon, cheese and happiness!
Where: AMA Cafe-House 6, New Colony, Majnu ka Tila, New Delhi

Contact: 011 33105201
8. Pepperoni Cheese Fries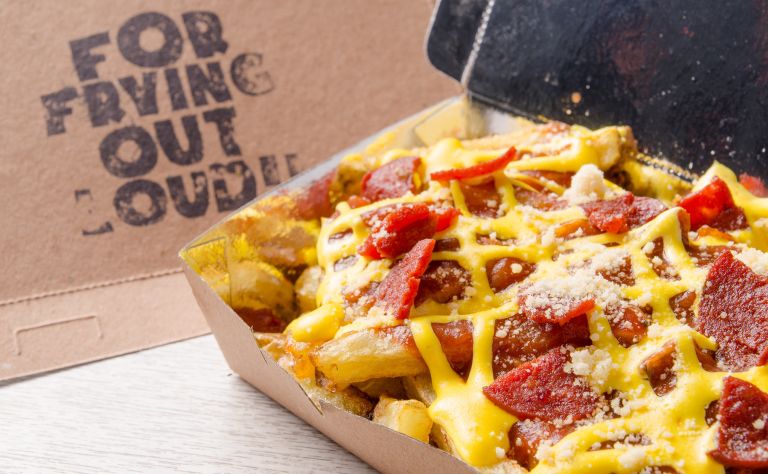 Fries and cheese, go hand in hand. And we are mad over fries and we love our normal fries, peri peri fries but have you ever heard of Pepperoni Cheese Fries. Fries are baked up and topped with tasty pizza sauce, melty mozzarella cheese, and pepperoni! Toniq Dry Bar & Kitchen does these tempting fries. Definitely, it is one of the kinds of calorie intake we don't mind!
Where: Toniq Dry Bar & Kitchen- A-10, Block A, Lajpat Nagar 2, New Delhi

Contact: +91 9899154647
9. Nachos Fries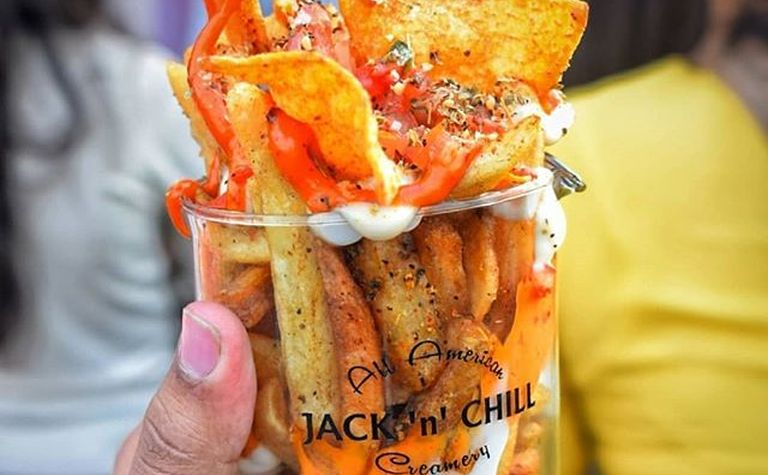 How does the combination of nachos and fries loaded with sauces and cheese sounds? Yummy right, then you should defo head to Jack 'n' Chill-All American Creamery. They serve plate full loaded with french fries and cripsy nachos topped with layers of sauces and molten cheese.
Where: Jack 'n' Chill All American Creamery- GK 1
Contact: 01147000887
(Featured Image Source: Pixabay)