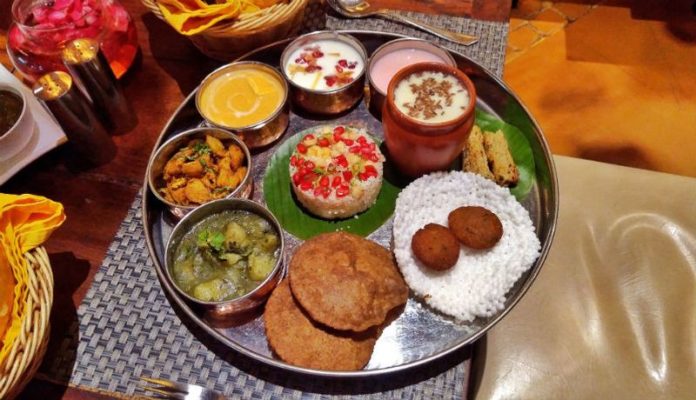 Navratris have already begun and the festivities will go on from April 6 to April 14. The nine-day long fast is observed by many devotees who keep fasts and only eat the Navratri special, Sattvik food throughout the celebration. If you're too are observing navratri fasts, then we've got a list of restaurants who are rolling out some amaze Navratri special food to walk you through the festival. Here are the places in Delhi-NCR where you can head to for a traditional Navratri meal this April.
1. Culina 44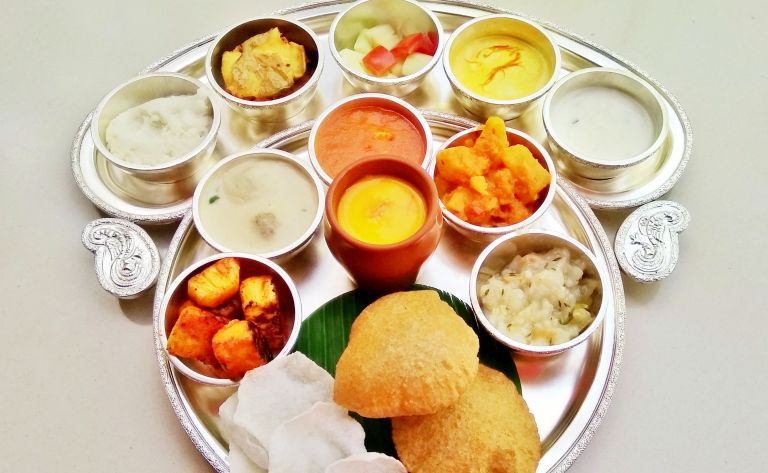 The festive season of Navratri is almost here, and it is time for both revelry and fasting. Keeping in mind the traditions and the strict food regimen avoiding the use of select ingredients, the signature Navratra Thali at Culina 44 presents a delightful assemblage of traditional delicacies such as Sitafal ki Sabzi, Sabudane ki Khichdi and Singade ki Poori.

Where: Culina 44, Taj City Centre, Gurgaon
Date: April 6 – 14
Time: Lunch: 12:30 PM to 3 PM; Dinner: 7 PM to 11 PM
Contact: +91-124-6673230
2. Punjabi by Nature 2.0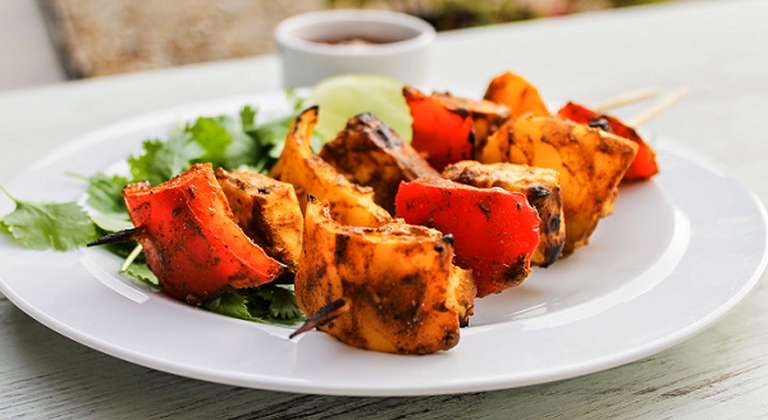 Begin your Navratri festivities with the specially curated Navratri menu at Punjabi by Nature. A sumptuous spread will be offered as you head there that will include delicacies like Mawe ki seekh, stuff paneer tikka, aloo ki sabzi, sitafal ki sabzi and many more delicious dishes. Desserts comprise of saboot dane ki kheer, yummy!

Where: Vasant Kunj, CP, Noida & Gurgaon
Date: April 6 – 14
Time: 12 PM to 11 PM
Contact: 0124 4665751

3. 1 Oak Cafe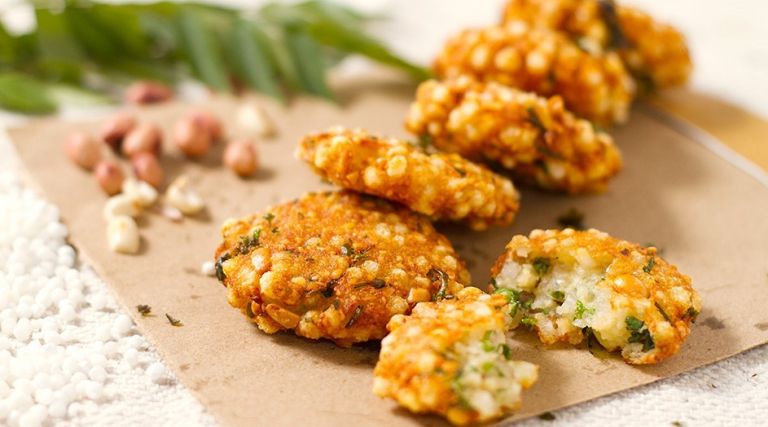 The season of festivities and celebrations is here. Delve into the authentic Navratri food at 1 Oak Cafe as they are serving lip-smacking satvik flavours this Navratri. Relish the classic fare which includes Sweet Potato Chaat, Sabudana Pakora served with sonth ki chutney, Arbi kofta with mint yogurt dip and Navratra Special Paneer Tikka. Complete your meal with a refreshing sweet Mango lassi, Sweet Faraali Pancake and fresh cut fruits.

Where: Moolchand Flyover Complex, Defence Colony, New Delhi
Date: April 6 – 14
Time: 11 AM to 11 PM
Contact: +91 9599082841

4. The Creative Kitchen & The Great Kabab Factory
Come and celebrate the Navratri festival from April 4-16 at Radisson Hotel. Tickle your taste buds with their delectable Navratra special cuisine. The menu for all days is different from the other. You will be treated with Sabudana Kheer, Sabudane ki Tikki, Jeera Paneer and Dahi wale Aloo. Apart from that, the platter also includes delicacies such as Kacche Kele ki Sabji, Shakarkandi chat, Samak Kheer, Aloo and Paneer Pakode and many more variants of the Navratra dishes.
Where: Radisson Noida, C Block, Sector 55, Noida
Date: April 6 – 14
Time: 11 AM to 11 PM
Contact: +91 9999462105

5. Nukkad On Wheels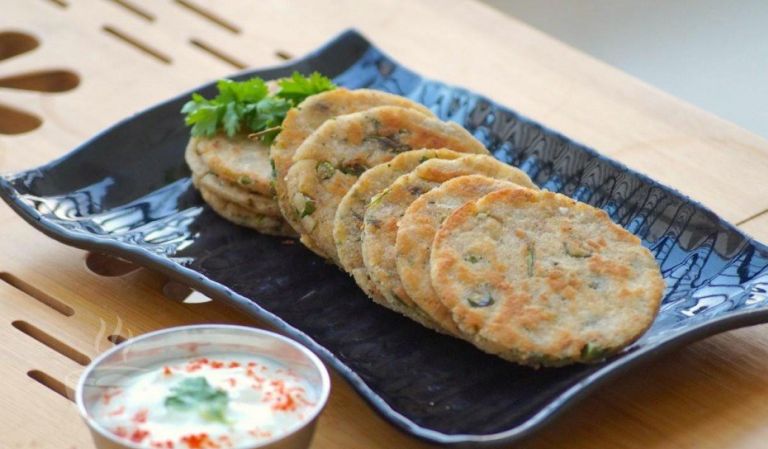 Fasting has never been so appetising. Even while fasting they ensure that we enjoy our dining experience. Choose from a variety of options like Kebab-e-Kela, Navratra Special Paneer Tikka, Singhare ki Poori with Dahi Arbi, Sabudana Pakora served with sonth ki chutney, and Kuttu ki Poori with Aloo Rasedaar. To compliment the food you can also order Mango Lassi and Banana Walnut Lassi.
Where: H-4A, 2nd Floor, Kalkaji, New Delhi (takeaway or delivery)
Date: April 6 – 14
Time: 12 PM to 11 PM
Contact: +91 9319241474
6. Anardana, Modern Kitchen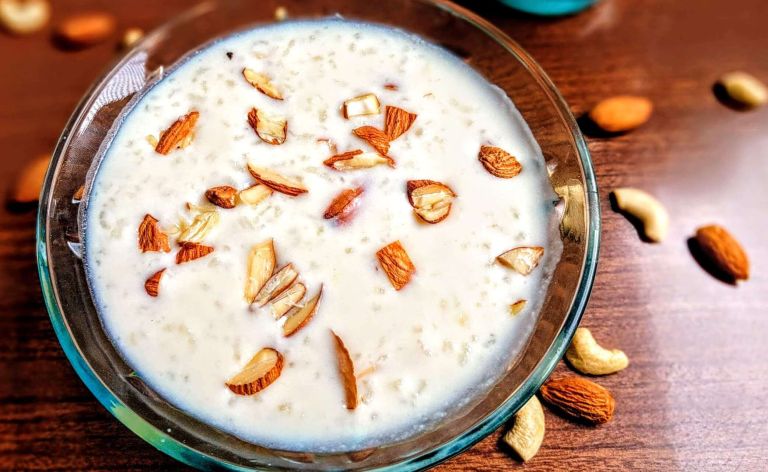 For this festive season, Anardana brings to you a special Navratri feast. The special Navratri menu consists of Samak ke chawal, kuttu ki poori, Samak Kheer, Fresh fruit cut, cucumber raita and many more dishes for you to devour a wholesome meal.

Where: 3, Hargovind Enclave, Vikas Marg, Delhi
Date: April 6 – 14
Time: 12 PM to 11 PM
Contact: +91 7303244952

7. Cafe NH8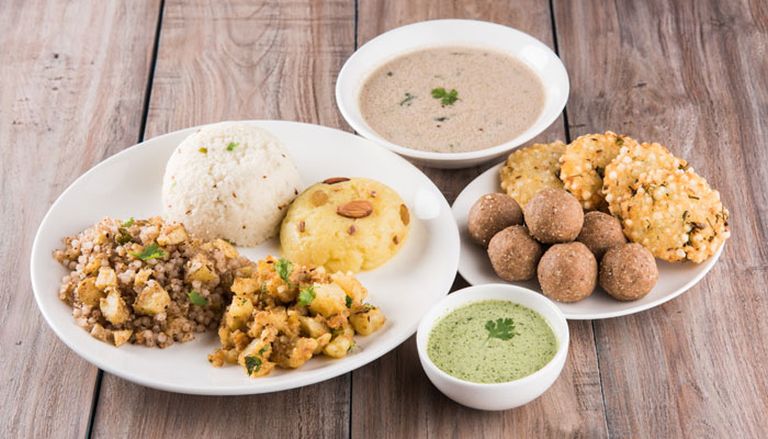 A celestial affair is best enjoyed with an ethereal treat which is why Cafe NH8 is all set with their Navratri specials. They have introduced a lavish navratra thali to savour your taste buds. Head to this place for some lip-smacking flavours during this festivity! Choose from a variety of options like Paneer makhana, Sitaphal ki subzi, Makhane & samak kheer and many more.
Where: Radisson, Udyog Vihar, Gurgaon
Date: April 6 – 14
Time: 12 PM to 11 PM
Contact: 011 30806626

(Featured Image Source: Whatsuplife.com)