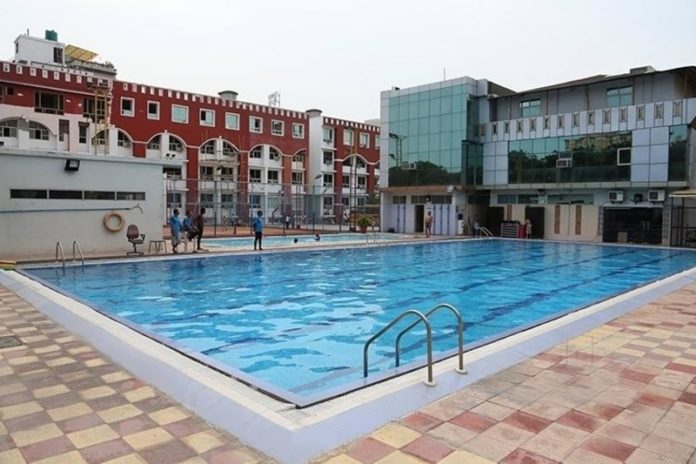 Summers are here in full swing and we're sure you are already looking for ways to literally chill! But what could be better than a splash for cold water in the scorching summer heat to cool you off? And swimming, of course, is the first thing which comes to our mind when it comes to beating the heat. Don't worry, even if you know don't know how to swim, you are never too late to learn. So, check out these amazing swimming centres in the city and swim away the heat blues!
1. Pacific Sports Complex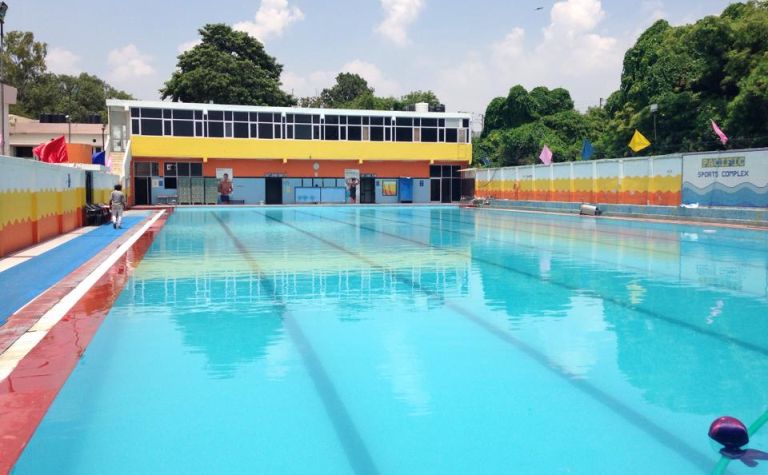 Started in 2003 with an Olympic sized swimming pool, Pacific Sports Complex has been training kids and adults to learn and improve their skills. They have both male and female certified trainers for the help. The best bit is that they are open 7 days a week as early as 5 am in the morning. In addition, they also have fitness centres and multiple sports facilities to have a great time.
Where: Rohini, Andrews Ganj & National Park Lajpat Nagar 4
Days: Monday-Sunday
Timings: 5 AM to 10 PM
Contact: 092117 83333
2. Khajan Singh Swimming Academy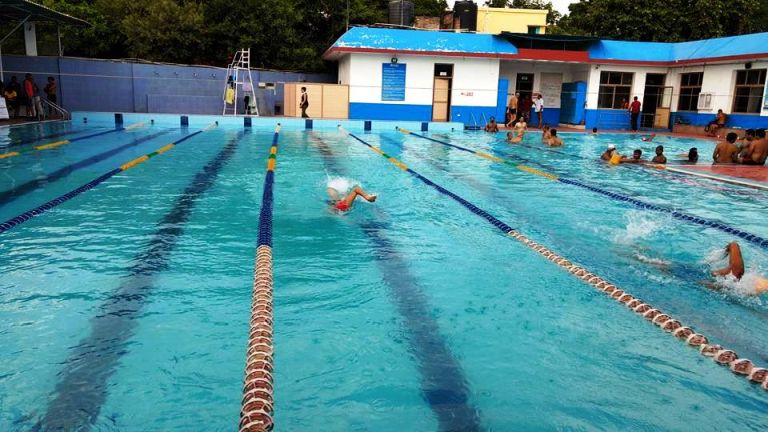 The swimming academy is built in the honour of swimming legend, Khajan Singh, and has olympic sized pool with international facilities, including well trained staff, hygienic conditions and lots more. The pool is operational from in two shifts: 5 AM to 8 AM and 4 PM to 9 PM but remains closed on Tuesday. So if you want to learn new skills, enroll now and learn to swim like a pro!
Where: J.N.U, Baba Gang Nath Marg, New Delhi
Days: Monday-Sunday, expect Tuesday
Timings: 5 AM to 8 AM and 4 PM to 9 PM
Contact: 011 2674 2747
3. Fitso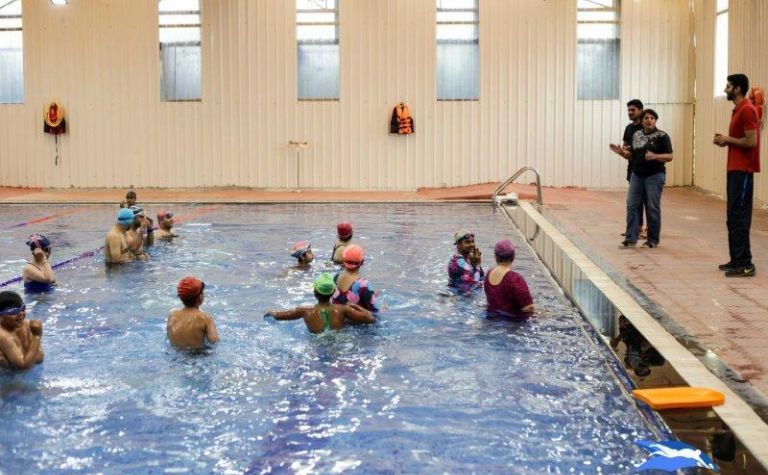 Looking for the perfect swimming classes? Fitso provides swimming facilities under the guidance of trained and experienced coaches. They Offer swimming programs for kiddos as well as for adults. Even if you guys just wanna go for a fun swim sesh, Fitso welcomes you with open arms! Moreover, they have temperature-controlled pools and you can take a minimum one month and maximum three month membership for any of their swimming programs.
Where: Gurgaon, Noida, Delhi, Faridabad & Ghaziabad
Timings: 11 AM to 8 PM
Contact: 080802 02086
4. Siri Fort Sports Complex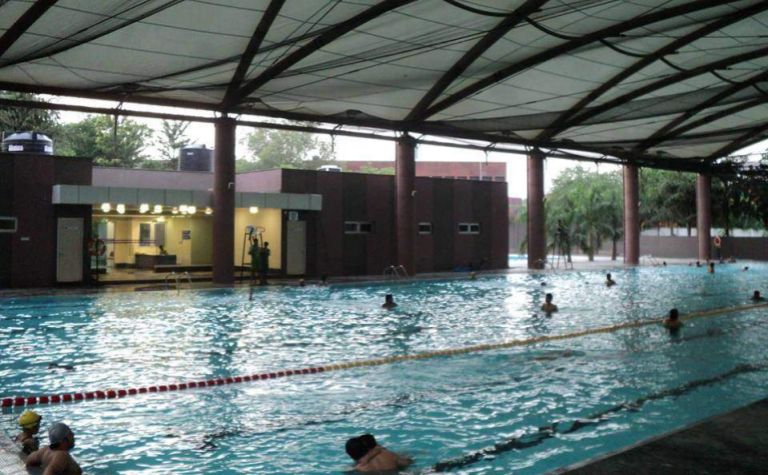 Siri Fort Sports Complex needs no introduction and trust us, the Olympic sized swimming pool is one of the best places to swim at. You have to be a member of the sports complex to get access to their swimming pool facility. You can even enjoy locker facilities, towels, shower space, swimming gear and expert trainers. Apart from swimming you have many other sports activities like tennis, badminton, cricket and lots more.
Where: August Kranti Marg, Siri Fort Road
Days: Monday to Sunday
Timings: 6 to 10 AM & 3 to 9 PM
Contact: 011 2649 6657
5. Dwarka Sports Complex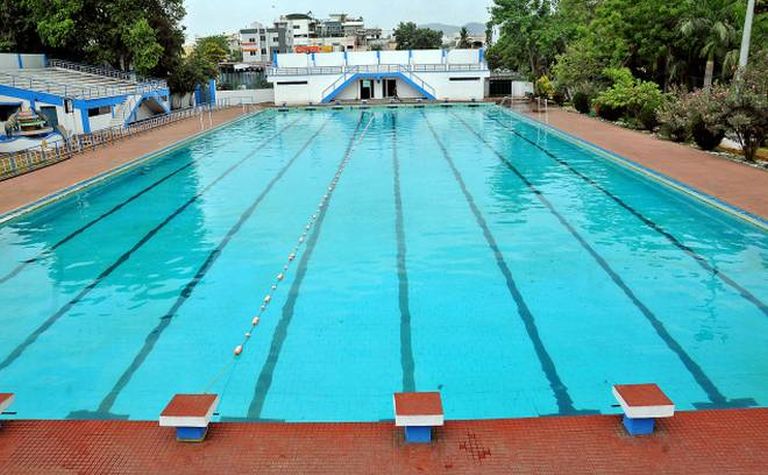 West Delhi peeps, you can expect nothing but the best at Dwarka Sports Complex. These guys are committed in providing the best swimming environment for swimmers. The best option is to enlist for temporary membership, which is mandatory for swimming facility. You will need to bring your own necessary gear but you can also buy the same from the shop inside the complex. Apart from this, the complex also has a jogging track, children's park, and smaller parks to help you relax your body and mind.
Where: Sector 11, Dwarka, New Delhi
Days: Tuesday to Sunday
Timings: 6 AM to 9 PM
Contact: 011 2508 9733
6. Yamuna Sports Complex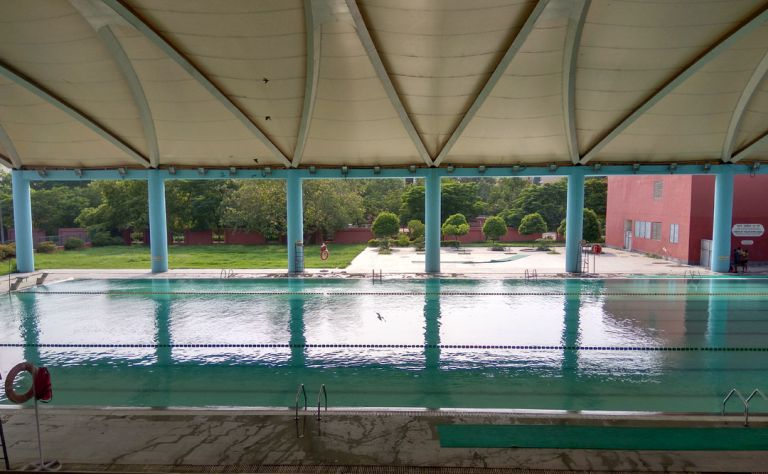 One stop destination for all your sports needs has got to be doubt Yamuna Sports Complex. One of their amazing features is the swimming pool. It's huge and has all the facilities with great trainers. It was one of the venues for the 2010 Commonwealth Games. You need to be a member to gain access to their gigantic pool facility but you can even go for their casual membership, which is valid for a single day. So, book the seats asap because their classes last only till September!
Where: Near Vivekananda College, Surajmal Vihar
Days: Tuesday to Sunday
Timings: 6 Am to 9 PM
Contact: 011 2216 4726
7. Gulmohar Park Center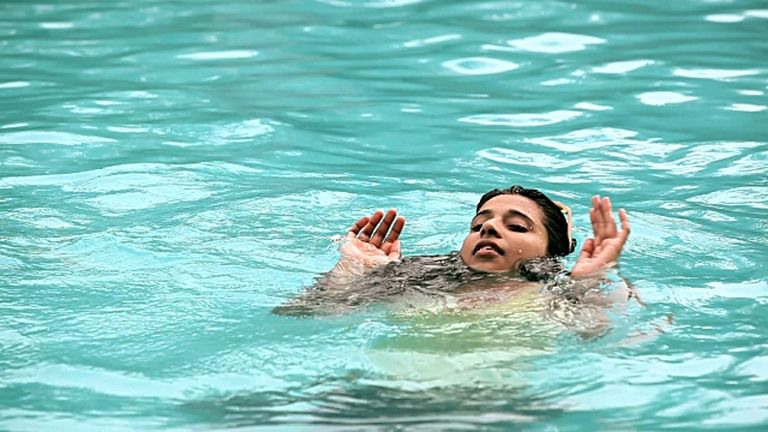 This one has extremely professional trainers who'll make sure that you have the best swimming coaching available in the town. They have spacious changing rooms and the space is open till September. To avail the swimming facility you need to become a member of the center or you can do swimming at a cost per day, as well as a month, three month and six month membership.
Where: Near Kamla Nehru College, Block C, Gulmohar Park, New Delhi
Days: All days
Timings: 11 AM to 11 PM
Contact: 011 2686 8139

(Featured Image Source: Holadelhi)