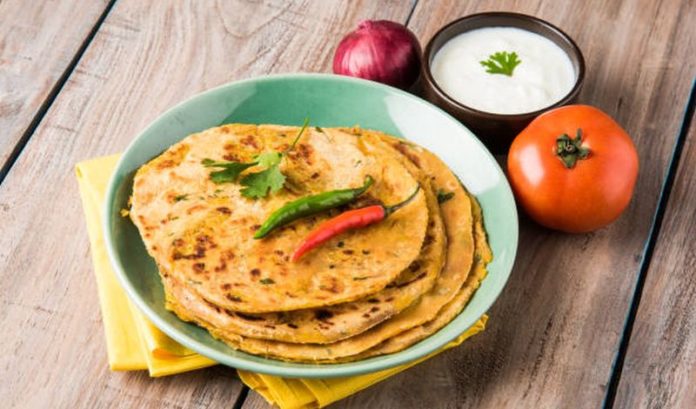 The other name for Dilli would be 'hub of desi food', right guys? And when it comes to the best of the lot, Paranthas win hands down! There's something special about those piping hot stuffed parathas with a good amount of desi ghee or butter on it, yummy! And now that we know your mouth is already watering, check out these 7 amaze spots in town which offer totally ghar-like paranthas!
1. Moolchand Parantha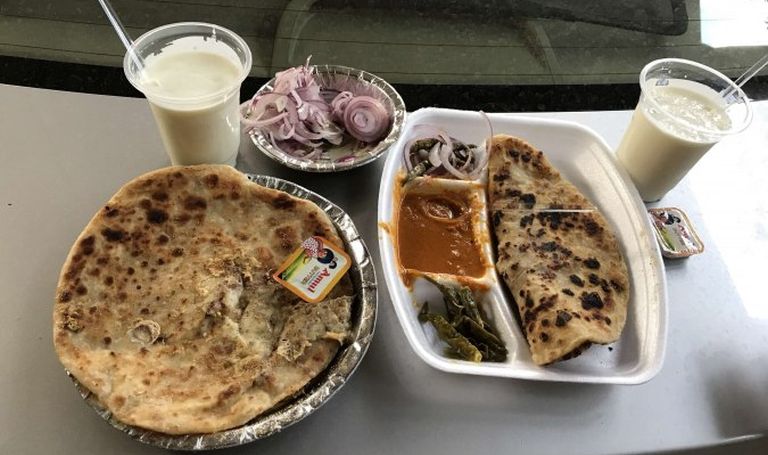 It is Delhi's go-to popular spot which has created a niche for itself in the hearts of Dilliwalas. Think of soul food at affordable prices, and that is where Moolchand Parantha eatery swoops right in. The most popular of the lot is their Egg Mix Parantha, Cheese Parantha which they serve with raita as an accompaniment and some butter, pickles. The place is always crowded with food enthusiasts, travellers and young friends.

Where: Moolchand Metro Station, Lajpat Nagar 4, New Delhi
Timings: 9 AM to 11:30 PM
2. Pandit Ji Parantha Hut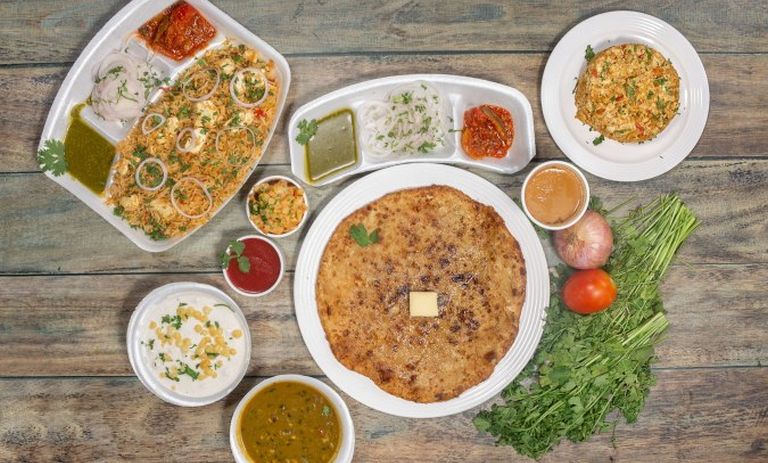 Craving some paranthas for breakfast? For those foodies out there Pandit Ji Parantha Hut might just become your new favourite. Gorge on their favourite paranthas like Anda Pyaaz Parantha, Gobhi Parantha and Mix Parantha. We'd defo recommend you guys land your paratha-hungry bottoms over here!

Where: 10, Community Centre, Ashok Vihar Phase 2, New Delhi
Timings: 7 AM To 11 PM
3. Kuldeep Paranthe Wala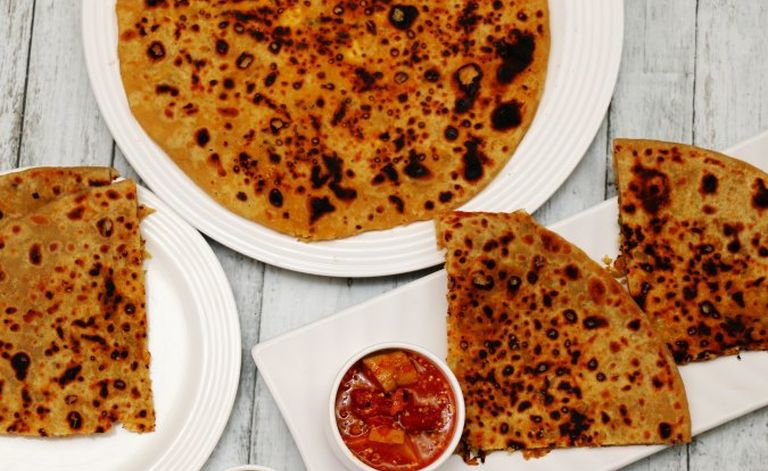 A little joint with authentic dhaba vibes, this quaint eatery is trusted by most people in the town for their hunger pangs. They offer a variety of tasty and stuffed parathas in variations such as the regular Aloo, Pyaaz, Mix Paratha to Double Chicken and even Matar Paneer Mix Paratha amongst many more!You have to try it to believe us. Served with butter and mint chutney you will definitely crave for more.
Where: 46/16, Near Gate 1, Green Park Metro Station, Yusuf Sarai, New Delhi
Timings: 4:30 AM to 11:30 PM
4. Kake Di Hatti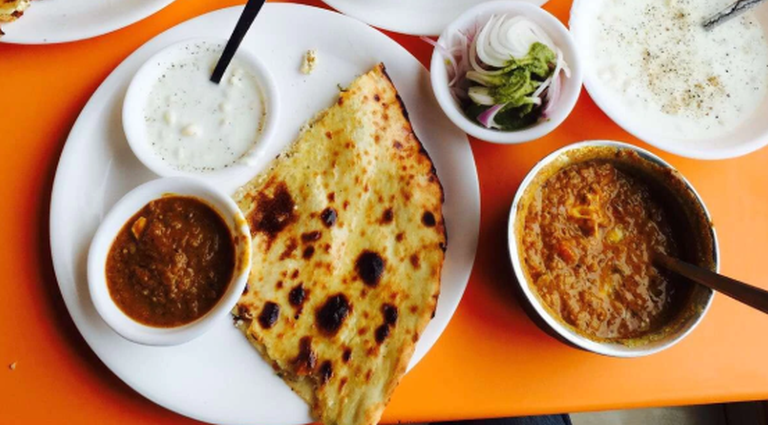 Kake Di Hatti known for their mouthwatering desi food, has been a true blessing for all the Indian bellies with their satisfying North Indian cuisine at an affordable price. Their menu boasts of parathas like Laccha, Pudina, Ajwain, Lal Mirch, Hari Mirch & tons more – take your pick! Kake Di Hatti eatery will satiate your hunger pangs without introducing any meat to the menu. Once you are there combine your parathas with laasi and you are sorted for the day!
Where: 654-666, Church Mission Road, Fatehpuri, Chandni Chowk, New Delhi
Timings: 8 AM to 1 AM
5. Paratha King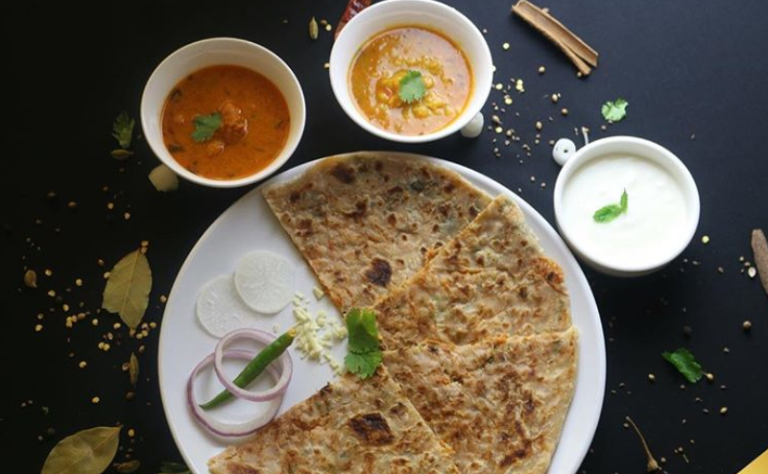 Paratha King, is a place that is literally the king when it comes to paratha cravings. They have a crazy variety on offer and you just can't imagine how amazing they are. They've got the basic quintessential ones like the Gobi, Aloo and Pyaaz Parathas. From Stuff Garlic Bhujiya, Paneer Bhujiya, Lal Mirch Achari, Mushroom Garlic and Noodle Parathas, they have different unique varieties of parathas. With over 50 options, we are surely gonna be totally spoilt!
Where: Sector 7 Rohini & Aggarwal Millenium Tower-II, Netaji Subhash Place
Timings: 9:30 AM to 12:30 AM
6. Flavours Of Paratha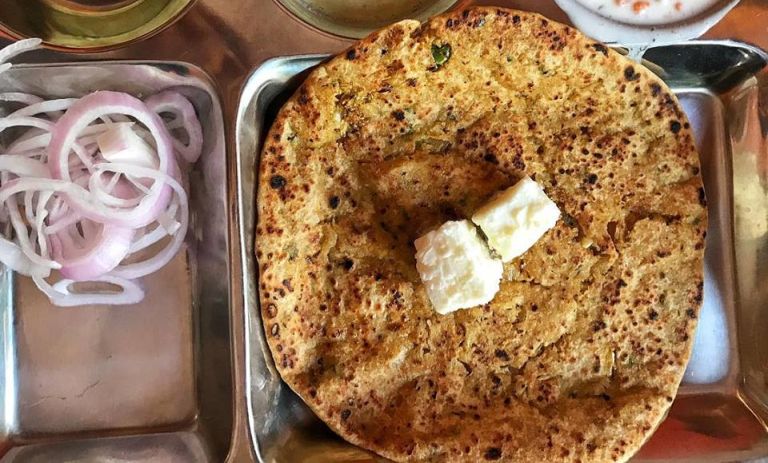 Have you ever heard of pizza paratha? Then you've gotta run over to this place Flavours Of Parathas because they have got some of the quirkiest parathas that you should try. With over 25 different varieties available, they have some super amazing paratha fillings which we bet you can't find anywhere else. They've got fillings like the usual aloo, aloo pyaaz, methi, gobi and palak but also some extremely unique ones too like chawal, matar, matar paneer, mushroom, and others!
Where: 3A, Begumpur, Shivalik Road, Opposite IDBI Bank, Malviya Nagar
Timings: 9 AM to 4 PM ; 7 PM to 11 PM
7. Mukesh Dhaba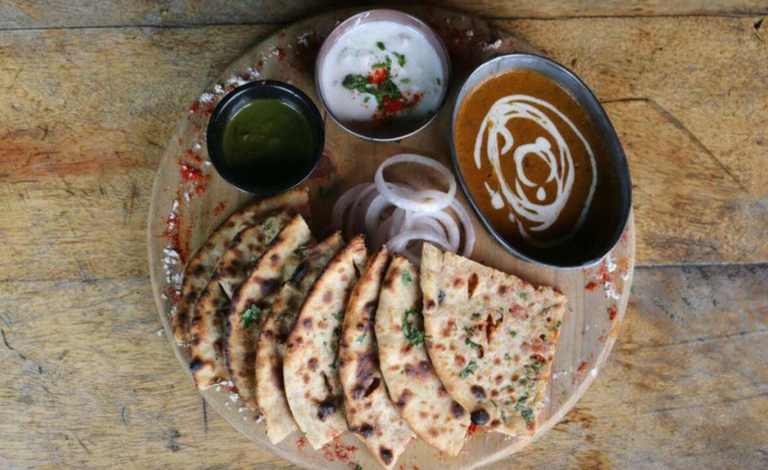 This outlet dishes out over 20 varieties of parathas including Keema Parathas! They have some crazy options that any paratha lover would totally love. From classic options like Aloo, Aloo-Pyaaz, Paneer and the like, they also have Chicken and Keema. Vegetarian options like Tandoori Mix Paratha, Tandoori Panner Paratha and non-veg variations such as Chicken, Keema, Keema, Egg and lots more!
Where: Next To DLF Atria, Near Convergys Building, DLF Cyber City, Gurgaon
Timings: 24 hourse
(Featured Image Source: Istock)