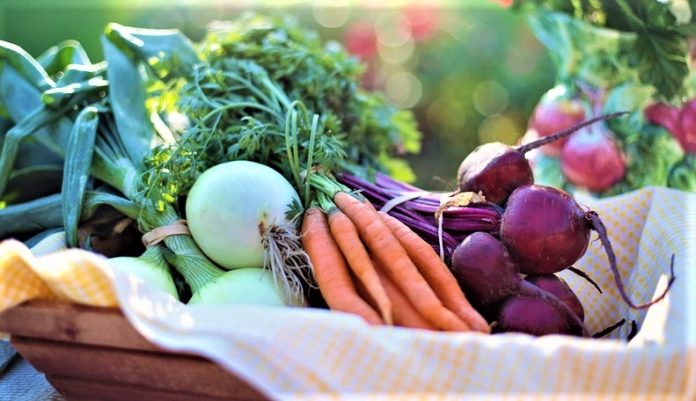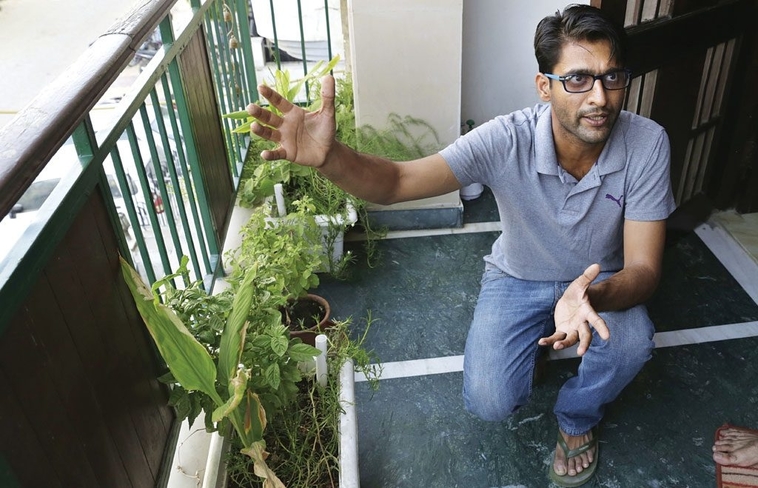 Over recent years, organic farming and the trend of growing your own veggies has really caught up. And why not? It's economical, it's healthier and it can be a lot of fun too! So, if you are also someone who wants to learn more about how to grow your own veggies, how to build your own garden, and about organic farming, then you have come to the right place.
We got in touch with Kapil Mandawewala, the founder of Edible Routes- an agricultural service in the city, which deals in organic farming, kitchen gardens, organic food gardens and much more. And you must read on to get some cool and easy tips on how to grow veggies in your own house and build a kitchen garden of your own!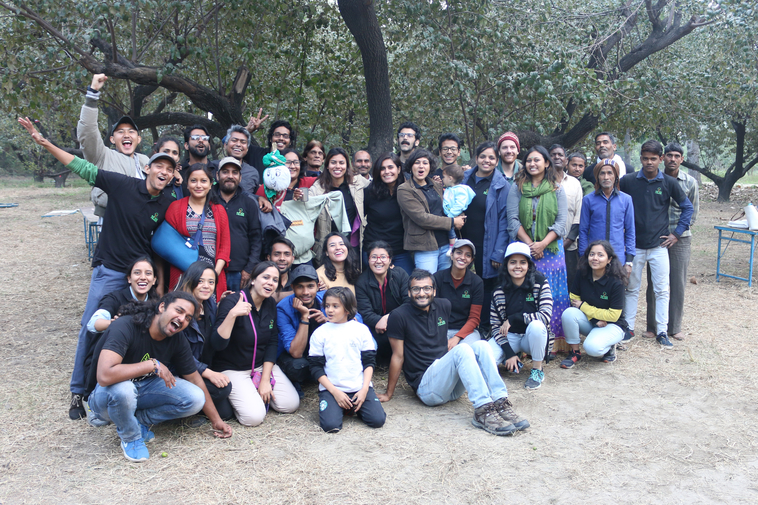 How did Edible Routes begin?

Our journey began in 2015, with a dream of enabling every person to grow their own organic and sustainable food on their own terrace gardens, kitchen gardens, balconies and homes. Edible Routes is an earth and people friendly business. We see a world where all our food is grown close to us and by people known to us. This is a place with a strong sense of community, delicious organic food and happy souls.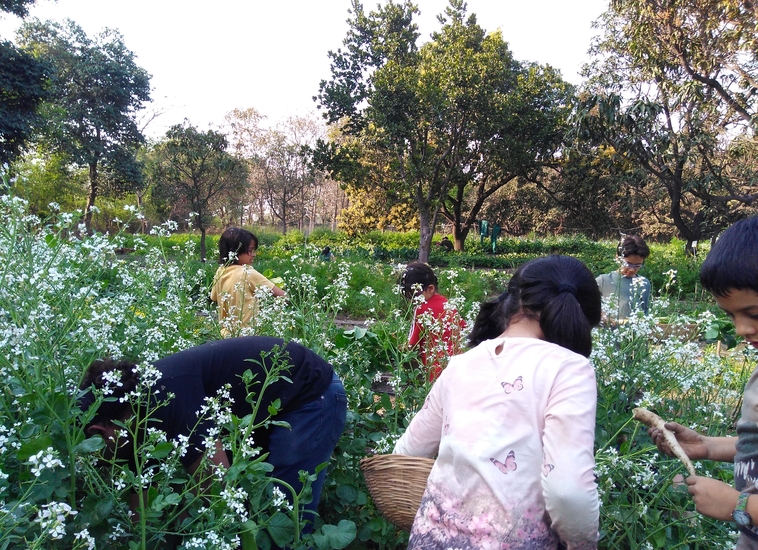 Tell us about a few memorable projects you have done?
At Edible Routes, our projects are usually long-term and renewable. We have worked with over 800 individuals to help them set up their food landscapes. In 2018, we launched a mini-farm rental program– farmlets that has over 150 people as a growing community of conscious urban farmers in Delhi-NCR. There are over 12 different schools and institutions we have partnered with to educate around 700 students about food and ecology.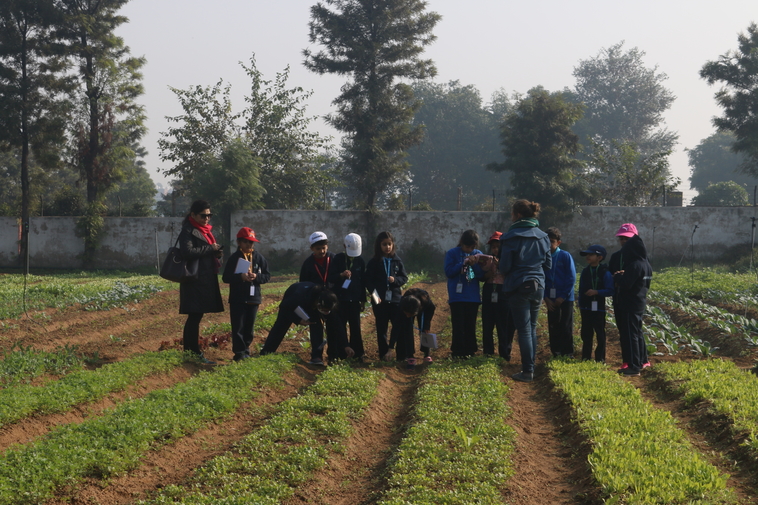 Wow, that sounds wonderful! So, if someone is starting their own mini kitchen farm, what are the top 5 things they should follow?
Constant love and care for their garden and veggies
Watering judiciously
De-weeding
Maintaining soil nutrition
Patience. Trust and compassion towards nature and its workings including pests and hailstorms.
If an urban couple, with a hectic lifestyle, wants to set up a kitchen garden with organic veggies, how should they go about it?
They can start with bare minimum – a 4x4ft bamboo box. This will be a small space for learning kitchen gardening. This box can fit anywhere and require comparatively less attention. It will be easy to watch, maintain and track. Also because it comes with pre-mix soil and nutrition, there will not be much work left for the ever-hustling urban people- except to water occasionally.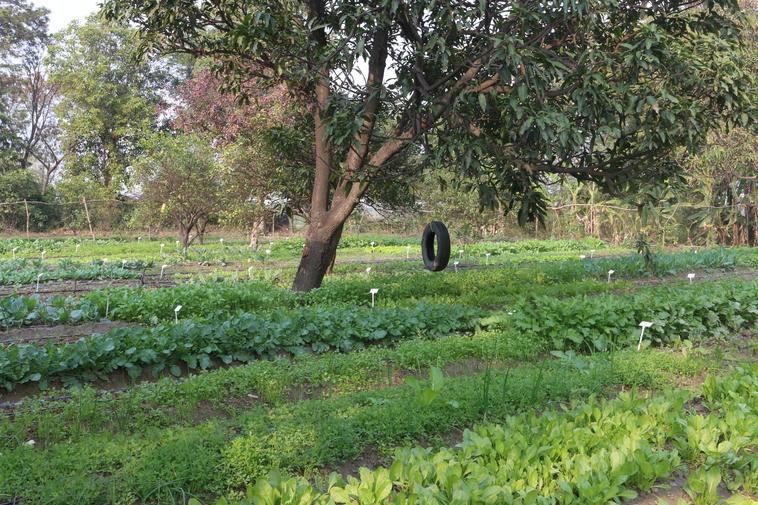 What else can urban couples with busy lives experiment with when it comes to kitchen gardens? Something which takes minimal effort and is easily manageable with their busy schedule?
They can join our urban farming community – FARMLETS. These are small plots (1200, 1200 and 2400 sqft) at our farming sites and are fully maintained and managed by us. All that is required is to come visit it once every week or two to enjoy the greenery.
If that is also not convenient- they can simply have their produce home-delivered.
Farmlets are also sites for recreational purposes where we organise many events and workshops – fun and educational, to impart knowledge on kitchen gardening, waste management and conscious living.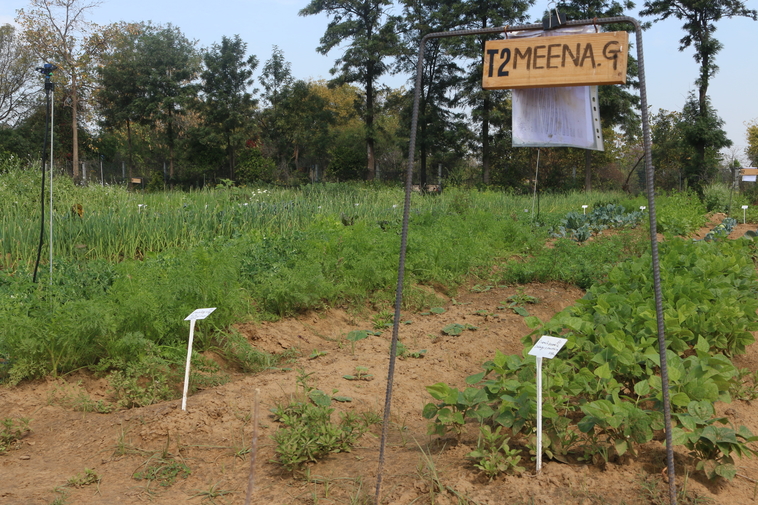 Any particular advice for couples with young kids when it comes to organic farming at home?
The only advice is to definitely try it if there are kids at home. Be it at home having a kitchen garden or at farmlets. We have received positive feedback from clients with kids that 'kids have started to appreciate their food and meals as they are now involved in growing it also'. We see kids visiting our farmlets and work on their plots with utmost sincerity and love. It becomes really important for kids to be close to nature for mental health and wholesome personality development.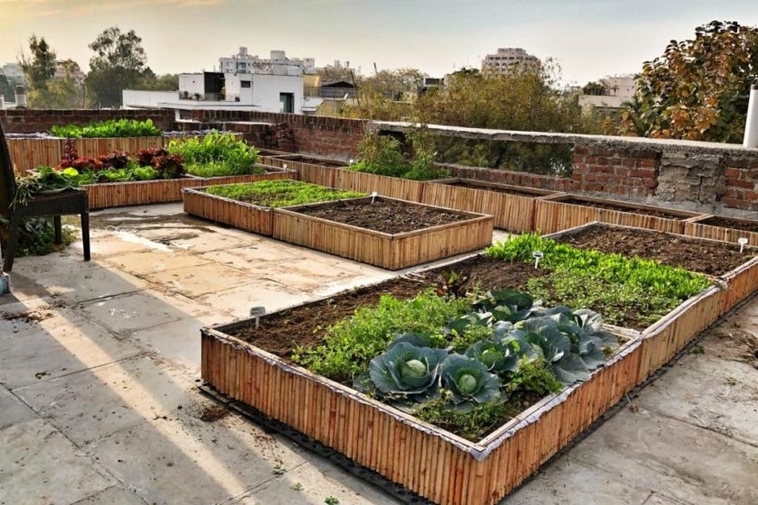 What do you have to say for someone who is really passionate about growing herbs in their own home?
It is absolutely possible and easy to grow herbs at home. In fact, herbs grow better at home as they require little extra care and love. We have unique containers and designs for growing herbs at home that are an absolute delight to display and maintain. Herbs look beautiful as they come in various colors and have therapeutic aromas. They light up the whole environment at home and gardens.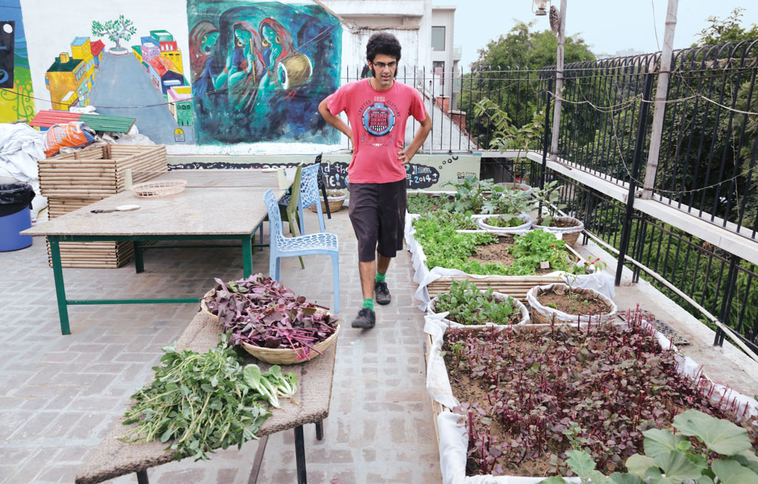 Talking of couples particularly, can you suggest a few tips with which kitchen gardening can enhance even the look of a modern home's kitchen?
Design aesthetics play a vital role in the main functional area of Edible Routes – Kitchen Gardens. With urban population wanting to grow organically at their homes and farmlands, it becomes essential that we make the idea of growing locally visually appealing. We design unique, customizable and sustainable edible terrace gardens, walls, backyards, and balconies that go with the design of the houses, resorts, corporate buildings, etc.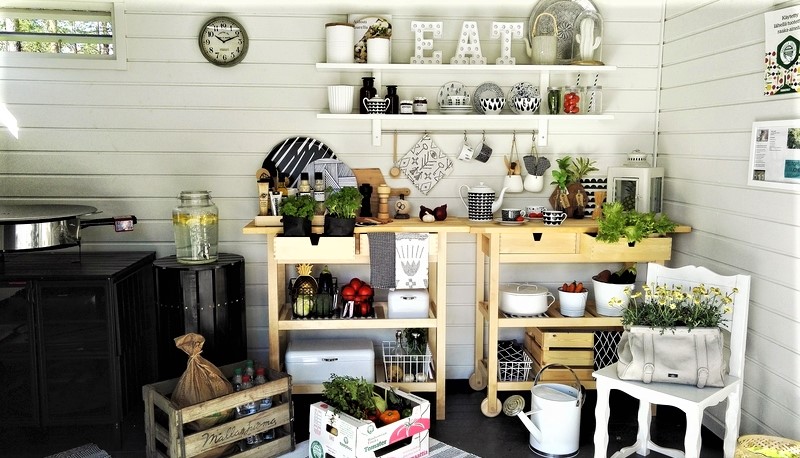 Tell us a bit about other benefits of kitchen/organic garden at home?
Gardening and farming is a therapeutic and spiritual experience. You are closer to nature and as you learn to work with the laws of nature, you begin to appreciate nature and its benefits. Apart from consuming organic produce, the aroma of soil, herbs, water with soil, plants and its flowers and fruits, the colour green – they all soothe our senses make us calm and happy.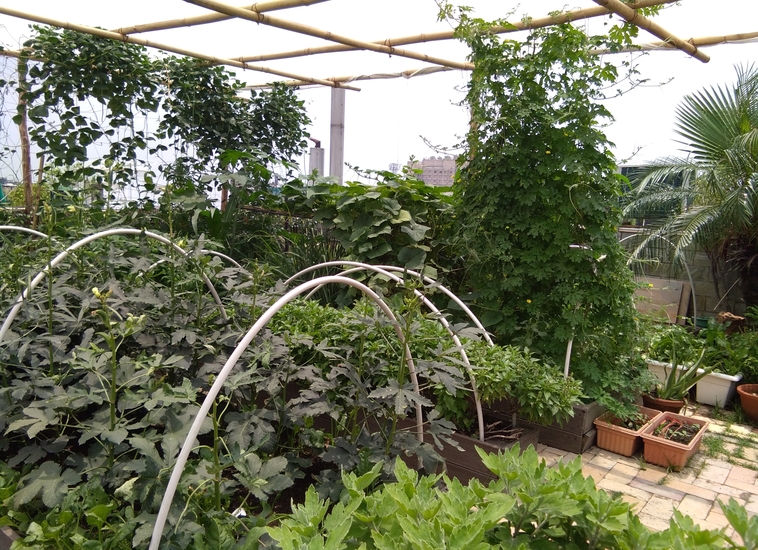 On an average, how much cost and time does it take to set up a decently-sized kitchen garden at home?
A kitchen garden can cost anywhere between a few thousand rupees to even a lac. It totally depends on how much you want to grow, build and spend. One can even start with a small section to grow and slowly extend it once they feel confident enough to take on more.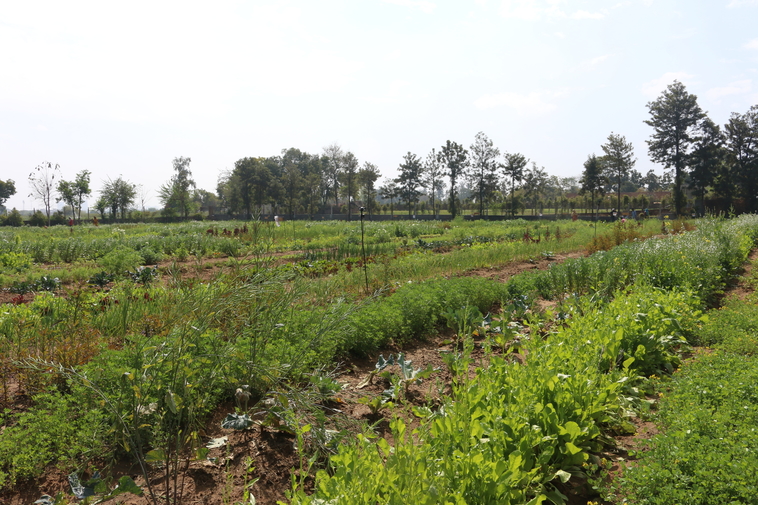 And what are your future plans with Edible Routes?
We aim to make the idea of healthy eating, self-growing and farming education reach every household in Delhi-NCR for a start. We want to reconnect people with their food, food source and food cultivators. They can meet farmers who grow their food, share knowledge, experience and the joy of growing their own food. We aim to not just create community organic farming landscapes in and around cities but also therapeutic landscapes for the ever stressful urban population and the younger generation.
Okay Delhi peeps, we hope you gathered some amazing intel on how to build your own, organic kitchen gardens. Let us know in the comments below if you tried it out!
All images sourced from The Edible Routes
Featured Image Source: pexels