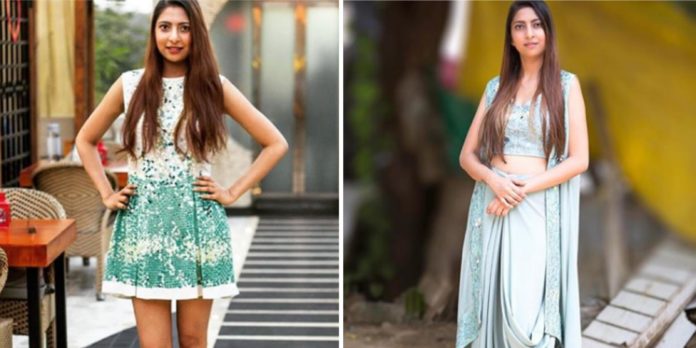 Ladies, it's almost the season of mini skirts and floral dresses! Yes, summers are just around the corner and we can't wait to flaunt our pretty summer dresses and crop tops already! And now the new college sessions will start soon, we got in touch with the super chic Erum Zahera, a fashion blogger who runs the popular page, the Familiar Journal. She is here to give you all the tips and tricks to slay in the trendiest and comfiest outfits this summer! Yes, girls, you can thank us now!
The familiar journal is an online channel where fashion and beauty meet crafting, cooking, reviewing, and more. Her goal is to add more value to your world than you ever dreamed possible by giving you tools that you can immediately use to improve your life. Which is why all you cool girls, bring in your notepads RN!
When it comes to style and trend, what's the first thing that strikes your mind?
For me, style means something that sets me apart. Trend and style go together because what's unique to you is what is being acknowledged the most and therefore trends. So, the first thing that comes to my mind regarding these both terms is the chic style that I carry which is always accompanied by confidence. So, confidence is something which definitely is the first thing which comes to my mind.
For college girls, what are 5 top fashion essentials that they absolutely must have?
I believe it's very important to have an amazing tote bag to keep up all stationery products which should coordinate with your outfit. Followed by the Sunglasses, not forgetting about the open campuses of both DU and IIMC during my college days. Stoles – they are an add on style element that I usually match with my lip shade/footwear. Apart from these three, a blush pink lipstick shade (usually matte) is also something I used to carry (this is irrespective of college as I carry them today too). This shade goes with everything I wear- from denim to kurtis…EVERYTHING! Also, the last but definitely not the least, the color coordination of my clothes with footwear and overall look. I cannot just go with a neon green dress with a mud brown stilettos and black bag.
Can you name 3 outfit ideas for college goers that they can wear both inside and outside the college campus.
Denim Over Denim– It's a rule. You will look hot in it everywhere. It's strong, hot and chic all at the same time. Kimonos– They give that breezy boho look to your dresses/tops which is apt for college goers. Be it inside college or shopping after college. Cotton Kurtis with Straight pyjamas paired up with silver jewellery – You can slay in it no matter where you go!
Since college kids tend to be on a budget, what are the places they can buy affordable yet fashionable outfits?
Sarojini, Kamla Nagar and Majnu ka Tila have been the best-on-ground places for me. You get everything there- from the best dresses to amazing footwear. Apart from these, I think Shein (online) is also affordable with really stylish clothes.
So, 3 accessories which can jazz up an outfit and which coul be worn to college?
Silver jewellery for that boho look, Danglers, and Sling bags- all of them add a great style statement to anything you are wearing.
And which are the top Summer prints/summer styles this season that girls can start stocking up on?
Prints: I think floral is trending everywhere (Zara, H&M, M&S etc.) Also, animal print is the latest trend as shown in the vogue runways. These two will be booming this summer.
Styles: Boho will take over again this summer followed by pastel shade chic clothes.
Since college students are always on the run, which involves a lot of commuting too, how can they make sure their outfit is both comfortable as well as stylish?
I think the fabric matters the most when it comes to comfort. One should always know if their skin suits to the fabric of the clothes they wear. For that, they should check the percentage of cotton in the cloth which is usually given in product details. The better the fabric the more comfortable you will be in that cloth.
How about the best footwear that every girl in college must own?
Flip flops, Block heels and Oxford shoes are three must-have footwear in every college girl's wardrobe.
Since a white shirt is iconic, what would you say are the top 5 ways in which it can be styled?
A white shirt can go basic with denim with open buttons and a sparkling low neck necklace. It can also be worn over shorts to give that semi casual effect. If you pair it up with cotton saree with pleats, it will look elegant and sophisticated at the same time. If it is a long shirt, it can also be worn as a dress. It can also be worn with a black pencil skirt.
If you were to style someone in college from head to toe, how would you do it?
Basic messy hairdo with subtle nude makeup, and nude lipstick followed by a boho dress with flat gladiators and sunglasses and a tote bag. That sounds perfect to me!
What are those top 5 things which every college girl must have in her wardrobe?
Shirt dress, Denim Shirt, Kimono, Striped Top and a Denim Skirt.
So, girls, we hope you took down these fashion tips and tricks and are ready to give people some major #OOTDGoals this summer!
Featured Image Source: instagram