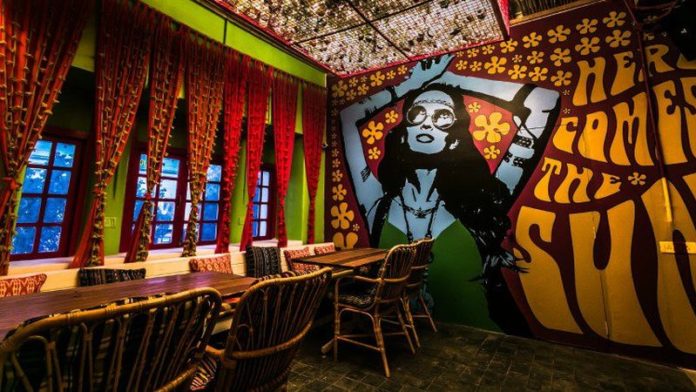 Is your gang full of buddies who keep ditching you for the ultimate Goa vacay plan? We feel you, guys. Happens to the best of us! But don't feel sad just as yet. Until all the ditchers in your gang straighten up, you should totes check out these beach and Goa themed restaurants & cafes in Delhi-NCR and enjoy #GoaFeels right in your city!
1. By The Bay
By The Bay cafe located in North Campus will give you total beach shack feels the moment you enter here. In fact, on weekends, a special menu is served keeping in mind the beach & party theme. Especially for people who love sea food and fish, this is a must visit.

Where: 2522, 1st Floor, Hudson Lane, GTB Nagar, Delhi
2. The Feast House
The Feast House is situated in the middle of the Karol Bagh shopping hub, which is a great pit stop to fill in your tummy. This café is always swarmed with the University students and has a separate beach section- full of lamps and surfboards on the walls. Trust us, it's totally going to remind of the Goa vacay you never took! Ha! From authentic Indian dishes to pizzas to fried fish there is no dearth of choices for food here.
Where: 1-B, Pusa Road, Karol Bagh
3. Club Tito's
Goa's famed Tito's Nightclub is now in Noida! For those who don't know, Tito's is one of the hottest clubs in Goa. With bright, flashing lights, an unlimited supply of booze and mouth-watering dishes, you need to head to this place with your gang, and enjoy a total Goa vibe!
Where: Gardens Galleria Mall, 311, 2nd Floor, Sector 38-A, Noida
4. Vagator Beach Shack
5. Sanadige
Well, if you are a total foodie, we know you'd be missing Goa because of its awesome seafood, right? If that's the case with you, then you must head to Sanadige located in Chanakyapuri for some scrumptious coastal food. The moment you enter here, you'd be welcomed with a spicy, chilled Kokum Kadi drink. Of course, after that you are free to feast on as much sea food as you like!
Where: Diplomatic Enclave, Commercial Centre, Malcha Marg, Chanakyapuri
Featured Image Source: Hungry Forever)