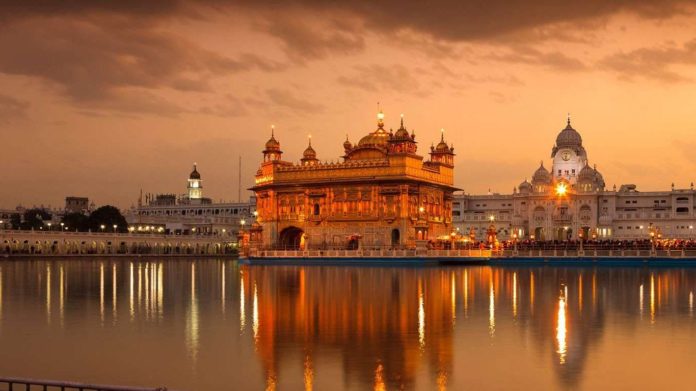 The moment you step into Amritsar you are welcomed with a serene atmosphere and a peaceful vibe. From the world-renowned Golden Temple to the street food and butter chicken, there are many things that you cannot find anywhere else but in Amritsar. So, if you are planning to visit the city anytime soon, here's all that you must explore!
Where to eat:
The city is synonymous to its famous food- read Chole Bhature! In fact, a lot of people literally take a weekend trip to the city simply to enjoy its finger-licking great street food! A few places that you MUST try are:
1. All India Famous Amritsari Kulcha
Amritsari Chole Bhature is a dish that is popular across the world. All India Famous Amritsari Kulcha is one of the most popular places for Chole Kulche and has to be visited by everyone who travels to Amritsar.
Where: Maqbool Road, Near, Race Course Road, Amritsar, Punjab
2. Kesar Da Dhaba
A small and cosy joint, Kesar Dhaba is one place you definitely should not miss. With food made from desi ghee, every item here from their dal to the paranthas and chana, this place is a haven for food lovers. Trust us, you would not even want to talk to each other while you are enjoying this food!
Where: Chowk Passian, Near Telephone Exchange, Amritsar Cantt, Punjab
3. Sarhad
Located close to the Wagah border, this iconic restaurant is famous for its artwork and its mouth-watering local food. From those butter naans and butter chicken to lassi, every dish here is worth trying. Do not forget to add some extra butter to your butter naan and make it even more delicious!
Where: Wagah Border, National Highway 1, Amritsar, Punjab
4. Makhan Fish and Chicken Corner
As the name clearly indicates, this restaurant is plusher than the regular dhabas here and hence slightly expensive. But trust us, it is worth every penny. Their Kadhai chicken, chicken tandoori, Amritsari fish tikka has got us swooning! And in case you need some beer to gulp all the food down, they have a full bar as well. Come on, did you really think Punjabi food could be complete without food? Nah!
Where: 21A, Near Madaan Hospital, Majitha Road, Amritsar


Must visit spots:
Now that we have your food needs sorted, let's talk about the tourist spots that you cannot miss out on and for which Amritsar is famous for.
1. The Golden Temple
This place of worship needs no introduction. Built in 1589, this is the holiest place of worship for all Sikhs. This temple which is made of pure gold and precious stones is a marvel itself. Reach here early in the morning to listen to the holy chants and watch the temple in its full glory. For all those looking to take a time out from the busy city life, this is a must-visit!
Where: Golden Temple Road, Atta Mandi, Katra Ahluwalia, Amritsar, Punjab
2. Wagah Border
Located just 25 Km away from Amritsar, Wagah Border is a sight to witness. It is the border between India and Pakistan and has a significant position in our nation's culture. Do book a trip here to witness the grand retreat ceremony which takes place 30 minutes before sunset every day. #PatrioticFeels!
Where: Wagah, Hardo Rattan, Punjab
3. Jallianwala Bagh
The Jallianwala massacre is one of the most tragic incidents in Indian history. To commemorate the lives of all those who were killed here, this heritage site was built. As you walk around the park, you can see the bullet marks on the walls and the iconic well where people jumped in to save themselves from the bullets. This is one visit which would definitely put you in touch with this nation's iconic history.
Where: Golden Temple Road, Amritsar, Punjab
4. Maharaja Ranjit Singh Museum
This was originally a summer palace of the first king of the Sikh Empire, Maharaja Ranjit Singh, which has now been converted to a museum. The place is drop dead gorgeous and surrounded by beautiful gardens. You can witness all the exhibits of arms, armor, paintings, old coins, and manuscripts, all of which personally belonged to Maharaja Ranjit Singh.
Where: Maharaja Ranjit Singh Bagh(Ram Bagh), Lawrence Road, Amritsar, Punjab
Shopping Hubs:
Imagine coming to Amritsar and not taking back that gorgeous Phulkari dupatta or the insanely beautiful Punjabi Juttis. That's criminal! Which is why you simply cannot not go to these hubs for shopping when in Amritsar.
1. Hall Road
The busiest shopping centre in Amritsar, Hall Gate has lines of stores that sell local and traditional handicrafts, souvenirs, and traditional wear. Furthermore, if you are looking for authentic Phulkari work or locally made arts and craft items, then do visit this place.
Where: Katra Ahluwalia, Amritsar, Punjab
2. Guru Bazaar
Looking for stunning jewellery pieces? Then Guru Bazar is where you should head. From imitation to junk and silver jewellery, you will find a variety of options here. So ladies, don't forget to drop into this fab market and get your fill of Chaand Baalis and super pretty Jhumkis.
Where: Katra Ahluwalia, Amritsar, Punjab
3. Katra Jaimal Singh Bazaar
If you are looking to pick some gorgeous Phulkari designs that was originated in Amritsar, Katra Jaimal Singh Bazaar is your hot spot. With a number of shops selling unique designs and traditional fabrics and outfits, this place is an absolute visit to get back something special to remember Amritsar by.
Where: Katra Jaimal Singh, Amritsar, Punjab
Featured image source: pinterees