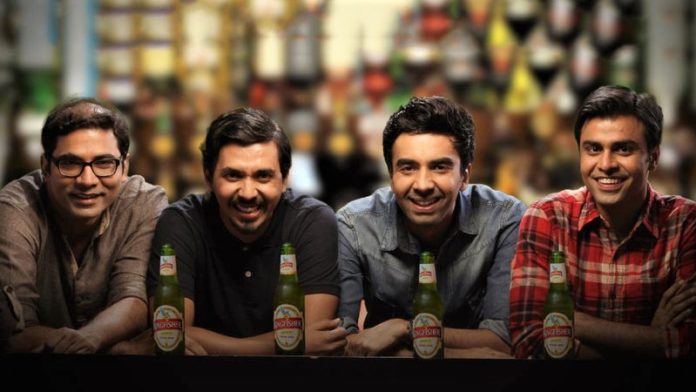 Now, boys, how many of you absolutely love your bachelor life? We know that bachelorhood is one of the best times of your life. Career, parties, wooing your pretty crush, living with your buddies, there is nothing that can stop you from living your life to the fullest!
If you are still in that zone of your life or simply want to reminisce the good, old days, then you must check out these 6 Indian web series, which focus on the simplicities and intricacies of bachelorhood.
1. TVF Bachelors
True to its name, TVF Bachelors revolves around the story of four single boys. How they deal with single-life bachelor problems every day and their interesting escapades is what makes this series a super interesting watch. So, boys, if you feel like you are facing an issue only a bachelor would understand, don't forget to tune in to your daily dosage of entertainment. And guys, do not forget to check the super famous Bhuvan Bam featured in almost all their episodes.
2. TVF Pitchers
All the men out there, if you and your boy gang have ever tried to start your own company or thought of starting one, then this one's for all of you. This gripping series is about the life of four young lads who quit their day jobs to start on a venture of their own. The hardships they face along the way, their trials and tribulations is something every young lad in the corporate or the startup sector will relate to.
3. Baked
What happens when three University lads start a midnight food delivery service of their own? Are they successful? Does their business fail? Watch their entrepreneurial journey as they juggle between their careers and classes and their daily lives. With lots of humorous and interesting twists, this is one series you will love binging on with your friends!
4. Life Sahi Hain
A comedy riot from the makers of the super popular Pyaar Ka Punchnama series, Life Sahi Hain is one series that will leave you in splits. The story plot is very simple and is about four guys who move to Delhi to live independently, like many of us. The manner in which they deal with their jobs, their love lives, and with each other is what will make you want to totally be friends with them! Also, ladies reading this, if you have been crushing on MC Sher from Gully Boy, Siddhant Chaturvedi, this is where you get to watch him!
5. Official Chukyagiri
The life of an MBA intern and how he deals with the real-life world post his graduation-sounds interesting and familiar? Most of us can relate to this story given that Indian society places an immense amount of pressure on an MBA degree and MNC jobs. Watch how he overcomes all these difficulties and conquers the corporate life #LikeABoss! Trust us, you won't just be inspired by this series but there are also lots of takeaways that you can pen down.
6. Star Boyz
What happens when three of the most popular stand-up comedians come together in one huge web-series production? That's right, it's a right down bone-tickling adventure. Starring Kenny Sebastian, Navin Richards, and Mani Prasad, watch these three comedians deal with several adversities in space. Not only is this a totally different concept, but this popular web-series is also very refreshing that will keep you hooked!
Featured image source: TVF Play