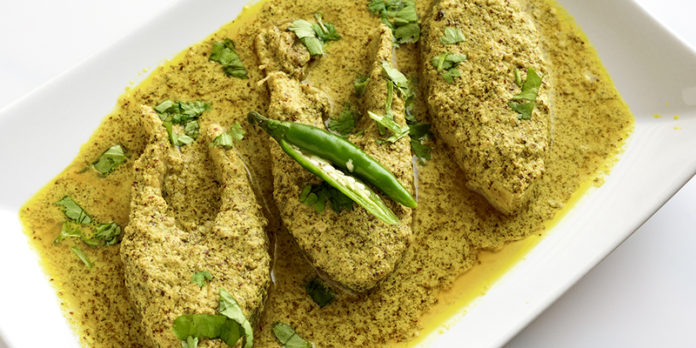 To all our Bengali mates, we know how difficult it can be to stay away from home sweet home. Move over the Butter Chicken and Naan because Ilich Maach and Aloo Posto are our Bae! Right, friends! If you are a Bengali living away from home and craving some home food or someone who would like to try out some of the finest mouth-watering Bengali food, then we have made your lives a lot easier. Head to these restaurants for a mouthful of authentic Bengali dishes, and trust us, it will serve you some major #HappyTummy goals!
1. Oh Calcutta
Food lovers, this is absolute heaven for you if you dig Bengali cuisine. With a range of items on their menu that will make you want to order everything, Oh Calcutta Delhi has been on of the top Bengali restaurants chain for a while now. And it's a double whammy for you if you are a sucker for Prawns like us because they have the best Shorshey Bhapa Chingri (Jumbo Prawns) and Ilish. Our tummies are happy just by reading these names out loud.
Where: Ground Floor, E Block, Opposite Satyam Cinema, Nehru Place, New Delhi
Cost for two: Rs. 1700
2. Bijoli Grill
With 4 outlets across Delhi-NCR and reasonably prices food, Bijoli Grill is topping our charts of favourite places. The interiors of each restaurant is very quirky and exciting as well. Apart from the regular Bengali dishes, you will also find the offbeat dishes that you may not know of. We are craving for their Kosha Mangsho and Mutton Curry with Brinjal Fry!
Where: Dilli Haat, INA, Shop 111/112, South Point Mall, Gurgaon & multiple locations.
Cost for two: Rs. 800
3. Kolkata Biryani House
Now guys, its time to get over Hyderabadi and Lucknowi Biryani because the Calcutta Biryani at Kolkata Biryani House will blow your mind. Mild in spice and flavourful in taste, this biryani also had an additional boiled egg and roasted potato to amp up the taste. They have 6 outlets spread across Delhi, Gurgaon, and Noida so that you do not miss out on the spectacular food here. So, go grab your plate of biryani already!
Where: Mayur Vihar Phase 1, Sector 75, Noida, and multiple locations.
Cost for two: Rs. 500
4. Maa Tara
True to its name, Maa Tara is a must-try for every Bong foodie because it will remind you of the simple joys of life like a meal cooked by your mother. They are extremely budget-friendly so that you can satiate your hunger pangs even during those broke AF days! Maa Tara has many options for thalis that you can choose from as well. Do try their fish and mutton thalis as they are the bestsellers.
Where: 45, 46, & 47, Market 2, Chittaranjan Park
Cost for two: Rs. 500
5. City Of Joy
If you are a Bengali living in Delhi, there is no way you haven't heard of City Of Joy in Alaknanda. A bustling and thriving restaurant, this is one of the favourites amongst the entire Bengali community due to their authentic taste and food that tastes as if it has been prepared at home. After all, when you are away from home, all you need is a little homely meal to get you cheer up. Isn't it? Try their Mochar Ghonto (Dal with fish bones) and their Mutton Kosha (Mutton curry).
Where: 2, 1st Floor, Aravali Shopping Complex, Alaknanda, New Delhi
Cost for two: Rs. 1000
6. My Spice Kitchen
Although a multi-cuisine restaurant, My Spice Kitchen does a kickass job on their array of Bengali dishes. Their Prawn Malai Curry with Vegetable Pulao is something we absolutely recommend and love. It is a small and cosy restaurant, so you may want to opt for their home delivery or take away services.
Where: 51, Market 1, Chittaranjan Park, New Delhi
Cost for two: Rs. 600

7. Lavaash By Saby
Want an Armenian twist to your Bengali food? Head to this super posh and niche restaurant in the quaint area of Mehrauli. Headed by Megha Kohli, each item on their menu is something unique and has a special twist to it. They also have a great selection of cocktails that you can enjoy with your food. Try out any of their mutton or fish dishes and get ready to eat till you break out into some food sweats!
Where: H-5/1, Ambawatta One, Kalkadass Marg, Mehrauli, New Delhi
Cost for two: Rs. 2000
Featured image source: LeQuirk