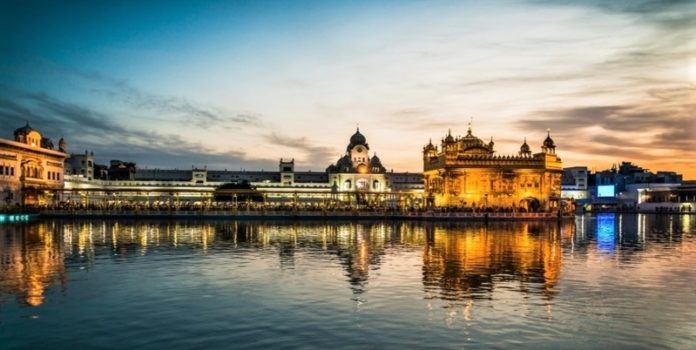 Now, don't we all relate to the stress of being so overworked, that even a day off seems to be cathartic? At times, a quiet and peaceful getaway is exactly what we all need to rejuvenate our soul and senses. After all, a little calm in the midst of all the chaos seems perfect, doesn't it? So if you are planning a holiday away from the humdrum of the city life, we have 6 destinations charted for you that you need to visit right away!
1. Amritsar
Popularized by the world-famous Golden Temple that sets a peaceful tone for everyone who visits this place, Amritsar is also a hub of the tastiest butter chicken and Sarson ka saag. With a confluence of history, religion, and food, Amritsar always loves up to being a destination that is often called "Home away from home." Do not forget to visit the Jalianwalla Bagh and the Wagah Border. You can often find day tours for all the tourist spots in Amritsar. You will also find the best Chole Kulche here. So, keep your tummies light for this.
Distance from Delhi: 470 kms
Drive Time: 7 hours 30 minutes
2. Mathura Vrindavan
The birth seat of Lord Krishna, Mathura Vrindavan is one of the holiest places in India. It is one of the busiest relisgious cemters in India as it has several temples dedicated to the Lord Krishna and Radha. Mathura Vrindavan are often regarded as twin cities and go hand-in-hand. And temples like Krishna Janmabhoomi Mandir and Sri Krishna Janmasthan are not the only place of worship one can visit here. There is also a stunning Jama Majid you can visit here. A dip at the holy Kusum Sarovar located close to the Radha Ghat will rid you of all the fatigue and is extremely relaxing along with having religious significance. And if you are travelling to Vrindavan around Holi, then you will see a different world there.
Distance from Delhi: 165 kms
Drive Time: 2 hours 30 minutes
3. Lansdowne
A haven for all you hill station lovers, Lansdowne is a quaint and serene place where you can go and unwind with your friends and family. Initially a retreat for all the British officers from the heat that sweeps across North India, Lansdowne is now one of the favourite spots for most people in Delhi. Away from the party crowd, it is known for its scenic beauty and nature trove. Hence, if you are someone who loves the hills, ditch mainstream places like Manali and Kasol and head here.
Distance from Delhi: 250 kms
Drive Time: 7 hours
4. McLeodganj
Tucked away in the suburbs of Daharmshala, Himachal Pradesh, McLeodganj is another breathtaking hill station. with Buddhist monasteries and hippy cafes, this place is still not very commercialized. Tsuglagkhang, home to the Dalai Lama, Bhasgu Falls, and Triund (one of the most well-known treks in India) are just a few of the many other places you can explore here.
Distance from Delhi: 500 kms
Drive Time: 10 hours
5. Gethiya
Away from the hustle from the town of Nainital, Gethia is a place to check out if you haven't already. Comparatively unknown to the general public, this place is abundant with natural beauty. Although it is a small village, it has stunning boutique hotels and cottages that add a different charm to this place. If a romantic getaway is what you are looking for, this is your answer.
Distance from Delhi: 500 kms
Drive Time: 10 hours
6. Binsar
Ever wondered what the #Wanderlust actually feels like? Binsar will tell you all. Made of every beauty and scenery that you can imagine in a hill station, Binsar is a destination no one talks about and hence, has been left pristine. One of the many gorgeous places in Uttarakhand, it also has a wildlife sanctuary that you can take a tour of. You can also get a majestic view of Trisul and Nanda Devi from this hill station and is known to be one of the highest hill stations of the regions? So, have you packed your bags yet? We know we have.
Distance from Delhi: 400 kms
Drive Time: 9 hours 30 minutes
Featured image source: Indian Excursions Company