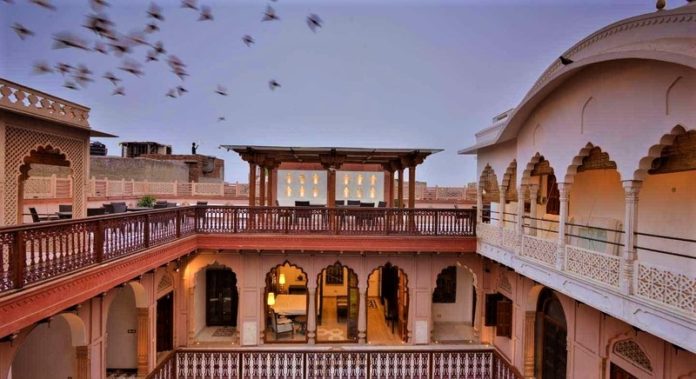 We all know how gorgeous the old Delhi area is. Be it Chandni Chowk, Chawri Bazar, Paharganj, each area has its own charm. But there are certain amazing places in old Delhi which we are sure you are yet to explore.
Most of you might not have heard of this heritage hotel- Haveli Dharampura in old Delhi. For those of you who haven't, let us give you a lowdown.
Going Back in Time:
Built in the year 1887, Haveli is a grand and stunning architectural delight that reflects the rich and diverse culture of the Mughal Era. It has also been featured in the world-famous INTACH (Indian National Trust for Art and Cultural Heritage). This heritage site been restored time and again using traditional styles of construction for its preservation so that the rustic charm of this heritage building does not fade away. Its restoration and maintenance has been done by Vijay Goel, currently a Rajya Sabha member.
Haveli Dharampura is an age old building that is now a heritage hotel and has a fine-dine restaurant. With a vast expanse of 500 sq. yards, this grand masterpiece has been remodelled to include 14 plush rooms. Each room is set in a way that it overlooks the central courtyard. They also have two gorgeous restaurants that serve Mughlai and North-Indian food.
Gorgeous Interiors of Haveli Dharampura
This beauty is heavily decorated with intricate motifs and carvings and wood work. With sculptures of Hindu goddesses engraved in stone and steel and antique balconies with jharokas, you will be transported to a land away from the modern city of Delhi. What gives this place the rich Mughal look is its red sandstone brackets, large arched openings with intricate carvings on the main door, and lime concrete flooring.
What are the major attractions?
There are two picturesque restaurants that cater to authentic Indian cuisine. These restaurants have live counters and stations on the rooftop. During the weekends, it is the prefect place for a date. You can also relax and enjoy here with your friends and family. With a mixture of heritage, tradition, yummy food, and lots of fun, this is what you need for a perfect weekend out within the city.
That's not it. Furthermore, they also have separate massage parlors that helps you relax and rejuvenate. Finally, you can also indulge in some shopping fro their boutique that has a display of exquisite and exclusive handicrafts, jewellery, and books.
Cultural attractions
The personnel at Haveli Dharampura take Indian art and culture very seriously. Often, you can feast you eyes to a glorious Kathak dance or soothe your souls at the melodious musical nights.
If you are looking for an extraordinary date place, this is IT, guys. Also, if you are looking for a place to take your parents out and treat them to a memorable night, trust us, you should bring them here. It's also the perfect location to capture a beautiful pre-wedding shoot. So, book your dates to this place already!
Visit their website to learn more about this remarkable location.
Where: Haveli Dharampura, 2293, Gali Gulian, Chandni Chowk, New Delhi
Featured image source: havelidharampura