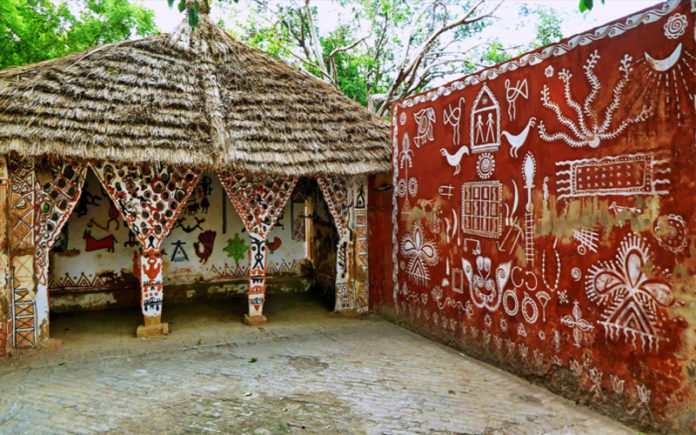 To all the art connoisseurs in Delhi, we know it can get difficult to find spots which are solely dedicated to arts and crafts. But this is Delhi! A haven of culture, heritage, and a confluence of thousands of years of art and history. So we curated a list of the best spots for all you art and design lovers out there, which you should totally visit RN!
1. Lodhi Art District
Located in the centre of the bustling city, Public Art District or Lodhi Art District is India's first open-air exhibit of art maintained by ST+Art Delhi. This venue has a collection of some stunning art from street artists as well as learned international artists. It encourages a lot of young and budding professionals to showcase their talent. If you are someone looking for such a space, then guys, this is your space. Go artsy!
Where: Institutional Area, Lodhi Colony, New Delhi
2. National Gallery of Modern Art
With an exceptional display of modern art starting from the 1850s, this place actually shows you the transformation of art from the British era to this modern age and day. It is not very crowded so you can stroll through the gallery at your own pace. The team here also organises special exhibitions all over the country and internationally as well. The focus that they place on educational learning is inspirational. So, if you love all things art, this is definitely worth a visit.
Where: Jaipur House, India Gate, New Delhi
3. Kiran Nadar Museum of Art
One of the most prominent art museums in Delhi, Kiran Nadar Museum of Art is a upscale exhibition center established by the internationally acclaimed artist, Kiran Nadar. It showcases contemporary works from India and the sub-continent. It is a non-commercial and non-profit organization that has been graced by artists all over the world. Finally, this 34,000 square feet museum space is where you would want to be this weekend.
Where: 145, DLF South Court Mall, Saket, New Delhi
4. National Handicrafts and Handlooms Museum
With artefacts and structures from all over the world, the National Handicrafts and Handlooms Museum is a comprehensive space showcasing some major talent. Whether you are into folksy art or an enthusiast of textiles and handlooms, this place is a heavenly sanctum. And, if you are lucky you can also witness stunning folk performances. It has a collection of over 33,000 pieces of art (incredible, isn't it?) and reflects the indigenous art of almost all the states in the country. And furthermore, it also has the famous Café Lota that serves scrumptious food.
Where: Pragati maidan, Bhairon road, Purana Qila, New Delhi

5. Sanskriti Museum of Everyday Art
With a complex that is as stunning as the art inside, Sanskriti Museum of Everyday Art is a display of the rich diversity of what this country has to offer. From metal lamps, sculptures, utensils etc, wood-works, folk/tribal paintings , range of cane and bamboo crafts, clay and terracotta figures, get ready to be mesmerised and lost in a world of art. They also conduct workshops on the various types of art forms. We know we are totes heading here this weekend.
Where: Mehrauli-Gurgaon Road, New Delhi
6. National Science Centre
Are you also curious about the wonders of science like Sheldon? If you do then you have to rush to this science museum today! There are eight levels with different exhibits for all age groups. They have spectacular science displays and interesting exhibits. Did we add that they also have a library, a planetarium, and a buzzing cafeteria here? Be it chemistry or nuclear energy, have all your questions answered under one roof.
Where: Near Gate No.1, Bhairon Road, Pragati Maidan, New Delhi
Featured image source: Art galleries India