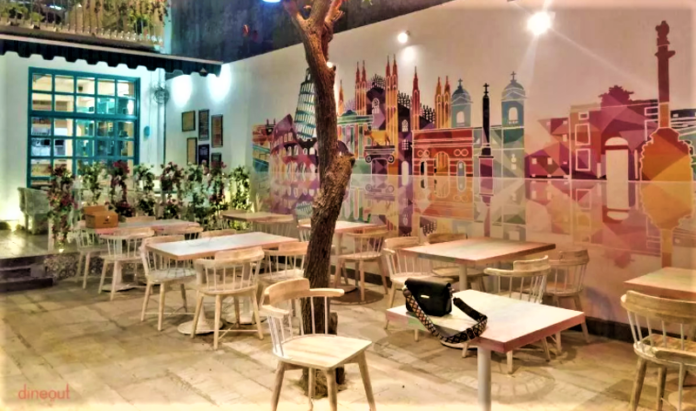 We know our entire city has embraced the cafe culture with arms wide open! You can find a cafe in every nook and corner of the city with some amazing food and adorable decor. But Dwarka, especially, seems to be on its way of becoming the city's new hotspot when it comes to cutesy cafes.
With eye-catching decor, delicious and budget-friendly food, and super cute ambience, you must check out these cafes which have sprung up in Dwarka.
Sehat Cafe
Located in Sector 23, this place has a very chilled out vibe. It's for all those who love eating out but are compulsive health freaks. Perfectly situated right next to a gym, the cafe offers guilt free and healthy menu, ranging from whole wheat pasta to detox drinks.

Where: Opposite Ranjit Vihar,Phase 2, Sector 23
2. Cafe Di Milano
With colourful and European style ambience, Dwarka opened its arm of Cafe Di Milano which has three seating areas—a small rooftop, a ground floor outdoor and an indoor section with bookshelves and sink-in cushions. Hog on their Tandoori Dim Sum, Chicken Tikka Pizza and oh yes, don't forget to order their special cups of Ferrero Rocher Hot Chocolate and Mocha Frappe.

Where: Opp. Reliance Mall, Sector 13, Dwarka
3. Chai Coffee Biscuit
It is Dwarka's one of the most loved hotspots with a spacious indoor and rooftop seating area. You can chill, click pictures, play board games and spend some quality time here with your friends here. The cafe has a lot to offer apart from chai, coffee & biscuits! Ha! They have multiple variants of shakes, teas and coffee with an extensive food menu. Preferred Combination: Nachos+Fries+Shake= perfect evening!

Where: Sector 9 & Sector 12, Dwarka

4. Cafe More Life
Are you looking for a place for fancy breakfast? Then this is the place for you. Cafe More Life is a quaint little cafe with an outdoor seating area which opens up as early as at 8 AM. It's a little gem with delicious food and cosy ambience which is awesome for weekend breakfast or for some chill Saturday night under city lights. They have a ton of books and games along with some lovely music which will keep you hooked!

Where: Opp. Shiksha Bharati Public School, Sector 7
5. Barcode Restaurant Bar
From superb graffiti on the wall to the classy black-and-white floor tiles to decor pieces, Barcode knows how to set the mood right! Heading out with bae for a romantic date? Then, Barcode should be the place for you as it has the cosy rooftop terrace with a pleasant ambience. It has three seating- indoor, balcony and terrace, and the balcony has a dance floor, where you can enjoy a great party.
Where: 3rd Floor, Service Centre, Sector 9, Dwarka
6. Cafe After Hours
Dwarka peeps, Cafe After Hours is your go-to place if you are looking for finger licking food and comfortable ambience to chill with your gang. The place oozes fun and vibrant vibes with colourful and comfortable outdoor seating, a bar, and a dance floor. BONUS: Catch up a game of Jenga or ludo to chill out with your buddies while your hot tandoori sizzler dishes are on its way.

Where: City Centre Mall, Sector 12, Dwarka
7. Cafe Le Amor
One word to describe this cafe is 'Comfortable'. This cosy little cafe is perfect for stepping with your girl gang or for a romantic date. They serve some amazing coffee made with high-quality coffee beans. Although their food menu is short, but each and every dish is worth trying! Do try their Cheese sandwich and of course, sweet tooth lovers, go for their Marble Cake.
Where: KM Chowk, Sector 12, Dwarka
Featured Image Source: dineout