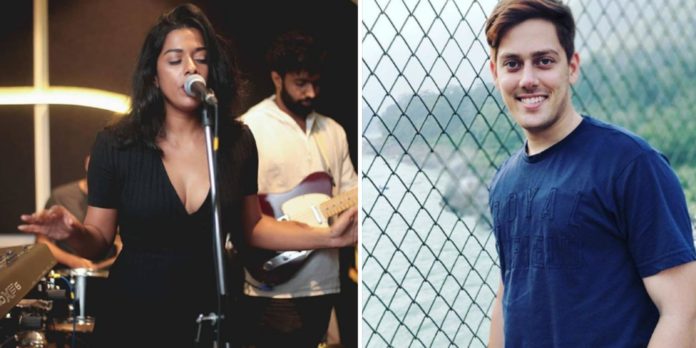 Dream, guts, hard work, and above all passion- it takes all this and a lot more to go after what your heart truly desires. We're sure there are a ton of you out there who love their jobs, some who are just tolerating it and some who are simply on auto-pilot mode and not bothered! But there are a few souls out there who have a passion for something in life and risk it all to attain what they desire. Yes, there are some like in your own city too.
These 5 inspiring and aspirational peeps from Delhi broke all shackles to do what they love! And we couldn't be happier passing on some of their inspiration to you.
1. Tanya Nambiar – Sales Executive turned Jazz Singer
With a voice that can mesmerize thousands at once and looks that could kill, Tanya Nambiar's journey has been an enthralling experience for us to learn. From having worked at a hardcore sales job for a media company to forming her own jazz band and setting up a hot sauce brand, El Diablo Sauces with her husband, she has done it all.
On being asked about journey so far she reminisces on how she hustled between 2-4 jobs to gain financial independence.
"I am a middle-class hustler and I believe that there should be no shame in juggling more than one job if it helps you earn well. I started my career in sales and while I was hosting Karaoke nights side by side, I realized that it was my passion to be in front of the mic. However, I did not quit my job until I had a complete understanding of my music with regards to my career. Once I did there was no looking back."
And she has something to say to all of you who are passionate about pursuing something that you love.
"Support and believe in yourself. Do something because if you want to and never compare yourself to someone else or their lives. It all starts and ends with you. Know that the journey is going to be difficult but focus on what you want." True that!
2. Saajan Abrol – Fraud Analyst turned NGO Founder
Having worked at Amex, Saajan realised that the world of social media networking was not being used to its greatest potential. That's when he and his partner co-founder Naman Ahluwalia decided to start The Clothes Box Foundation. For those of you who didn't know, this organization's mission is to provide clean clothes to all those in need. They collect clothes that have outgrown their usefulness from their owners and donate them to the less-fortunate using the platform of digital and social media.
Saajan opened up to us about his experience with Clothes Box Foundation (CBF).
"We started CBF when Naman was in his pre-final year of college and I was working at Amex. The jobs have played a crucial role in implementing best practices and policies at CBF. We were quite nervous when we left our full-time job, but the journey has been the best learning experience."
And when do you know it's all worth it? When you win the National Youth Award (2017). They won the award for disaster relief and being able to reach out to a lakh people in India with clean clothes and when in his words "Mark Zuckerberg once mentioned the idea of using Facebook by Sajan and Naman for such a good cause in one of his posts." Inspired much? We know we are.
3. Rupin Pahwa – Account Strategist at Google turned Singer-Songwriter
For those of you who are passionate about music, you must be very familiar with the name Rupin Pahwa. But did you know that he has an
MBA degree in Marketing and HR and was working with Google as an Account Strategist? Shocked? We were too.
Getting candid with DelhiPlanet he jokes about how as a kid he was not much into music but into sports.
"It was only in college I realized the guys who played the guitar and sang were the cool kids. I got connected to some great musicians through Facebook and formed a band that got featured in the media. So, how did his journey start? "After quitting Google, an up and coming Delhi based band was looking for Sufi/Bollywood and that's when I ventured out as a solo singer-writer singing all kinds of genres.
For all you budding musicians, he says "Adapt or die. Keep reinventing yourself. There is always so much to learn. Be prepared, open and flexible so that you can enjoy life as it comes. But keeps your eyes on the prize always."
4. Ananth Kumar – Fashion Assistant turned Photographer
Starting off as a fashion assistant at Tommy Hilfiger to shooting the likes of stars such as Priyanka Chopra, Kangana Ranaut, and Arjun Rampal, Ananth Kumar, co-founder of Frozen Pixels along with Abhishek Vohra, has come a long way. So how did they climb their way into becoming one of the most niche photographers in the country?
"I was keen towards photography but never thought of doing it professionally. However, when I slowly started my journey in this field with nightlife
photography, I was sure that this is what I wanted to do! From managing my day job at the store to capturing the Delhi nightlife, it was all very hectic, but it was all worth it. I learnt a lot along the way and my passion and love for photography only keeps growing everyday."
5. Pratyush Chaubey – Engineer turned Stand-Up Comedian
The comedy stand-up scene has been picking up in India like wildfire, and there are a few talented artists who have helped boost the growth of this culture in India. And one of them is Pratyush Chaubey, who you all must be familiar with. An ardent 9-5 engineer at TCS (Tata Consultancy Services) to a celebrated stand-up comedian, let's have a look at this shocking yet pleasing turn of events.
We know you are all interested to know how he got into a field as unique as stand-up comedy. "I was always an introvert in school but used to take part in extempore speeches in school which I loved. I did not enjoy the world of engineering and corporate life. Then I was introduced to the work of Apoorv Mehta who I connected with and then started participating in open mics, which is the best way to go about if you are interested to step into the world of comedy."
So is it always a smooth journey for someone in this field? "It is still a rough journey because there are set standards of the society that people uphold. I am still learning and trying to figure out the trick of the trade. Self-discipline and self-sponsorship is something that needs to be figured." Well, we completely agree with him. Do you?
We hope all these super interesting stories inspired you in more ways than one!
Featured image source: Instagram