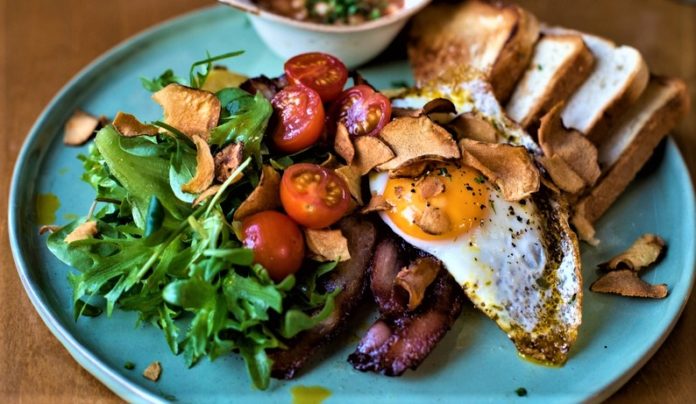 Breakfast is the most important meal of the day, agree? Also, it's also the tastiest meal of the day. Come on! Eggs, Idlis, Paranthas, pancakes, breakfast items have got to be the yummiest of the lot. We know, we know, mornings are really busy and nobody has the time to whip up something fancy in their own kitchens. Which is why you must check out these best breakfast places in town for that perfect breakfast of the champions!

1. Di Ghent Cafe
Bringing out the authentic taste of European breakfast, especially Belgian food, this picturesque little place offers breakfast from 9 AM to 12:30 PM. With glass windows letting in the natural sunlight and modern wood finish seating, this is the perfect spot to start your day. Bet it yummy waffles, bagels, French toasts, you get it all here!
Where: 208, Level 2, Cross Point Mall, DLF Phase 4, Gurgaon


2. The All American Diner
Craving for Signature American breakfast? Then the All American Diner is the perfect place for you guys. From bread to cereals, salads coupled shakes, baked beans, sausages and smoothies this restaurant is a must visit. If you are not too busy gobbling up on bacon and sausages, you should defo try out their lovely pancakes.

Where: India Habitat Centre, Lodhi Colony


3. Cafe Qahwa

A charming cafe nestled in the heart of SDA market, this one offers an all-day breakfast menu with items like waffles, french toast, crepes, eggs and much more. There is both indoor and outdoor seating available, so you can take your pick. Do try their Kahwa tea and Cheesy potato pancakes if you are looking to experiment with your food.
Where: C-21, 1st Floor, SDA Market, Hauz Khas


4. IHOP
All pancake lovers in the house, can we please see your hands go up! International House Of Pancakes (IHOP) is your one-stop shop if you want to gobble on some heavenly pancakes in town. While you are here, do try their Banana Nutella Crepes, Blueberry Blast pancake and Cheese Omelette.

Where: Cyber Hub Gurgaon and Select CityWalk Saket

5. Getafix
A healthy and yummy breakfast is a ideally way to start your day, right? And if you think the same then Getafix is BAE for you. They have a special all-day-breakfast menu that has all the mouth watering dishes made with healthy ingredients. Try their Rainbow Fruit Jar, Masala Omelette, Banana Cinnamon Oats and Chatpata Sprouts, they're healthy and totally yummy!

Where:Greater Kailash, Noida, Gurgaon


6. Cafe Tesu
Are you someone who likes to have a variety of options to choose from when it comes to food? Then Cafe Tesu fits the bill. From the turquoise coloured walls to the white detailing, this Insta worthy cafe is a delight to the eye. Gobble up their buttery banoffee waffles, Ivory Coast Mocha Coffee and their English breakfast platter.

Where: Essex Farms, Adchini


7. Juggernaut
If South Indian cuisine is what gets you going for the day, then you must check out this quintessential restaurant- juggernaut. The best thing? They open at 6 AM, so you have plenty of time to eat and go about your day. While you are there, definitely try their Anaar Masala Dosa, Idli Vadai, and Dahi Idli.

Where: Kailash Colony Market
Featured Image Source: pexels