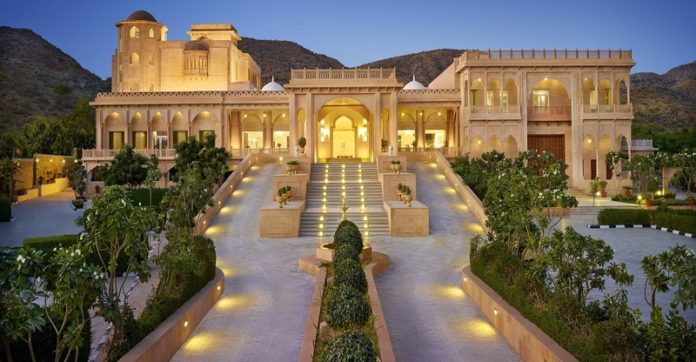 Mommies, we all understand how stressful yet endearing it is to raise your toddlers, especially in the modern day and era when many of you are also working moms. And don't we all need that one weekend off where we can just lay back and relax with our families? We feel you! And because all you mommies totally deserve it, we have found out the best resorts in and around Delhi-NCR listed for you which are also super friendly for kids so that both of you get the best of both worlds!
1. Aravali Resort
Nestled in the ranges of the beautiful Aravali hills, this resort is the perfect option for you if you do not want to wander far away from the city life and yet be close to the city. They have lush green lawns and beautifully architectured gardens where you can enjoy a meal amidst nature. They also have many activities that you and your kids can participate in like outdoor sports, rock wall climbing, live performances, etc.
Image source: TripAdvisor
Want to know more? Check out their website here.
Where: 76th Milestone,, NH – 8, Dharuhera(Rewari), Haryana.
Drive time: 2 hours
2. The Gateway Resort
Luxury in the midst of Aravali Hills and besides the gorgeous Damdama lake, The Gateway Resort is your gateway to a fun-filled and exhilarating weekend. With stunning interiors, posh rooms, and a beautiful poolside, home away from home now has a new address. They also have many day-activities and sports for children if you want to indulge your little one in some games. We recommend that you try out their spa to rejuvanate yourself.
Want to know more? Check out their website here.
Where: The Gateway Resort Damdama Lake, Gurugram
Drive time: 1 hr 50 minutes
3. The Westin Sohna Road
Known for their super luxurious services and standing tall to their massive resort, The Westin Sohna Road is exactly what you need for your special weekend out. They have a kids pool and an indoor kids play area where your child will have complete supervised assistance while they let their feet wander. Meanwhile, you can enjoy their spa or indulge in some retail therapy from their designer boutique. So, have you booked your suites yet?
Want to know more? Check out their website here.
Where: Vatika Complex, Karanki Road, Sohna-Gurgaon
Drive time: 2 hours
4. Hans Resort
Planning for a weekend within a budget? Then Hans Resort is your go-to destination. Providing all the luxuries of a luxury hotel, Hans Resort is very reasonable when it comes to their tariffs. Built on a hillock, the resort has some splendid view spots and a touch of royalty. They have many adventure sports like Burma bridge, Commando nest, Archery, and much more to keep yours and your kids' muscles engaged. They also plan day trips if you want a fun family day out.
Image source: Hans resorts.com
Want to know more? Check out their website here.
Where: 91 Milestone,Delhi-Jaipur Highway, Rewari, Haryana
Drive Time: 2 hours 10 minutes
5. Hill Fort Kesroli
A marvellous property with mesmerizing architecture that will deport you to the land of the royals, Hill Fort Kesroli is one heritage property that you should check out. Being a 700-year old property, the luxury that this resort offers is incomparable (and it's not even super expensive!) You and your younger ones can explore the property on a bicycle or play a fun game of badminton. And yes, the food here is beyond words! Finally, this summer season, you can enjoy a mocktail by the poolside as well while you kid learns how to swim!
Want to know more? Check out their website here.
Where: Hill Fort-Kesroli – 14th Century, Alwar, Rajasthan
Drive time: 4 hours
6. Botanix Nature Resort
Teach you little ones the value and beauty of nature at this exclusive nature resort. Botanix Nature Resort is a one-of-kind property that is built in the form of a resort resembling the surroundings of the ancient world where it was not taken over by modern civilization. The resort has a theme park and doubles up as an adventure camp with nature walks and rock climbing activities. It is also a special destination that encourages you to live in a farm setting.
Want to know more? Check out their website here.
Where: Damdama Village, Near Damdama Lake, Gurgaon, Haryana
Drive time: 1 hour 30 minutes
7. The Lalit Mangar
A forest grove and acres of lands filled with trees along with all the modern day comfort? Yes, please! Your kiddos can have fun with their day activities like rock climbing, rappelling, cycling, while you can plan a full-on family day with picnics, village tours, and Time Reversal Spa (exclusively for you and bae!) Furthermore, they have a beautiful outdoor alfresco restaurant serving some delicious food and drinks.
Want to know more? Check out their website here.
Where: Camp Wild Road, Near Mangar Police Chowki, Faridabad-Gurugram Road, Haryana
Drive time: 1 hour 20 minutes
Featured image source: truelocalz