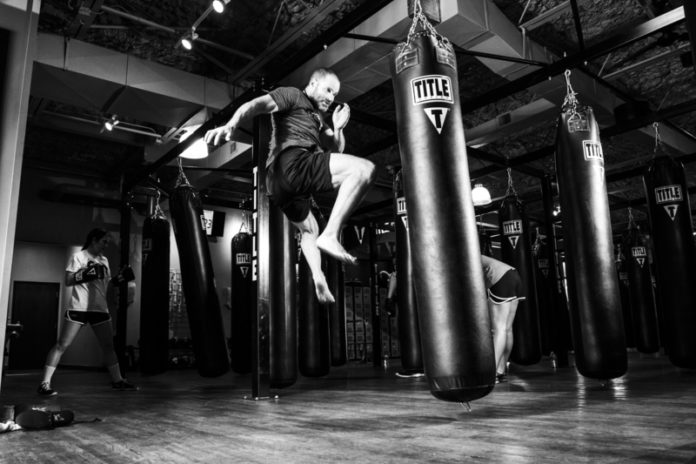 Boys, don't Ranveer Singh and Varun Dhawan just want to make you dash to the gym and get a super fit body like theirs? Come on, don't tell us that thought has never crossed your mind! With winters almost ending, its time to give those track pants a break and take out those swimming trunks for some fun in the sun.
Now, we get it, a little winter weight is justified, right? And gymming is not the only way by which you can get rid of it. You can try the super amped up work out in the form of MMA- Mixed Martial Arts. So, head to these 6 MMA studios today and kick your way to a fitter you!
1. Knockout Fight Club
With several clubs scattered all around the city of Delhi, Knockout Fight Club is one of the most popular MMA centers in Delhi. Not only do they offer combat training but they also provide functional training if your aim is to stay fit and not learn the sport professionally. They have several schedules that you can check out as per your convenience.
Check out their schedules here.
Where: Multiple locations
2. Cult.fit
Cult.fit is Cure.Fit's chain of workout spots that has been stirring quite the rage in the modern-day gym arena. With crossfit and functional training, Cult uses a no-machine policy and has an array of MMA workouts that you can check out! They mostly have group classes so that you get double the pump and sweat it all out.
Check out their schedules here.
Where: Multiple locations
3. Dynamic Kickboxing
If you are an extreme fitness enthusiast, then Dynamic Kickboxing is meant for you. By fusing various Combat systems and extreme Fitness workouts, the team at Dynamic take workouts to a level that will ensure that you rip it and shred it in no time, while also learning the various combat sports. They also have tie-ups with international brands who conduct regular classes here.
Check out their schedule here.
Where: Sector-44, Sadarpur, Noida
4. Combat India
With 22 years of experience, Combat India is one of the most trusted names when it comes to functional MMA training and workout. With special trials and offers that the club hosts every month, this works out to be reasonable deal. Be it Taekwondo, kickboxing, tai chi etc, they have specialised instructors to cater to all your workout needs. They also have partner classes in case you and your buddies want to hit the classes together.
Check out their schedule here.
Where: B-360, Chittaranjan Park, Basement, New Delhi
5. Crosstrain
Prefer a fancy gym setting to get that perf physique? Then Crosstrain is your best bet. Spread across an area of 2000 sq. ft., there is nothing that this workout space does not contain. They have the best of the instructors who come with specialised training in various combat sports that you want to try out. You can also request for personal sessions if you do not wish to go in for their group classes. Furthermore, they will build your schedule based on your body and skill type. Ain't we loving this place already?
Check out their schedule here.
Where: Multiple locations depending on the workout
6. Boxfit
Another popular name in the city of Delhi-NCR when it comes to MMA and functional training is Boxfit. They are known for their 60-minute full body workout that will make you lose more calories than a 3-day workout combined. Want to go full power? Then sign up for their classes today.
Check out their schedule here.
Where: 81, Hemkunt Colony, Lala Lajpat Rai Road, GK 1, New Delhi
Featured image source: pexel