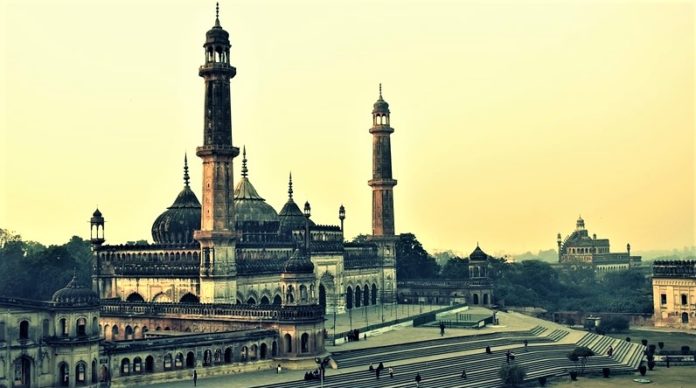 Lucknow, the city of Nawabs, heritage, culture, and most importantly food, has been a famous tourist destination. Especially for us Delhiites, given its proximity to our city. For someone who wants to unwind, relax and have some scrumptious food, Lucknow needs to be on top of your list. The city has some amazing heritage sites, architectural monuments, and about a thousand places where you can feast on food like the Nawabs. So, here's all the good reasons why you should defo take a quick weekend trip to this Nawabi, Kebabi city!
Food joints to check out
Any true blue foodie will understand what a haven Lucknow is for food lovers. From their chaats to their kebabs and biryanis, there is nothing the chefs of this city cannot prepare deliciously. A few places you simply CANNOT miss out are:
1. Tunday Kababi
A 100-year old establishment, Tunday Kababi is not just famous within the city but is visited by tourists from all over the country. Their mutton and Buff Galouti kababs are super famous and literally will melt in your mouth. Try their kababs with their equally famous Sheermal. After all, this is the birthplace of Galouti Kebabs!
Where: LDA Colony, Near Akbari Gate, Purani Chungi, Sector C1, Chowk, Lucknow
Cost for two: Rs. 300
2. Idris Ki Biryani
If you are in Lucknow and if you haven't tried their Lucknowi biryani, then get to ready to experience some major FOMO! Prepared with special spices that the Nawabs used to use for their biryani preparation, Idris ki Biryani is the best place to grab a plate. The rice is soft and the meat is succulent. Next time you are in this food haven, do try out their mouth-watering biryani.
Where: Raja Bazar, Opposite Patanala Police Station, Chowk, Lucknow

Cost for two: Rs. 300
3. Shree Prem Mishtaan Bhandar
If you are a sucker for proper street food like chaats and golgappes, Shree Prem Mishtaan Bhandar is a MUST try. From their Dahi ke bhalle to their Tikki chaat, you would want to try it all. Don't forget to end your gastronomical journey with their world-famous halwas and their makkhan malai. Just forget your Fitbits at home, guys!
Where: 311/6, Kamla Nehru Marg, Chowk, Lucknow
Cost for two: Rs. 250
4. Netram
One of the most well-known and established places for Chole Bhature and Kachodi or to grab good vegetarian food in the city is Netram. Their juicy and crispy jalebis served with malai or rabri is something out of the world. It's literally heritage served on a platter!
Where: 44, Shri Ram Road, Aminabad, Lucknow
Cost for two: Rs. 200
Places of Tourist Interest
Now that we are done making you hungry, why don't we take you through a historical journey to all the important tourist spots? After all, Lucknow is the city of Nawabs so how can heritage buildings be far behind?
1. Bara Imambara
This is the first name that comes to everyone's mind when it comes to Lucknow's tourist spots. Built in 1784 by Asaf-Ud-Daula, this site has a mosque, a step-well (baoli), several courtyards, and gateways. But above all, the Bara Imambara is known for its maze construction known as Bhulbhulaiya. Battling against 489 identical doors, you will be welcomed with a stunning view of the city once you cross the maze. Don't fret, there are usually tourist guides who can help you to cross the maze.
Where: Bara Imambara, Machchhi Bhavan, Lucknow
2. Rumi Darwaza
Once again, constructed by Asaf-ud-Daula, Rumi Darwaza is another architectural marvel of this historical city. The gateway to this monument is as high as 60-feet tall and has beautiful intricate carvings of flowers adorning the gateway. The surprising part is that this building has no additional exterior support but stands tall this date. Interesting, ain't it? So the next time you are in Lucknow, don't forget to give this spot a visit.
Where: Rumi Darwaza, Machchhi Bhavan, Lucknow
3. Jama Masjid
Built by Sultan Ahmed Shah in 1423, Jama Masjid is an absolute delight to the eyes. Constructed entirely with yellow sandstone, this mosque has a blend of both Hindu and Islamic influence in its architecture. That's not all! On a closer look, you can also find carvings that have been inspired by Jain and Hindu culture. While you are here, you must visit the tomb of Sultan Ahmed Shah also, located on the eastern entrance of the Masjid.
Where: Jama Masjid, Daulatganj, Lucknow
Spots to shop at
Now, there is no trip complete without indulging in some shopping spree. Is there? These are the top areas in the city where you can shop till you drop!
1. Hazratganj
One of the most famous markets in Lucknow, Hazratganj has both branded and non-branded stores. From local shops carrying traditional chikan work to brands like Vero Moda, you can take your pick! Stores selling ethnic wear here are a hit, so do pick up traditional outfits for your loved ones.
2. Santakada
For locally sourced handicrafts and hand-made designer clothes, Sanatkada has an array of variety that will surprise you. The place has products, handicrafts, and clothes designed by local NGOs as well as well-known designers. Best of both worlds? We agree!
Where: Kaiserbagh Officer's Colony, Qaiserbagh, Lucknow
3. Sugandhco
Are you a sucker of everything that smells heavenly? We know we are. A sanctum of Ittar (pure essence oil extracted from flowers by a traditional method.) Sugandhco is known world-wide for their range of men's and women's ittar. They also sell incense and a range of franrances that can be used within a household to keep it smelling fresh and sweet. If you want to pick up souvenirs for all your close ones, we suggest you do it here!
Where: D-4, Janpath Market, Trilokinath Marg, Lucknow
So, guys, it's time to make plans for a weekend getaway trip the city of Nawabs right away!
Featured image source: goibibo