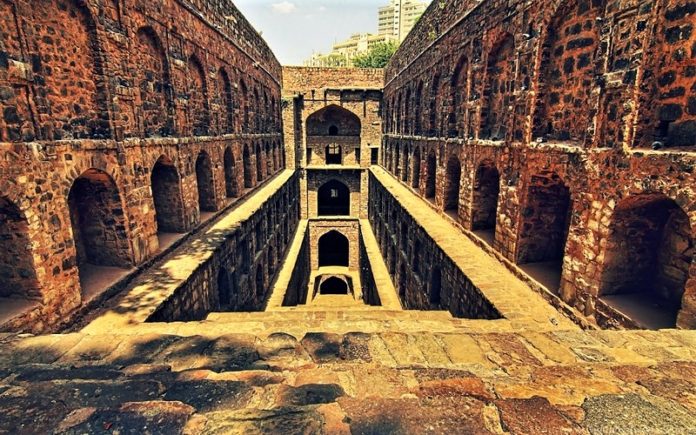 Dilli sheher is not just a city, but an emotion. Agree? A confluence of history and modernity, the city is perfect for old souls and young guns too. While we do have some amazingly popular tourist spots in the city, did you know that there are many breathtaking hidden spots too? Yes! Then scroll down and check out these historic and quaint corners tucked away in the city.
1. Agrasen ki Baoli
Truly a gem of a kind, Agrasen ki Baoli has a charm like no other place. Situated in the heart of the city, this is a tourist spot that has never been ventured into much and hence has maintained its sanctum position. With 108 steps, you can see the arched niches constructed on both sides of this three-storeyed baoli (that literally translates to water temples). It has been popularised in a few movies like PK. So, this weekend, gather your history-enthu friends and re-live the rustic old world charm once again.
Where: Hailey Road, KG Marg, New Delhi
2. Rajon ki baoli
Another magnificent baoli set in the heritage site of Mehrauli, Rajon ki baoli is every bit eye-catching as any mainstream tourist spot. Built by Daulat Khan, this is also a three-storeyed monument, with a well in the back and pool in the front. The arches of this baoli contain inscriptions from the Holy Book of Quran. Apart from the baoli, there is also a wondrous mosque that you should visit. Weekend plans sorted? We think, yes!
Where: Mehrauli Archaeological Park, Delhi
3. Mirza Ghalib ki Haveli
A stupendous memory constructed in the name of world-famous Urdu poet Mirza Asadullah Baig Khan or popularly known as Mirza Ghalib, this haveli is everything you can dream of if you are into art and architecture. This place is a sanctuary that has preserved his renowned pieces and also doubles up as a museum which is being looked after by the Indian Government.
Where: Qasim Jan Street, Shahjahanabad, Ballimaran, New Delhi
4. Sanjay Van
Covering an expansive area of 780 acres of lush green land, Sanjay Van is an unexplored piece of heaven. Located near Mehrauli, this sprawling park has views that cannot be compared to anything else. Whether you want to sit down with your fam for a light lunch or go for a peaceful run in the midst of nature, this place has it all.
Where: Vasant Kunj. New Delhi
5. Jamali Kamali Mosque and Tomb
Housing the grave of Shaikh Jamali Kamboh, Jamali Kamali Tomb is both a mosque and a tomb that is built in a beautiful manner. You can feel the serene and peaceful vibes once you enter the mosque. People sit here for hours to get away from the monotony of life. The next time you are looking for some time away from the busy city life, go here and trust us. you will feel refreshed.
Where: Archeological Village Complex, Mehrauli, New Delhi
6. Bade and Chote Khan's Tomb
These two mausoleums are not just magnificent to look at but colossal in size. Located within the Kotla Mubarakpur complex, they are the most prominent tombs from the era of Lodhi and Saiyyad dynasty. The peaceful atmosphere around this location and stunning architecture is what draws tourists here the most. There are many other lesser-known tombs also which you can visit around this place. Explore away!
Where: South Ex, Part 1, New Delhi
7. Qudsia Bagh
Built in 1748 by the Mughal Empire, Qudsia Bash is truly a hidden masterpiece tucked away in the area of Old Delhi. With beautiful architecture gracing this age-old heritage, it is also the perfect getaway from the daily hustle of city life. The entrance to the Bagh is in the form of a structure of a beautiful arched-pillar and on a close look, you can also see the ancient floral motifs that has been decimated with the passing ages. So, if you are looking for a place to get away from the city life and enjoy some peace and quiet with a book or just take a stroll, you should definitely visit this Bagh.
Where: Prema Kunj, Railway Colony, Civil Lines
8. Bijay Mandal
Built in the 14th century by one of the most famous emperors of India, Alauddin Khilji, Bijay Mandal is a sight to behold. This place was built to be a fort and is elevated by two platforms. Once you climb the ramp that ends in a small pavilion, you will be mesmerized by the breathtaking view of the city that is visible from this fort.
Where: Bijay Mandal – E-12, Block 4, Sarvapriya Vihar
Featured image source: Digital Kaleidoscope