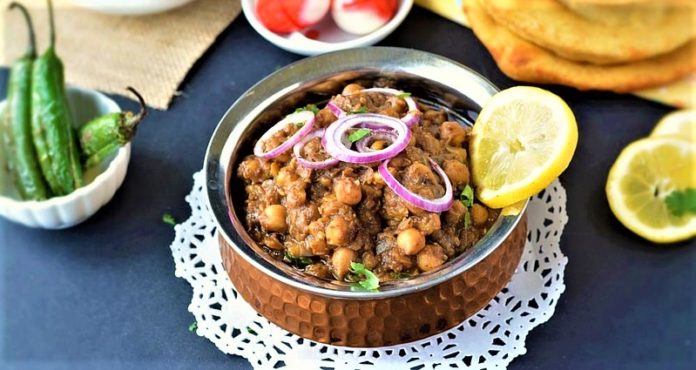 If Chole Bhature is your bae, raise your hands right away! Delhi to Chole Bhature is what Punjab is to Sarso ka saag and makke ki roti. Be it at a restaurant or at that local stall, we simply would leave no opportunity to have some garma-garam plate of happiness which is Chole Bhature! So, the next time you are on a quest to grab a plate, don't forget to head to one of these 7 superb places.
1. Sitaram Diwan Chand
First of all let's all take a moment and thank these founders for their piping hot delicious plates of wonder. A 50-year old establishment, Sitaram Diwan Chand has a huge fan base who swear by this place. And they are not wrong! They serve soft and fluffy bhaturas and spicy delectable chole with yummy onion chutney which is irresistible. Say goodbye to your diet guys, because one whiff of this food and all your calorie count would be out of the window!
Where: 2246, Chuna Mandi, Paharganj, New Delhi
Cost for two: Rs. 150
2. Prem Di Hatti
Located in the heart of West Delhi, in Rajouri Garden, Prem Di Hatti deserves every bit of the fame it has garnered over the years. Established in 1977, this small street side shop is now one of the best places where you can grab a plate of spicy and flavourful Chole Bhature. "You cannot buy happiness but you can buy our Chole Bhature" is apt to describe Prem Di Hatti! If you haven't been here yet, you are definitely missing out on something!
Where: J-1/162, Opposite City Square Mall, Rajouri Garden, New Delhi
Cost for two: Rs.100
3. Baba Nagpal Corner
Their delicious Chana Bhatura has been a rage since Baba Nagpal Corner started their snack stall. If you are planning to visit here during the weekend, we suggest you reach here early because the crowds there can get massive. They also have options for puris and chawal if you want to try it with their Punjabi chole.
Where: 7/25, Old Double Storey, Gupta Market, Lajpat Nagar 4, New Delhi
Cost for two: Rs.150
4. Om Di Hatti
If you are an ardent bhakt of Chole Bhature, then Om Di Hatti is your sanctum. With stuffed paneer bhature and kaale chole made with the perfect blend of spices, Om Di Hatti is a favourite spot for every Dilliwala. With over 60 years of culinary experience, Om Di Hatti has started a legacy of itself. So the next time you are craving a steaming spicy plate of Chole Bhature, we suggest you take down their address right away.
Where: 5050/1, Sant Nagar, DB Gupta Road, Karol Bagh, New Delhi
Cost for two: Rs. 100
5. Roshan Di Kulfi
Want to know the best way to end your perfect meal of Chole Bhature? With a delicious kulfi. Known for their finger-licking preparation of Punjabi chole that is served with delicious Imly chutney, people flock here to have their kulfi as well. The food here is super heavy, so we suggest you go on an empty stomach to eat till your tummy doesn't give up! After all, there ain't no love like our love for chole bhature!
Where: 2816, Ajmal Khan Road, Karol Bagh, New Delhi
Cost for two: Rs. 500
6. Vishal Bhaturewala
A mix of salt and spice and everything nice, Vishal Bhaturewala is a lesser known but one of the best stalls that serve some mean Chole Bhature. The shop usually is open around 6 am and by lunch time it is usually sold out. Yes, that's how popular they are! Their bhaturas are not too heavy on the tummy and hence is perfect for a snack.
Where: B Block Marg, Block B, Vivek Vihar, New Delhi
Cost for two: Rs. 110
7. Nand Di Hatti
Started by late Nand Lal Ji, Nand Di Hatti is one place that will always be one of our favourites. Made in pure ghee, their chole bhature are absolutely out of this world! If you do not consume onions or garlic, then praise the heavens, because this place is your messiah since they have the option of onion & garlic less plate too. Seems like we know where we are heading to, to cheat on our diet!
Where: 830, Pan Mandi, Sadar Bazaar, New Delhi
Cost for two: Rs. 150
Featured image source: Ruchiskitchen