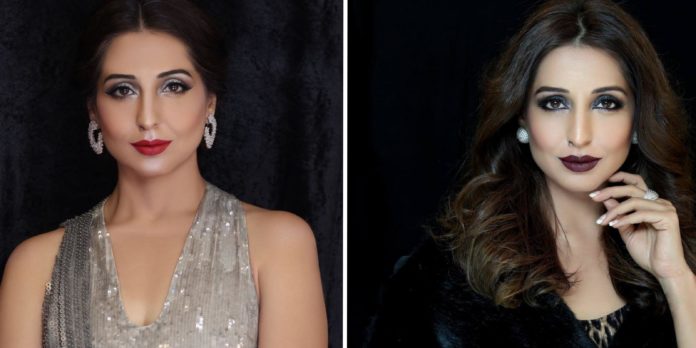 Ladies, those who say girls without makeup look the best clearly do not know how to shop at Sephora! Or how much fun it is! Applying makeup is not just about making yourself look pretty or glamorous, it is an art in itself. And at the end of the day, it's a personal choice whether a girl wants to put on makeup or go au naturale, so let's not judge, guys.
But for all you makeup lovers, we have a special treat for you today (we know we are awesome!) Delhi-based Makeup and hair expert Chandni Singh who is one of the most reputed artists in the country is especially here for you all, to give secret tips and tricks on how to rock the glamorous cocktail look, a simple mehendi look, or a classic wedding look. So get your notepad and your makeup brushes ready!

How did you start your journey as a makeup artist?
At the age of 17, I knew I would be a makeup artist.  I saw a male makeup artist while I was at a shoot in Lucknow Doordarshan, dolling up my friend. He completely transformed her look and I was super impressed. And that was when I decided I was going to be a makeup artist. However, I officially began my journey at the age of 27.
How has the wedding makeup scenario in India been for you? How is it different from the international clientele that you have?
The season and scenario has been fantastic always. I love my brides because they are all so fantastic and beautiful whether they are from India or abroad. The only difference is that the NRIs mostly ask for airbrush makeup since it tends to look more flawless and natural whereas Indian brides also go for regular and HD makeup.
What are 4 wedding trends in terms of makeup and hair that you have noticed, say in the last 2-3 years?
There are a few trends that I have seen are in vogue with the new-age brides-to-be. Minimal dewy and natural makeup, Long Fluttery lashes, Glittery Eyes, and Textured hair, are a few that my brides ask for almost 80% of the times. As a result, I have maintained my niché in the world of minimalist makeup.
If it's a day function, what type of makeup and hair do you suggest for brides?
Day functions tend to be very colourful and mostly the themes tend to be either on the yellow lines or pastels. So accordingly, I would suggest that Matt brown smokey eyes with nude lips, fluttery and long lashes, dewy makeup , side swept hair or a textured hair chignon should do! You can't go wrong with this ever. It has a classical vibe to it.
Since the time you started out, what are the three changes that you have seen through the years?
A lot of great changes have taken place in the years that I have been in this profession. Firstly, clothes and jewellery styles & designs have become way better. Its classier and more sophisticated and not very shimmery or shiny! Secondly, brides know exactly what they want. Be it in terms of makeup or lehenga design or just the way they want their hair to look like, they have a set image in mind. Lastly, in the previous years only a few brides would want to wear fake lashes, now they all wear them.
What kind of hairstyles do brides should go for during the various functions?
Textured hair is really trending, be it with open hairstyles or tied hairstyles, and I personally love it as well. I just tell brides to choose a style which is classic and not follow a certain trend that everyone has been gushing about. When you look at your pictures 20 years down the line you should not feel "what was I thinking"! And a classic vibe or something that is unique always works.
What is the one makeup trend that you specifically love and would suggest for all brides-to-be?
You cannot go wrong with Intense eyes with light lips. That not just looks glamorous but also gives a very sexy and chic vibe. And I always guide my bride if she is going wrong with her choice of makeup. Maybe not to her face, but subtly for sure. I wouldn't want her to regret her wedding makeup choices in the future.
What is the one makeup trend that you would suggest for all bridesmaids?
I absolutely love Beach waves (in hair) with nude makeup! Be it a cocktail function or a sangeet/mehendi ceremony, this is a trend that can never go out of style. So, brides-to-be, if you are confused about a specific look, go with this! Trust me, you will not regret it. For the wedding ceremony however, a heavier makeup with a classic bun will be evergreen in India because it is truly a classic look.
How has your journey been so far? And how would you describe your experience when it comes to brides?
My journey has been absolutely amazing. I have dolled all my brides up with a lot of love and with all my heart. It's an absolute wonderful feeling to see how they keep coming back to me and my entire team has been working very hard to put together a look a bride has always dreamt of for her D-day. When they have a smile on their face you know you did it right.
Okay girls, we hope you got some amazing insights from Chandni Singh and would definitely try it out on your big day!