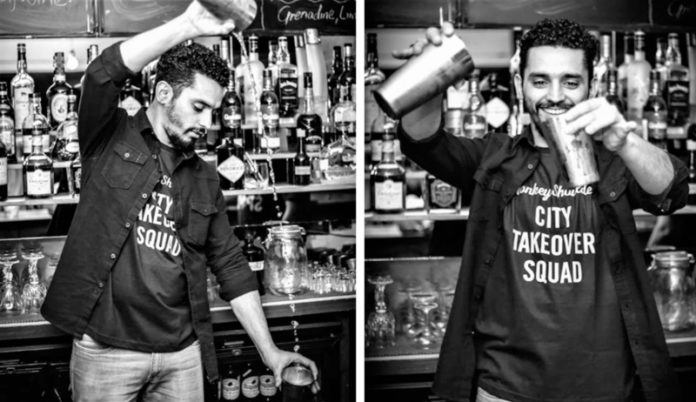 Ever thrown a house party and suddenly wished that you had the genius hands of a mixologist to whip up a fancy cocktail? The ordinary whiskey and water or beer can get pretty boring at times. So the next time you are hosting a house party, surprise and impress your guests by serving some mind-blowing and super-easy-to make cocktails, thanks to the extremely talented Delhi-Based mixologist, Param Veer.
Having started his career from Ek Bar, he has worked with biggies like super popular Perch Wine and Coffee Bar, Bo-Tai and now he's stirring some heavenly cocktails at Together at 12th. He has also won a few reputed bartending competitions from India like Monkey Shoulder UBC, Hoegaarden mixology challenge and was also in the top 6 of World class Competition India. We are definitely impressed by his body of work and his cocktails!
And there's no reason why you shouldn't benefit from his expertise. So, because we are simply awesome (*blush blush*) we got in touch with him to get some insights and recipes to some kickass cocktails!

How did you get into the craft of bartending?
I always wanted to be in the Hospitality sector. When I got into IHM, Pusa, I got to know that bartending was one of the genres I had to try out amongst other numerous departments of hospitality. And I fell in love with the skill. And that's how my love for this craft kept growing.

With the wedding season being so popular all year round in Delhi, what is that one drink you think works great at a cocktail night?
Recently I worked for a bar consultant called Nitin Tewari. We did organise a few weddings and there was this one drink which was served the most called Floral dew vodka.
Recipe: (Serves 1)
50 ml of Vodka
25 ml freshly squeezed lime juice
15 ml elderflower syrup
Soda to top up
5 ml of blue Curacao
Cucumber slice to garnish
Method: Pour the vodka and the juice in a mixing glass. Add lots of ice to it. Then mix the concoction with the rest of the ingredients and stir it rapidly. Serve it garnished with a cucumber slice.
Image source: Montage Magazine
If someone is hosting a girl's night out, what is the one trendy cocktail that you would suggest? Something that is easy to make.
One drink that most ladies prefer is a classic cocktail, Moscow Mule
Recipe: (Serves 1)
Vodka – 60 ml
Lime juice – 20 ml
Sugar syrup – 15 ml
Ginger ale to top it up
Lime wedge to garnish
Method: All you need is a mule mug which is a copper mug. Squuze the lemons first and add 2-3 ice cubes in it. Pour the vodka and sugar syrup after this and stir it. Add the ginger ale and mix it again. You drink is ready. Garnish it with the lime wedge.
Image source: Delish.com
Similarly, for a boys night out, what is that one cocktail that men generally love, given that they do not usually go for cocktails?
Out of 100 gentlemen, 70 prefer the classic Old fashioned. It is really easy to make and because it is little on the bitter side, boys really enjoy the taste and the flavour.
Recipe: (Serves 1)
1 Sugar cube
3 dashes of Angostura bitter
60 ml of Bourbon whisky
Orange peel to Garnish
Method: Add the whiskey, bitters, and the sugar cube in a mixing glass. Post that, add several large ice cube s and stir it with a bar spoon. Strain it into a glass with fresh ice. Garnish it with a slice of orange.
Image source: The Cocktail Project
What is that one refreshing cocktail that works great during summers since the season is approaching quick?
During summers, you'll never go wrong with an old maid as it is super refreshing, tasty, and very light-ish. You can make it at home in 5 minutes.
Recipe: (Serves 1)
60 ml Gin
20 ml sugar
22.5 ml lime juice
5-6 mint leaves
Garnish it with a cucumber slic
Method: Mix the mint leaves, cucumber (you can also use cucumber juice) with the lime juice and then add the sugar syrup and vodka. Shake the entire concoction with ice. Garnish it with cucumber slices and add a spring of mint.
\
Image source: Auszeit Bar Hannover

An original cocktail recipe that you have created from scratch?
I made this cocktail called Hybrid Theory for my Hoegaarden competition that ultimately led to my win. People loved the cocktail because it was very simple to make but extremely flavoursome and tasty.
Recipe: (Serves 1):
1 pint Hoegaarden beer
60 ml cold brew
60 ml orange juice
15 ml orgeat syrup
Garnish it with an orange slice
Method:
Mix all the ingredients in a glass, but without the beer and shake it up in a cocktail jar. Once you have done it, top it up with the pint of beer.
Featured image source: Frozen Pixel Studios
Now that we have your house party plans sorted, go and mix it up with these delish cocktails.