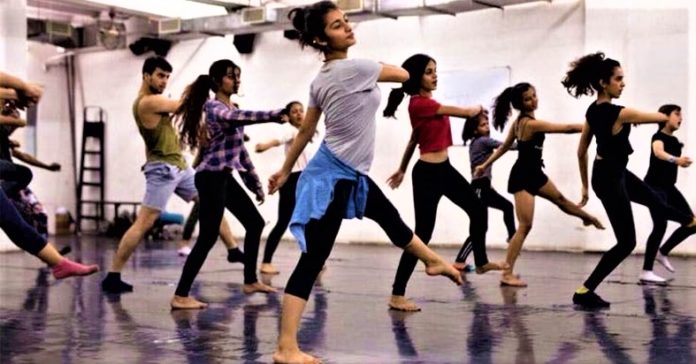 Be it Anarkali from Mughale-E-Azam, Sheila from Tees Mar Khaan, or Anjali from Kay Sera Sera! What did they all have in common? If you answered with gorgeous and graceful dance moves, you are bang ON! Also, don't you think dance is the perfect stress-buster and great work out at the same time? So if you are someone who is looking to join some cool dance classes, here are the best studios in Delhi that will teach you to move the right way!
1. Banjara School Of Dance
Always envied Shakira and Katrina as they showed off their belly dance with the perfect twists and turns? Wish to envisage the same moves someday? Then head to Banjara for Belly dance classes and learn how to Dilbar Dilbar the pro way! They have verified and talented instructors who will teach you bow to drop it like it's hot! Get in touch with them here.
Where: 141, Shahpur Jat, Siri Fort, New Delhi,
2. Delhi Dance Academy
Want to master the form of Hip Hop and Popping & Locking to get into the Step Up zone and do it like Tatum? Friends, Delhi Dance Academy is the answer to all your prayers. With top certified and the best instructors from all over the country, Delhi Dance Academy has absolutely nailed it when it comes to teaching the genres on the lines of street dance. They also conduct classes on various other genres like contemporary, classical, folk, and much more. Get in touch with them here.
Where: E-238/239, Amar Colony, Lajpat Nagar 4, New Delhi
3. Premier Arts Academy
Always been a fan of how gracefully Madhuri Dixit and Aishwarya Rai move? Thanks to Premier Arts Academy, you can now learn the beauty of all the diverse forms of classical dances like Kathak, Bharatnatyam, and Odissi. Classical Dances not only teach us about the rich heritage of India, but it also shapes up our posture. A mixture of grace and fitness? We definitely cannot give up on that. *Signing up for our classes here right away*
Where: D-131, Near A.T.S One Hamlet, Sector 108, Noida
4. Zenith Dance Academy
One of a kind, Zenith Dance Academy is here to teach you the mysterious and super flexible parkour moves. Intrigued? So are we. If you have ever wondered how it is that people can actually be so flexible and hop off and climb the walls in the most unnatural way, here's your chance to find out. Get in touch with Zenith Dance Academy here right away! They also have several other dance classes that you can try out.
Where: 282, Opp. Sri Venkateswara College, Satya Niketan, New Delhi
5. The Danceworx
Ever got inspired by Joey from Friends to try out your hand at Jazz after his terrible audition performance? If yes, then Danceworx is the shizz, guys and girls! With a group of instructors who will not quit until you have it all right, they will ensure that you nail the dance form of Jazz and also a little bit of contemporary dance while you're at it. You can also customize your classes as per your convenience. Get in touch with their team here!
Where: A-27, A Block, Basement, Sector 50, Noida
6. Soul To Sole Studio
Instructors who are super sexy and super pumped up and can teach you how to Dil Chori in a suave and classy way! That's how Soul to Sole rolls. Not only will you learn the classic trendy Bollywood moves but also shed those extra pounds while you're at it! They have fixed class and schedule timings and they conduct classes even during the weekends. Sign up for their classes here right now and re-discover the joy if dance in a new light!
Where: 5803, Aster Avenue, DLF Phase 4, Gurugram
7. Dance Cafe
Did the songs
Bailando
by Enrique or
Despacito
by Justin Bieber ever make you want to get up and do a sexy dance number with your partner? We have the same feels. Now don't just wish. Make it happen with Dance Cafe. They are the official entertainment partners for Kingdom of Dreams. That says a lot about them, right? Get more intel on their classes
here
.
Image source: The Dance Cafe/ Facebook
Where: Hotel Galaxy, Part 2, Sector 15, Gurgaon
Featured image source: danceworx