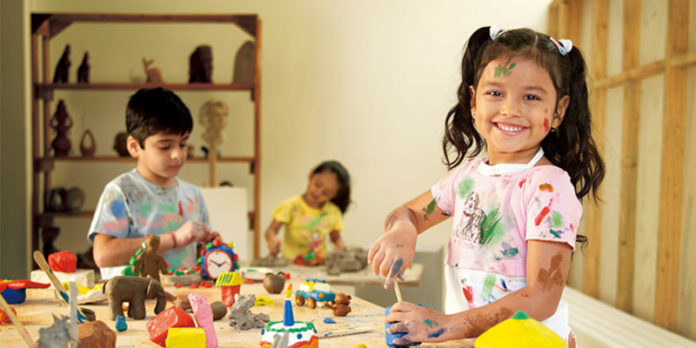 Mommies, don't we all want our munchkins to have the best of everything? As important as education and schooling are, it is also equally important to sharpen their extracurricular hobbies, right? Be it art, music, dance, or sports, kids have an affinity to pick up any form of art very quickly which they enjoy.
We found these amazing offbeat classes for kids in Delhi to help your younger ones stay happy and healthy. So don't delay any longer and enroll your kids for these top 6 classes already!
1. Mandala Art at Orange Octopus
Madala Art has been scientifically proven to increase the levels of concentration and mindfulness in people. So imagine what a beneficial form of a hobby this can be for your kids. For those of you who do not know, Mandalas are "circular designs that start from a center point which emanates an array of symbols, shapes & forms." Apart from concentration, it can also enhance creativity and help a child relax. Isn't that the best of both worlds? Check out more on this by clicking here!
Age group: 4-12
Image source: Mamaearth
Where: Orange Octopus, Sainik Farms, New Delhi
2. Different Strokes
With classes that enhance the arts and crafts quotient in a child, Different Strokes is truly unique in its perspective! From teaching kids to create figurines out of waste materials teaching them how to think out of think out of the box, this is one class your kids will enjoy thoroughly! So don't forget to sign up your little wonders here right away!
Age group: 5-16
Image source: Parents India
Where: Sector 8, Rohini, New Delhi
3. Earthen Aura Ceramics
Want to have a little bonding session with your little one as they also learn how to hone their creative skills? Then this is the class you should enrol for. Earthen Aura Ceramics is not just exclusively for kids, but meant for everyone! It is a clay studio that will teach you how to create beautiful pottery and clay items while you also get to indulge in a little fun woith your kid! Doesn't that sound amazing? Learn more about them here!
Age group: 4-13
Image source: www.kidsclayroom.com
Where: UP-4, Pitampura Near Gopal Mandir, New Delhi
4. Smell & Taste Institute
Want your tiny tots to actually bake something wonderful for you? Well with the help of Smell & Taste Institute now you can! Founded by
Ms. Meenakashi Nath who is a renowned chef and baker with 13 years of experience, your kids will learn how to master the craft of cooking and baking in no time. And believe us, your kids will love to make something for you in real than the makeshift play food because they are constantly looking for things to engage themselves in! Find out more about this institute here.
Age group: 6-15
Image source: Braingroom.
Where: 218, Star Apt Sec-9 N, Rohini Sector 9, New Delhi
5. Eminent Chess Academy
Chess is a sport that not just sharpens the mind but helps in taking better and calculates judgements even in real life. And which parent wouldn't want their kids to have this quality? Eminent Chess Academy that is tied up to the Delhi Chess Association, is one such place where your kids can learn the mastery if chess at a young age. The standards that the association maintains here is of international quality and be sure that your kid is in safe hands! Learn more about them here.
Age group: 4-10
Image source: India.com
Where: J-55 LGF, Near Apeejay School, Saket, New Delhi
6. Crosstrain Fight Club
In this day and age, learning sports that help self-defences like Taekwondo, kick boxing, Bonxing, etc is ectremely important. We all want our tiny tots to be safe no matter how old they are, don't we! So enrol your kids at the Crosstrain Fight Club right away and lock in their safety along with increased fitness levels.
Age group:6-14
Image source: Groupon
Where: B-7/120A, Lower Ground Floor, Safdarjung Enclave, New Delhi
Featured image source: SafetyKart