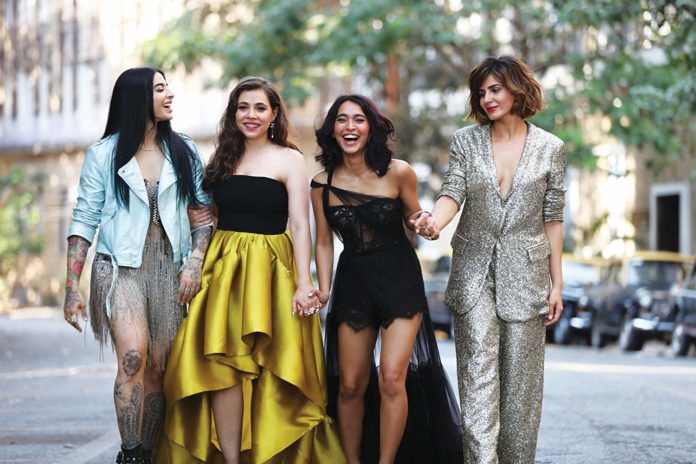 How many of you are addicted to a good web series and can binge watch on them all day and all night long? If you look at Indian web series especially, there have been some interesting ones lately. From experimenting with social issues to creating content on sex, love and life, the makers of Indian web series have come a long way. And ladies, if you ever have a dull moment in your lives or going through heartbreak or just want to take that tub of ice-cream and sit in front of the big screen, here are the best web series in recent times that you must check out which are redefining the meaning of Indian women. Trust us, you will not be able to stop at one episode!
1. The Trip
Four girls and a hell of a trip! Sounds like something we should totes try out for #GirlSquad goals, isn't it? Follow 4 girls on a cray a bachelorette trip to Thailand accompanied by lots of madness, fun, and nights you wish you could have with your girl gang! Sway along with them to the beautiful tunes created embedded in this web series and trust us, you will be planning your road trip with your squad right away!
2. Four More Shots Please
Whenever you are feeling low or just had a bad day at work, how many of you have called your girl gang up to drown your stress in alcohol? We for sure are guilty. Four More Shots Please is a super fun series that portrays the journey of four women very different from each other who become the BFFs over a mad drunken night (relatable much?). With scenes that are so real, cruise with these women on their journey of love, friendship, laughter, and heartbreaks! And oh, make plans with your girlfriends with a bottle of wine while binging on this show!
3. It's Not That Simple
When marriages becomes a burden on you, what would you do? The journey of 4 people Meera, Jayesh, Sameer and Rajiv vhanges when they meet at a school renuion. A web originals by Voot, it focuses on the problens that an urban couple faces. Engrossing and intrguing, this is a story aboyt the perefct love affair! And yes, Swara Bhaskar is in it! *Getting our popcorn tubs ready*
4. Man's World
Ladies, what would happen if you woke up one day to find yourself stuck with the physical traits of a man? What's the first thing you are going to do? Find out how Kiran wakes up one day to find out that the world around him has changed. Now women hold the dominance over all aspects and men have been assigned the duties that are expected of a woman to carry out! Starting from his menstrual journey to women ogling at him, this series by Yash Raj Films is not only rib-tickling but holds a very special social message. Watch it to find out how the world would work if gender roles were reversed!
5. Married Women Diaries
Looking for a fresh and light-hearted series? Then this is your go-to! For those of us who aren't married, this is a sneak peek into what to expect and for those of who are, this is a series that will make you go "Totally happens to me" in every scene. This amaze show by SonyLIV totally has it Bang ON!
6. DevDD
We have all watched the journey of DevD! Now, how about we give you it a little spin and show you the journey of DevD as a girl? Strong, bold, and proud of her sexual choices, AltBalaji's Dev DD is about breaking every stereotype and boundaries considered taboo by our society for women. Who run the world? Of course!
7. Girls Hostel
Girls. how many if you have spent hours looking for the lingerie chor in your hostel? We are sure that almost every girl who has stayed in a hostel has faced a similar problem. With situations like these that are so identifiable, you will also fall in love with all the characters created by Girliyapa. And you'll definitely miss your college gang for sure. Because hostel waale dost are for life! Right, ladies?
Featured image source: Vogue.in
Hope you have your blankets and the munchies ready!