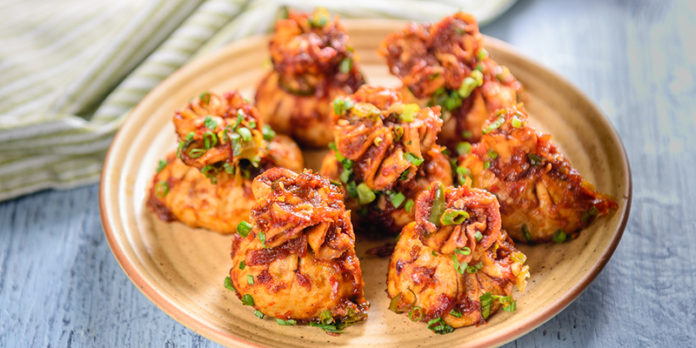 How many of you start salivating at the mere mention of the word "momos"? Well, we sure do! There's no denying the fact that momos are the best comfort food during any season. Whether you are sad, happy, angry, or just plain bored, a plate of tasty, juicy momos can just put a smile on your face! And trust us, momo addiction is a thing! So here are the best places in Delhi where you can gorge on to some heavenly momos that will transport you to a land of #foodgasm!
1. Dolma Aunty
Quite popular amongst the entire Delhi crowd, Dolma Aunty'spiping hiot juicy momos are the shizz! From her delicious selection of chicken, paneer, and veg momos to her fiery red chutney, it's going to be a spicy love affair for all you momo lovers!
Where: Lajpat Nagar, 2, New Delhi
2. QD's
With a world-class selection of the best tandoori momos, QD's was one of the first momo joints to come up with the recipe. It is very popular amongst the peeps of South Delhi and has been a top fast food joint for a long time. You absolutely cannot miss out on their Tandoori Chicken momos while on your trip to QD's.
Where: 294, Near Venkateshwara College, Satya Niketan, New Delhi
3. Yeti
Ever tried Newari momo with sesame sauce, some palatable Aloo momos, or heavenly Nutella momos? Head to Yeti, The Himalayan Kitchen right away to treat yourself to some authentic and unique momos that you will not find anywhere else in the capital city. With the serene vibes of the Himalayan region welcoming you, all you need is a glass of beer to go with your yummy food.
Where: Hauz Khas Village, New Delhi
4. Pema's
Another very popular joint for momos in Delhi is Pema's. The filling that the momos of Pema's has is so juicy and delicious that one bite and you will forget all your worries! Their pork momos are the best selling item on their list! This is one place you MUST try for reasonable and super delish momos.
Where: 3/31, Shop 3, Shivalik Road, Malviya Nagar, New Delhi

5. Hawkers
With a selection of steamed and fried momos in bith vegetarian and non-vegetarian options, Hawkers will not disappoint you with their variety and taste. Head here with your gang and get ready to binge on some delectable bites of hanppiness.
Where: B-1, Vasant Kunj, New Delhi
6. Dilli Haat
With stalls from Nagaland and Mizoram, what can get better than having momos right from the land of where it was created? Dilli Haat has an exquisite range of variety of momos that you have to try out RN! Trust us, your taste palate will never be the same again. Accompanied with spicy chutney and clear soup, we think we could have gotten heaven right at your fingertips!
Where: Opposite INA Market, New Delhi
7. Giri Momos
Ever visited a place that serves 70 different kinds of momos? Does this sound too good to be true? Well head to Giri Momos to find out otherwise! With options starting from the very popular Mozzarella momos to Afghani, Cheese, Manchurian, Mutton, and KFC Fry Momos, this is legit Momo heaven. Bring your BFFs and get ready to explore options you might never even have heard of!
Where: Shop 26, ND Market, Pitampura, New Delhi
8. Tee Dee
With Majnu ka Tila being the most popular Tibetan colony in Delhi, it's no shocker that you can find some of the best tasting momos in the city. Tee Dee is one such hub from where you can find mouth-watering momos within a very reasonable range. What's a better way than spending a weekend exploring this beautiful quaint part of town and tasting some delicious momos?
Where: 32, Aruna Nagar, Majnu Ka Tila, New Delhi
9. Cafe Brown Sugar
Established years back, this is a one-stop-shop to satiate all your hunger pangs! From healthy options in steamed wheat momos to their chicken fried momos, there is nothing that you should miss out on. Do not forget to try their Chicken Schezwan Tandoori and Mushroom momos! You can thank us later!
Where: M-73, M Block Market, Greater Kailash (GK) 1, New Delhi
Featured image source: Saffola Fit Foodie
Now that we have the top spots sorted, get set and eat your heart out!