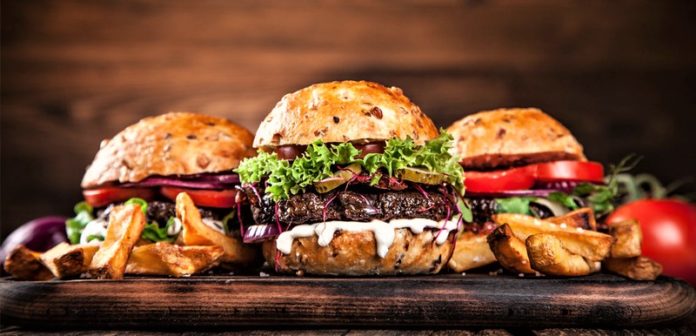 Guys, what's your favourite comfort food?
Is it Maggi? Is it Samosas? Pizzas? Or Burgers? Yes, if the last one really made your mouth water, it's probably 'cuz you're a burger-lover, just like us!
Burgers can never go wrong and they always love you back! And that's no surprise because it's been statistically proven that burgers are the best-selling fast food in the world.
There are numerous burger joints in Delhi which whip some scrumptious burgers and we are sure you've tried all the top burger joints starting from Johnny Rocket to Wimpys, right?
But how about other joints in the city offering some mouth-watering burgers? Well, the next time you are craving an absolute delish burger, try out one of these 7 spots for sinful indulgence.

1. Burger Singh
Classic Burgers are good, but how about mixing things up to create burgers using recipes from our very own traditional cuisines? Confused? Burger Singh, with 21 outlets now all over Delhi-NCR have claimed their status as one of the best burger joints in Delhi with fusion burgers like Malabar Express Chicken, Amritsari Makhani Chicken, and other unique flavours that rest assured you will not find anywhere else in the city.
What to try: United States of Punjab Burger (Non-veg) and Potato Crunch (Veg).

2. Burger Club

With burgers so fresh and tasty that you won't be able to stop at one, Burger Club is definitely a favourite. Thei prices are also extremely reasonable and they have finger-licking sides that you can gorge on as well. If you haven't tried it yet, you are totes missing out!
What to try: Deli Chicken Club (Non-veg) and Devil Veg Club (Veg)

3. Big Belly Burger

Another reasonable burger joint set in the busiest parts of South Delhi with flavoursome burgers is Big Belly Burger. With an array of options to choose from, their burgers are drool-worthy. You can also check out the other items on their menu which are equally delectable. Team up your burger with their refreshing shakes and live the #Happytummy life.

What to try: Big Belly burger (both Veg and Non-veg)

4. High On Burgers

High on taste and easy on the pocket, High On Burgers have burgers with unique flavours and scrumptious fillings that will keep all your food pangs at bay. With such a budget-friendly menu, you know where to ordering your food from for your next party.

What to try: Super Cheesy Chicken (Non-veg) and Veg Delight (Veg)

5. Barcelos

With exquisite and handcrafterd burgers like the Blavk Burger and the Red Burger, Barcelos started the trend of experimenting with such different varieties. Although slightly on the expensive side, their burgers are worth every penny and an experience in itself.

What to try: Black and Red Burger Bun in both Vegetarian and Non-vegetarian options
6. Big Fat Sandwich

With some mean meat burgers, Big fat Sandwich is one of the most popular joints in the Hauz Khas area and has rightly claimed this title with mouth-watering burgers and is also super famous for their breakfast platters. If you are in Hauz Khas, this is one joint you cannot miss out on!

What to try: Sloppy Joe (Non-Veg) and Garden Melt (Veg)

7. Kent's Fast Food

Although their shop is small in size, there is nothing ordinary about their burgers. It's famous amongst both the corporate and college crowd for their unforgettable burgers. Gulp your favourite burger down with their famous Masala Cola and don't forget to thank us!

What to try: Mutton King Burger (Non-Veg) Veg Chilly Burger (Veg)
Featured image source: craftlakewood.com
Have you tried any of these? Let us know in the comments below.