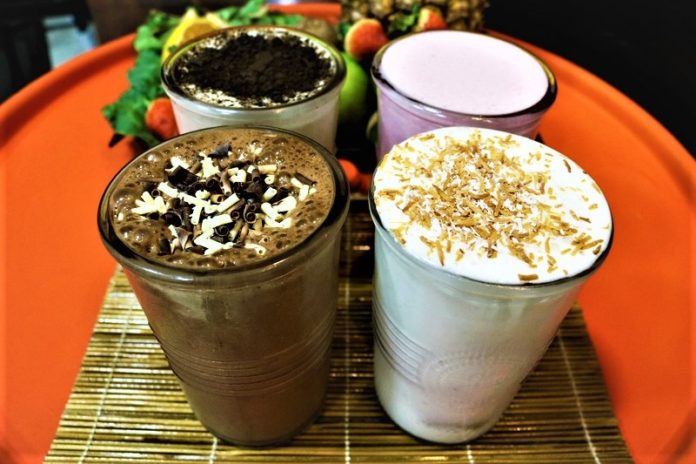 When it comes to Delhi University, the never-ending debate of North Campus vs South Campus shall continue to prevail. But we can all agree on one point, both the places have some kickass joints and cafes for drool-worthy food and beverages at prices that will keep your wallet tight even after a heavy meal.
If you're a South-Campus student then you will be very aware that Satyaniketan is the shizz!
And guys, we all know how one good chocolate shake can make our day! So next time, you're on a hunt for good chocolate shakes, this list it totes going to save your day!
Big Yellow Door
BYD, as we lovingly call it, is a super famous cafe in both South and North Campus. The team there has absolutely nailed it when it comes to thick, delicious, and fancy chocolate milkshakes.
Be it a super heavy Chocolate Brownie shake you are craving or a delectable kit-kat shake, you can always trust them to give you a memorable choco-licious experience.
Where: H-8, Opposite Venkateswara College, Satyaniketan, New Delhi
2. Woodbox Cafe
Another popular joint that opened up post its raging success in North Campoys is the Woodbox Cafe.
With elegant and beautiful interiors, the cafe is super famous for its fusion shakes that are to die for! And we assure that you just cannot stop at one.
Don't forget to keep your phones ready, because the shakes are as appealing to the eyes as they are appetizing to the tummy!
Where: Shop 288, Opposite Venkateswara College, Satyaniketan, New Delhi
3. Echoes
Very unique in concept, Echoes is run by specially-abled people with colour codes for your menu and interiors so pretty that you will be mesmerized.
And to top it all, every dish and every beverage prepared by them is heavenly. Be sure you order a chocolate shake from their menu because those shakes are thick and absolutely LIT!
Where: 17, 1st Floor, Opposite Sri Venkateshwara College, Satyaniketan, New Delhi
4. Pirates of Campus
Inspired by the popular Pirates of The Caribbean theme, this multi-cuisine cafe can satiate your hunger pangs with every cuisine on their menu. And their Melted Chocolate Shake with whipped cream is an absolute favourite amongst all.
Where: 1st Floor, Building 9, Opposite Venkateshwar College, Satyaniketan, New Delhi
5. TBH – The Big House Cafe
As the name suggests, The Big House Cafe is a sprawling space with dim lit interiors in the evening, perfect for a date with your SO.
With a vast menu option, it is a haven for every food lover.
The cafe also doubles up as a co-working space during the day. After all, is there anything better than sipping on some heavenly chocolate milkshake while you're at work?
Where: 37, 1st Floor, Satyaniketan, New Delhi
Features image source: pixabay.com
The next time you are craving some delish chocolate milkshake, you know where to go.