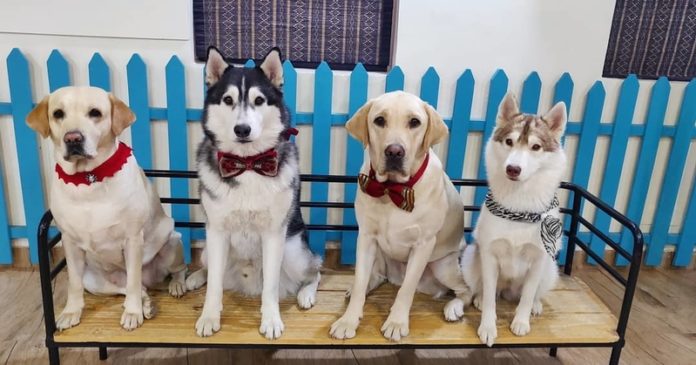 Whether you are a dog person or whether you are a dog person (you see, there's no second option!), we're sure you'd agree that it's always amazing when you can spot pet-friendly places in your city. It can get quite problematic when you have to eat or chill outside and the restaurant's policy doesn't allow in your furry, little friends. Well, that's a passe. Because thankfully, there are numerous pet-friendly cafes and restaurants which have sprung up in the city.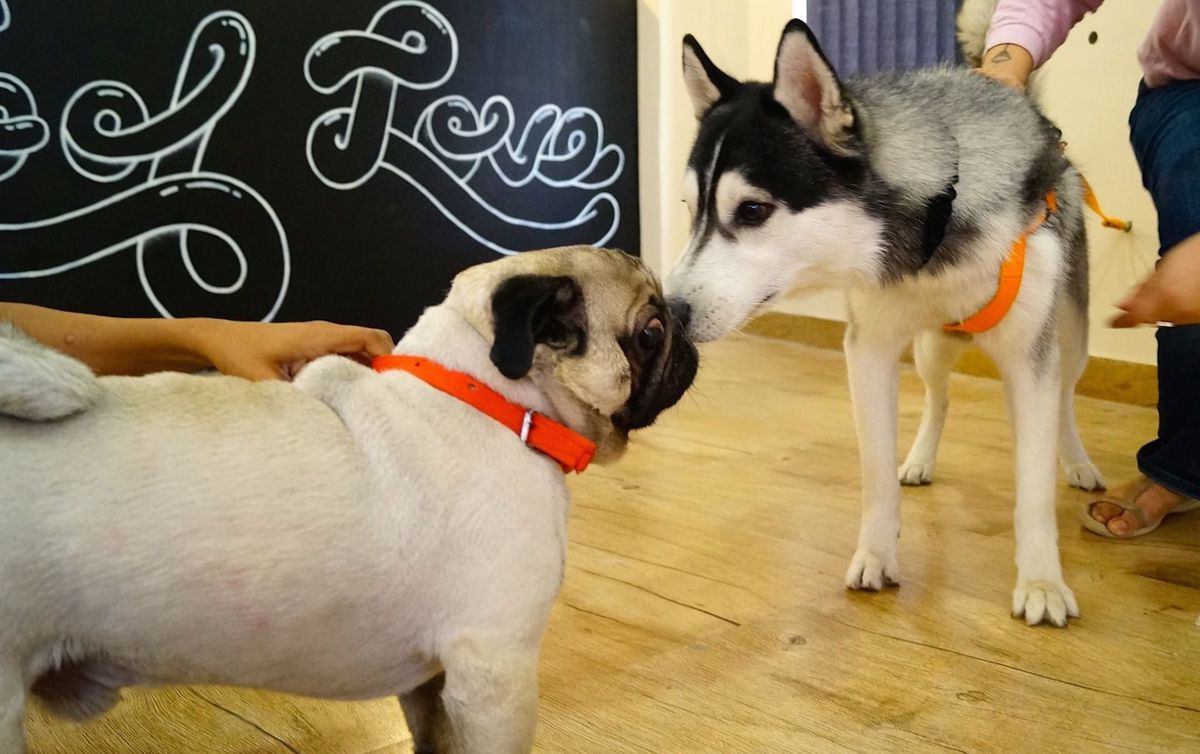 Image Source: delhipedia.com
And the scene at these places is so cool that you can not only chill with you lil buddies, but some of them even have separate menus for them. So, you and your furry pups can have a good time and good food together, under the same roof. Here are some lovely pet-friendly cafes & restaurants in Delhi-NCR.
1. Puppychino – Dog-Friendly Café
Located in the heart of Shahpurjat, Puppychino is the perfect place for a day out for you and your doggo. While the hoomans have their separate menu-full with pastas and burgers and sandwiches and more, the pups too have their own food menu which also includes waffles with ice cream! They also have a play are with tons of toys for your pups, so you cam easily find a play date for them here.
Where: Shishan Bhawan, Shahpur Jat
2. Dori Cafe
A brand extension of leather travel bags brand Nappa Dori, the Dori Cafe is simply gorgeous to chill at! With huge French windows, ample sunlight and separate space for you and your furry buddy, this one would fit into your day out plans like a glove. Even though it's not too lavish, but they too have a separate dog food menu. It's located at the Dhanmill Compound, where they have another beautiful pet accessory store- Stars and Snowflakes by Aastha. Shopping sounds like the perfect, sweet end to a day out with your pup, right?
Where: Dhanmill Compound, Chattarpur
3. Off The Leash
Well, if you're are literally willing to go that extra mile to have a great time with your furry babies, then Off The Leash is the right place for you. Located at Sohna Road, Gurgaon, it's basically a huge farm area, where you and your pups can run around and play as much as you want. Of course, they have a cafe too where there are snacks for both your doggo and yourself. But the big attraction here has definitely got to be the dog pool, how cool is that! And mind you, the entry here is for dog owners only.
Where: Behrampur, Sector 59, Near Sohna Road, Gurgaon
4. Blue Tokai Coffee Roasters
If you keep abreast of what's happening in the social circuit of your city, you'd know that it's been quite a while since Blue Tokai Coffee Roasters took the city's cafe scene by storm. Be it for a quick work meeting or a cosy evening coffee with your bae, Blue Tokai is the place to be. And at the Champa Gali outlet, it also doubles up as the 'it' place for your doggo too. While this one doesn't have a menu for your pups, it definitely has the ambience and space for them to chill.
Where: Champa Gali, Saidulajab, Near Saket
5. The Farmer's Wheelbarrow
If you really want to have a great meal with your furry baby by your side, then you've got to check out this place. It's a proper restaurant located in the heart of oh-so-posh Sainik Farms. Their menu has three options of five-course tasting meals- vegetarian, non-vegetarian and a seafood option, and they are soon to launch an à la carte menu too. While there isn't a separate menu for your doggos, this place is definitely super pet-friendly, and there is enough space for your cuties to run around and have a gala time. Also, please note that they have BYOB concept.
Where: South Avenue, Block N, South Sainik Farms
6. Furball Story
Well, not list about dog-friendly places can be complete about this one. Furball Story has definitely earned a place for it in this list. The cafe houses its own dogs, wherein you can come and play with them, and of course, you're also allowed to bring in your own ones. Apart from that, they do have a boarding facility too, in case you are travelling. They also have a separate menu for doggos and pool for them to chill in!
Where: Golf Course Road, Gurgaon
7. Cafe Soul Garden
If you want to have good food, a good time with your pooch and indulge in some super fun activities like shopping, workshops or interactive sessions, then this place is a must visit for you. The cafe has enough open space for the dogs to play around and enjoy nature. While you can enjoy some great pastas, pizzas and indulge in the various activities which keep happening at the cafe.
Where: DLF Phase 4, Gurgaon
Have you been to any of these yet? Let us know in the comments below.
Featured image source: mysocialmate.com