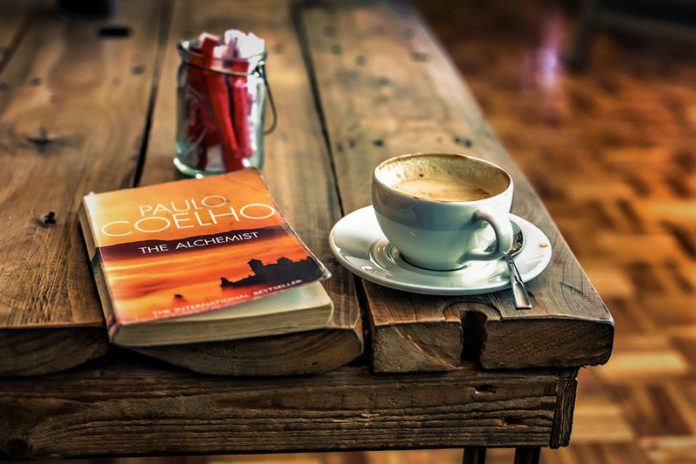 There's nothing that a cup of coffee and a good book cannot fix. A bad day at work, fight with a friend, or if you are simply looking for some quality 'me' time, this combo is almost always unbeatable. Sure, you can always pick up one of your own reads and head to a cafe. But book cafes have a charm of their own, no? You are nestled in a comfy nook with books and only books surrounding you from all sides. You can take your pick from the lot, and to top it all, you have a good cuppa to go along with it. Life is good, right?
Luckily, there are some amazing Book Cafes in Delhi-NCR where you all can enjoy some reading time. Check them out!
1. Jug Mug Thela
This is the most recent entry to the list of gorgeous book cafes in town. If you haven't been here already, you have got to check it out RN! Nestled away in the oh-so-famous Champa Gali of Saidulajab, Jug Mug Thela not only offers an amazing cuppa, but it's a complete haven for readers. It has a reading room too, where you can just sit, pick up a book from the shelves, and read for hours. What's even better? A lot of these books a pre-owned, so you can purchase them at a discounted price and bring them back home. While you are there, don't miss out on the variety of teas they offer and the special handmade biscuits. But for us, what really takes the cake here is the ambience of the cafe. It's been done up like a village Chaupal, and the backyard with Neem trees, wooden seating and green plants all over makes this place quite an experience!
Where: Champa Gali, Saidulajab, Saket
2. Serendipity Cafe, The Claridges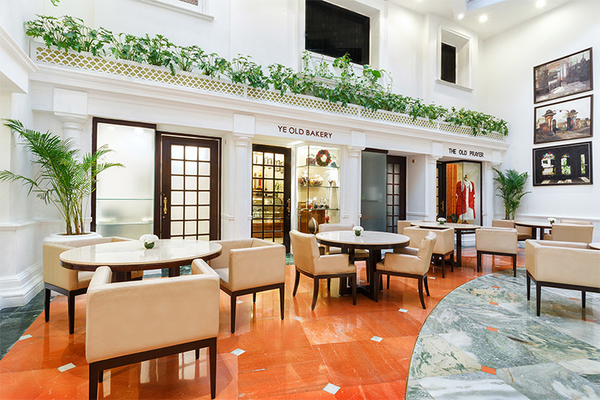 Image source: dsscdelhi
If a little poshness is what you like to go with your coffee and read, then you must head to Serendipity located inside The Claridges Hotel. Needless to say, it's a gorgeous cafe with super elite-looking interiors, full with shiny marble flooring and cosy couches. But apart from the shine & glitz, the best part is that they have an extensive collection of books, and you can take your pick from fiction, non-fiction, religious, self-help books and what not! It's also situated right next to their 'Ye Old Baker', so you can have your go at some amazing pastries and croissants while you snuggle with your favourite read.
Where: The Claridges Hotel
3. Cha Bar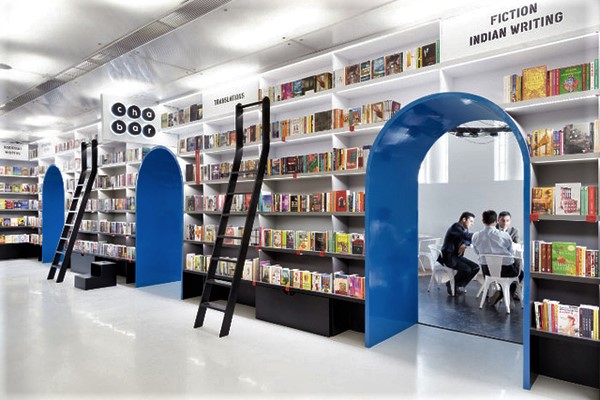 Image Source: fubiz.net
Cha Bar is one of the first cafes which comes to our minds when we talk of book cafes in the city. It's located inside the Oxford Book Store in Connaught Place, so you can not only just read, but even purchase books available there. The spacious, super white and cutesy ambience adds to the cafe's appeal, and a true bookworm can easily imagine spending their entire day here! Thankfully, the food here is nominally priced and the menu consists of some simple yet scrumptious delights. And if you're a complete chai-person, they do have tons of varieties to offer. Team it up with a nice, light sandwich while you are there.
Where: Oxford Bookstore, Connaught Place
4. Kunzum Travel Cafe
If you're not only a book lover but a travel freak too, then this is the place to be for you. We're sure this cafe needs no introduction. It first became popular in the city because of the fact that there's no price on a coffee cup here. You pay whatever you like, pretty sweet deal, right? But gradually, people unearthed that it's way more than that. The cafe has tons of books and most of them are related to travel, and it's more of a hub for all the travel junkies to meet up and have travel-related discussions or make travel plans together. There, you have it, a cafe which is more of a community in itself.
Where: Hauz Khas Village & Kibithu Villas Complex, Sector 47, Gurgaon
5. Ivy & Bean Cafe
This is one cutesy and cosy cafe which would definitely feel like home to all the coffee and book lovers. Nestled in the quaint lanes of Shahpur Jat, Ivy and Bean has beautiful, comfy interiors which are full of bookshelves, fairy lights and cute-little golden painted bird cages. Quite dreamy! They have both indoor and outdoor seating sections, and both are equally gorgeous! You can pick up any book from their shelves to read, or even donate one of your own to them. Do try their amazing range of iced teas if you're not much of a coffee person.
Where: Shahpur Jat
6. Another Fine Day Cafe & Reading Room
With super cute and wood-heavy interiors, here's one cafe for everyone whose coffee and book date doesn't just end at that. Confused? We mean the place also offers beer and wine, so if you're one of those who prefers a fine glass of wine over coffee to go with their read, then this is the place to be for you! Apart from books, they also have a collection of board games to keep you enthralled. While you are there, definitely try to take your pick from their all-day breakfast menu and yummy shakes!
Where: MPD Tower, Golf Course Road, Sector 43, Gurgaon
7. Cafe Turtle
Here's another cafe which is really popular in the city, and if you haven't been here already, you're definitely missing out on something! How would you like it if we tell you that this cafe has an entire floor which is precisely a book store? Sweet, right? It's one of that kind of places where you just find a cosy nook and spend hours and hours with your favourite book, sipping on a hot cup of coffee. While you are there, don't forget to try their lovely shakes and pizzas.
Where: Khan Market, GK 1 & Nizamuddin East
8. Cafe Wanderlust
Here's one travel cafe which really takes their theme seriously. So much so that they have hammocks inside the cafe to make you feel that you are already on a vacay! You can waltz in here, take your pick from the selection of travel-related books or magazines and spend hours tucked away in one of the corners. While they have an all-day breakfast menu, they have a separate section of amazing platters too, which is a must-try.
Where: DLF Galleria, DLF Phase 4, Gurgaon
9. Sakley's Mountain Cafe
When it comes to book cafes, how can we ever leave out the posh locales of GK, right? Especially if you are a sucker for natural light, this place will make you very, very happy! Standing right in the middle of effervescent GK 1 market, Sakley's will give you total feels of being at a hill station- complete with wooden furniture, sunshine, and greenery right outside the windows. It'd definitely remind you of the old world charm with the vintage decor, rustic candle stands, armchairs (yay!) and faux fireplace. Best part, they have a tiny library where you can take your pick from mostly travel-related books. Don't worry, Gurugramis, they have an outlet for you all too!
Where: GK 1 M Block Market & DLF Galleria, DLF Phase 4, Gurgaon
Which one of is your favourite? Comment below. And happy reading to you!