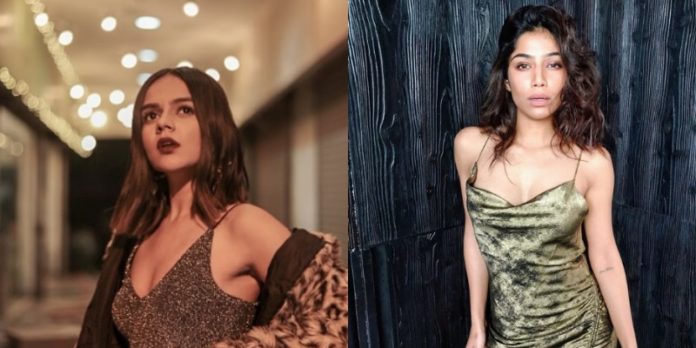 With the New Year's Eve around the corner, you need to make sure that you look your stunning best because it's all about "Good looks, good looks, and good looks." Right! The New Year Eve parties are always flashy. And girls, don't we all want to dress to impress? So, especially for all the ladies out there, here are the trendiest fashion statements that you must follow to get that killer look for the NYE party.
The quintessential mono colour mini skirt
One of the trending fashion statements this season is the quintessential mono-colour skirt. Team it up with a chic basic top/bodysuit/bralette and a longline sweater/coat. Trust us, all eyes are going to be on your stellar outfit! If you don't believe us, take some inspo from the super stylish fashion blogger Komal Pandey.
Shimmy Shimmy
A sexy winter outfit is never complete without some shimmer. Team up a hot shimmer crop top with pants or skirts and get ready to rock the party. If you want to go with a more subtle look, then just throw a shimmer jacket over your outfit, and you're ready to roll! For a more spectacular look, you can also opt for an all-shimmer dress and bring out the drop-dead gorgeous diva in you like Santoshi Shetty here.
All Black
Aren't we all suckers for all things black? Plan an entire black costume to get heads turning at the New Year Eve Party. A crop top or a chic top/ bodysuit with a black pair of pants or skirt will look FAB. 'Cuz black is always the solution to all our fashion woes. Once again, we pick Komal Pandey to show how deadly this look is.
Maxi Dress
No, we are not talking about the beachy pastel maxi dresses. If you want to go for an elegant and sophisticated look, choose a bold or a dark coloured maxi dress that compliments your silhouette and pair it up with sexy stilettos. The ravishing Santoshi Shetty shows how you can absolutely rock the maxi dress look even in winters.
5. Bold Lips and Eyes
Winter represents all things bold and fierce. A bold lip makeup always looks stunning and will make you stand out. Shades of red, plum, or burgundy go with the festive season. For your eyes, choose darker colours or go with the evergreen smokey eyes. Kritika Khurana who runs her fashion handle by Thatbohogirl knows exactly how to nail the look.
6. Flashy Bikers
Hep, yet fashionable, Biker jackets have always been a statement outfit, and what's better than flashy/blingy jackets with a subtle outfit? Not only while you stand out, but it makes for quite the dramatic appearance. And who doesn't like that? Am I right, ladies? Fashionista Rasna Bhasin is giving us major #FashionGoals with this party look of hers.