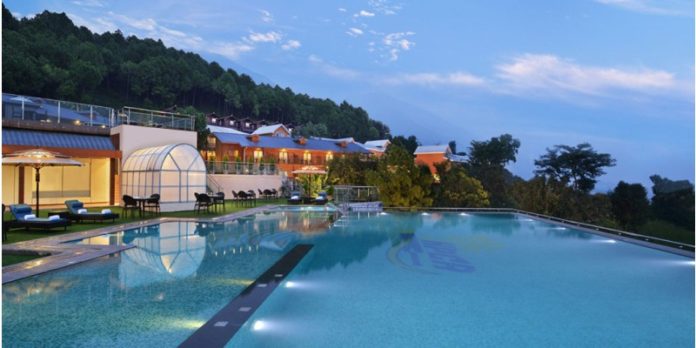 In midst of dull humdrum of everyday life, everyone needs a break to get away from the city lights and indulge in some serious vacay plans. If you and your bae are looking for a quick romantic getaway but are confused where to go, fret not! We are here to help you sort your weekend trips and ensure that you two have a gala time filled with lots of romance and fun!
Neemrana Fort
Situated in Alwar, Rajasthan, Neemrana Fort is a heritage property with a range of classy and historic rooms that you can choose from and pamper yourself to a luxurious holiday. The property also offers activities such as zip-lining, swimming, etc. and is very popular among the Delhi crowd.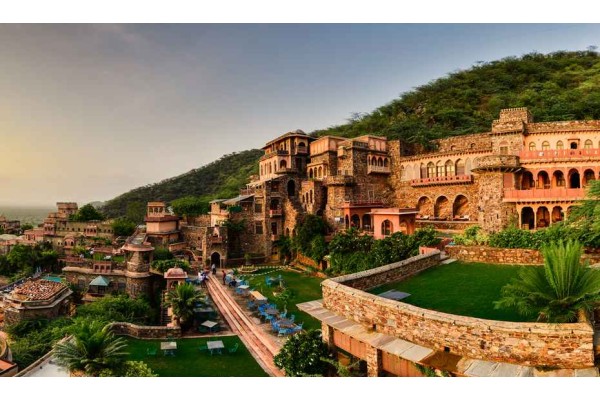 Image source: Yatra
Couple's special: Spa treatments, Romantic candlelight dinner, Private balcony
Distance from Delhi: 129 kms
Drive Time : 3 hours
2. Rishikesh
Nestled in the laps of the river Ganga and in the foothills of the Himalaya, Rishikesh is a must-visit place for every resident of Delhi. If you are a seeker of spiritual experiences, there are several ashrams and temples and if you are an avid enthusiast of adventure, you can head out to the famous river rafting spots. There are a lot of luxury resorts here as well as budget camps by the riverside where you can stay.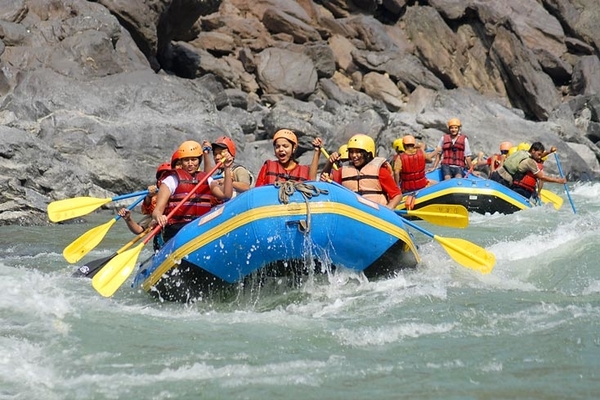 Image source: Weekend Thrill
Couple's special: Riverside stay at the Glasshouse for a romantic date night, Spa experiences available at several resorts
Distance from Delhi: 240 kms
Drive Time: 6 hours
3. Jaipur
Jaipur has and always will be a favourite destination for quick getaways; either to indulge oneself to the extravagance of rich palatial culture or ride around the city to discover and learn about the heritage of the Royals. If you and your bae are looking for a kickass date night in the midst of a desert (and most certainly in a palace) then we suggest you get those tickets booked right away!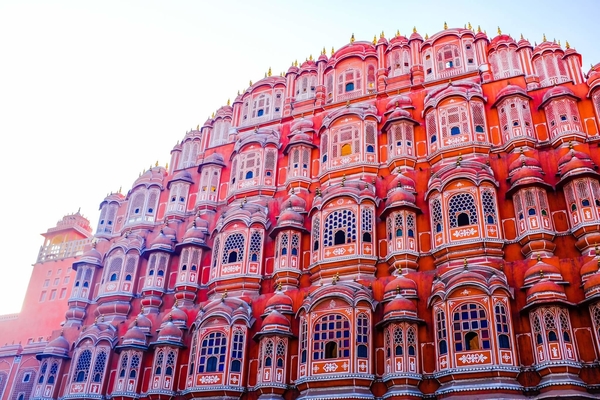 Image source: TripGourmets
Couple's special: 1135 AD for a luxurious romantic dinner date, Wassup Restro and Lounge for a night of drinking and dancing, Smriti Van for quiet romantic strolls
Distance from Delhi: 282 kms
Drive Time: 5 hours approx.
4. McLeodganj
What screams romance better than cuddling with your SO on a chilly evening while sipping on some hot chocolate? McLeodganj, situated in the city of Himachal Pradesh and said to be the home to the reverend Dalai Lama, has some of the most scenic beauties to offer all year long and has an array of cafes where you can grab scrumptious bites. You can sign up for a trek if you are one of the adventure seekers or stay in the town for a local sightseeing experience.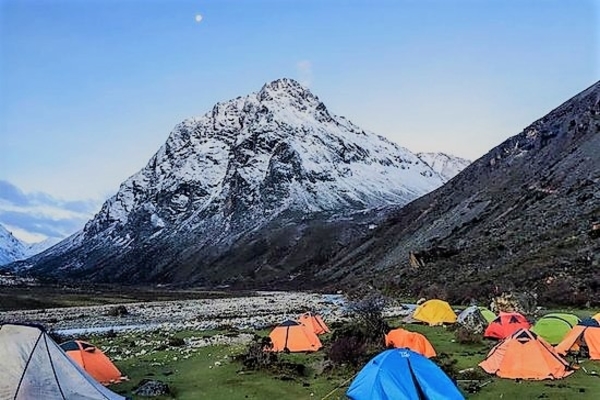 Image source: Trip Advisor
Couple's special: Dharamshala Stadium for the perfect day out, Dal Lake for a private boat ride, Indulge in the cultural shows at the Tibetan Institute of Performing Arts, B6 Lounge and Bar for a fun night out
Distance from Delhi: 480 kms
Drive Time: 10 hours
5. Bir Billing
Considered to be one of the best adventure spots in the Northern region of India, Bir Billing is a small village known for its remarkable beauty and a plethora of adventure sports and is the perfect getaway destination if you and your significant other are adrenaline junkies. There are several sports you can try like Paragliding, Hang-gliding, Trekking, and Camping. You can also explore the local markets and tea factory if you're planning to take a tour around the city!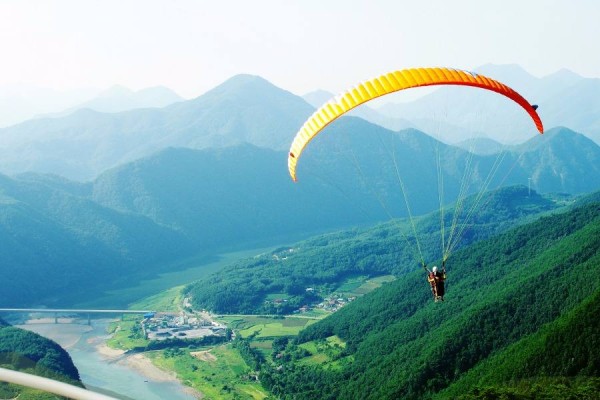 Image courtesy: Weekend Thrill
Couple's special: Take a stroll through nature at the Sherab Ling Monastery, Indulge in some adventure sports like Paragliding, Take a tour to the Tibetan Colony
Distance from Delhi: 520 kms
Drive Time: 11 hours
6. Udaipur
Known as the "City of Lakes", Udaipur is the ideal destination for a couple looking for a luxurious getaway. You can watch the gorgeous sunset on a boat or take a stroll through the vibrant and exotic markets and trust us, this is one holiday you will never forget!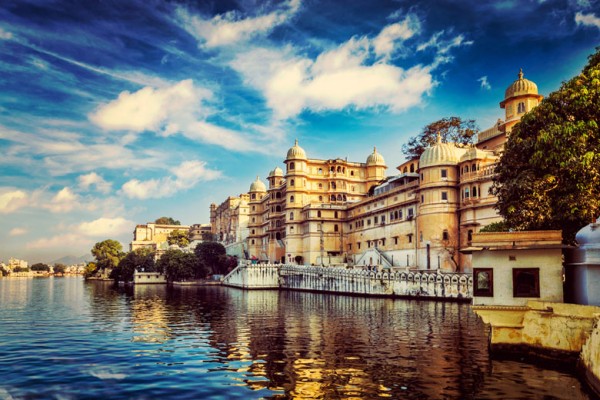 Image courtesy: Trans India Travels
Couple's special: Watch the stunning sunset at the Sunset Terrace, Romantic boat ride at Lake Pichola, Witness the cultural show at Bagore ki haveli
Distance from Delhi: 663 kms
Drive Time: 11 hours 30 minutes
7. Manali
Manali is one of the most famous holiday destinations in the state of Himachal Pradesh. It has the River Beas flowing on one side and is surrounded by the Himalayan ranges, creating a splendid landscape and making sure that you and bae have the perfect Insta worthy shot. There are various adventure sports you can indulge in and a plethora of places to go sightseeing. And the best part is that you can do all of this within a budget of 6-7k! So, what are you waiting for? Christmas!?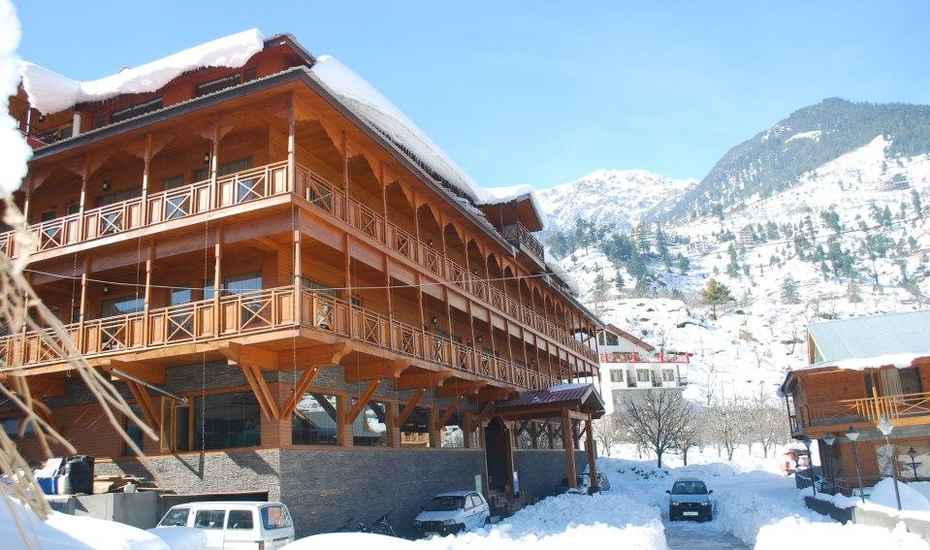 Image source: Yatra
Couple's special: Go for a quick dip at Ashisht's hot springs,Visit the Rohtang Pass, Go to Solang Valley to try out exciting adventure sports
Distance from Delhi: 530 kms
Drive Time: 12 hours 30 minutes
8. Jim Corbett
For every wildlife and nature enthusiast, Jim-Corbett National Park is a must-visit! It is famed to be one of the most popular national parks and sees an influx of hundreds of travelers. You can rent an open four wheeler Jeep or do choose to explore the park on an elephant back. They have several luxury resorts as well as budget hotels for accommodation. If you ask us, we would be packing our bags right away to watch the plethora of wildlife stroll right past us!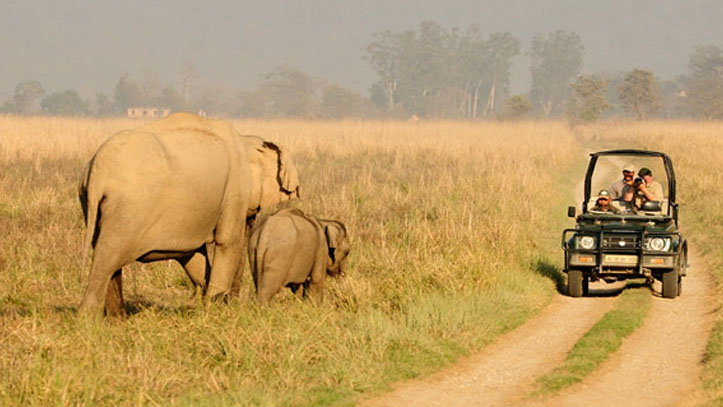 Image source: Uttarakhand Tourism
Couple's special: Stay at the Aahana for a grand experience with outdoor candlelight dinner dates, Take a private safari through the wilderness
Distance from Delhi: 273 kms
Drive Time: 6 hours
Featured image source: Holiday Travel