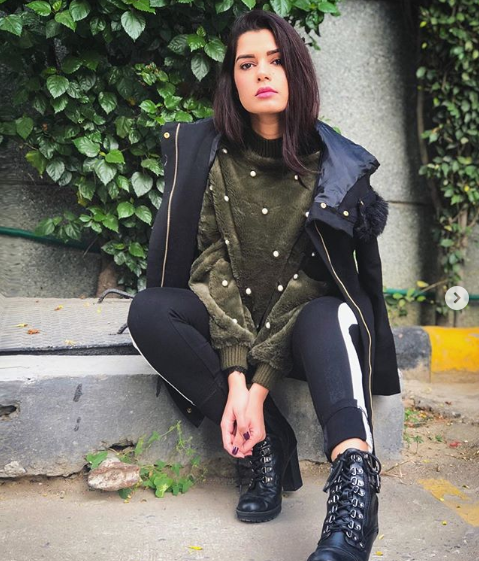 You have to agree that Delhi has always been the fashion hub of the nation. Sure, Mumbai is the Bollywood capital, but hey, Delhi is where the real style circuit resides! If you have been closely following the fashion scene in the capital, you'd know about the bunch of amazingly talented Delhi-based fashion bloggers. From teenage college-going girls to spirited women in their 30s, these bloggers have a well deserved following. It's time you too start following them to bring your A-game on this winter!
Komal Pandey




The first thing you notice about Komal is how she comes across as a simple girl-next-door. But of course, what sets her apart is her unique fashion sense. The best thing about her blog is that she gives these amazing tips on how women can add that spunk to their everyday clothes with minimal effort. From layering, to re-sung same pieces differently, to wearing the same piece differently, Komal has a lot of tricks up her sleeves. Now that's something we all want to know, right?
Instagram handle: komalpandeyofficial
2. Sejal Kumar
If there's one Delhi blogger who is super hit with college girls in the city, it's got to be Sejal Kumar. She's an alumnus of SRCC, so maybe she just gets us Delhi girls! Her Youtube channel and IG account is full of useful videos on fashion- be it DIY tips for sneakers, dressing up for occasions, hacks on organising your wardrobe, there's something for everyone on her channel. There's a ton of tips and tricks she has on winter wardrobe too.
Instagram handle: sejalkumar1195
3. Cherry Jain
Jackets, mufflers, funky blazers, faux fur cardigans- Cherry Jain is one blogger whose winter fashion game is totally on point. And we simply love that about her! A Graduate from NIFT Delhi, her style sense is best suited for young girls looking for affordable fashion.
Instagram handle: cherryjain21
Akanksha Redhu




One look at Akanksha's Instagram account, and you know this lady knows her fashion. Whether you are a party hopper or an office-going woman looking for fun Friday looks, this account would definitely solve all your style woes. Also, the awesome beauty hacks on her account are definitely a bonus!
Instagram handle:akanksharedhu
Pallavi Ruhail




If you are looking for some classy and neat fashion looks, look no further than blogger Pallavi Ruhail's account. From traditional Indian wear, to super warm sweaters & jackets, to styling designer pieces with affordable fashion, Pallavi's account has got tips for all of you out there. You'll also stumble upon some quintessential beauty hacks too on her blog.
Instagram handle:pallaviruhail
Featured Image Source: Pallaviruhail Instagram
Which one if these is your fav? Comment below!