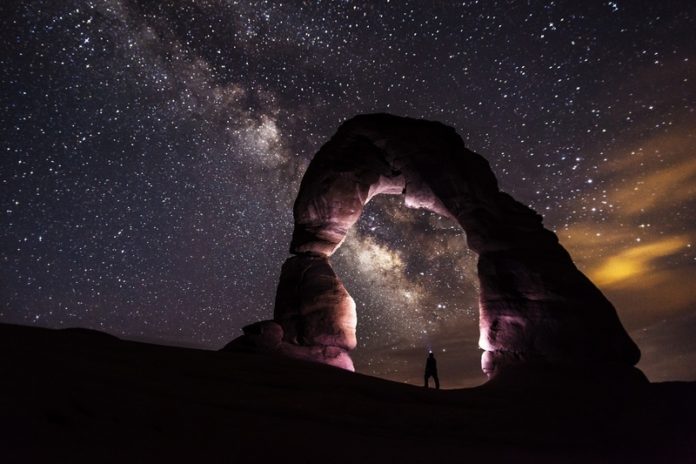 "Twinkle Twinkle Little Star, How I wonder what you are". The famous nursery rhyme born out of a 19th-century poem, "The Star" written by English poet Jane Taylor is among the first things that we learn in our lives. It is then fair to assume that from an early age each one of us, male or female is fascinated by the shiny distant objects that sparkle in the night sky. Given this early psychological setting, witnessing a blanket of stars cover the dark sky at night is always breath-taking. And yet, such a sight is as rare as seeing a double rainbow, a shooting star or a frozen waterfall.
Why is such the case even in moderately populated cities of the world? The culprit for the same is a form of pollution about which not much is known by general society. Light Pollution has taken away the joy of observing the beautiful universe that surrounds us leaving only the moon and a few bright stars as visible members of the earth's extra-terrestrial atmosphere. This form of pollution is caused due to the alteration of natural light levels in the outdoor environment owing to artificial light sources. Light pollution competes with starlight in the night sky for urban residents, interferes with star gazing, and, like any other form of pollution, disrupts ecosystems and has adverse long-term health effects.
Light pollution is a side effect of the industrial civilization. Its harmful effects on our atmosphere have grown exponentially since the 1980s which is why many of us born in the mid-1970s and after have probably never seen a star-studded sky ever. Sounds too hard to believe, but its true. Many of you reading this have probably never seen a night sky which has millions of stars. It is a sight that one must experience as many times as possible as your life on earth is not complete without viewing the same.
While reducing light pollution in cities and developing economies is a herculean task, maintaining certain areas of the world which have natural dark skies untouched by pollution is relatively easier. Such an effort is being led by the International Dark-Sky Association (IDA). The IDA is the only non-profit organization fighting to preserve the night. It has pioneered the concept of Dark Sky Parks which are defined as locations of exceptional nighttime beauty possessing superlative starry skies and natural nocturnal habitats.
Now, imagine a vacation with your partner where both of you lie next to each other, star gazing at a gorgeous night sky adorned with twinkling stars and strands of the Milky Way. What good fortune it is to be next to someone who loves you while looking back in time simultaneously. Such an experience can be lived in real life. To find out where such a dreamy scene can come true, let's have a look at a few romantic getaways known for their harmonious relationship with nature.
Mauna Kea Observatory, Hawaii, United States Of America
Also, a vacation spot for the technosexual man, Mauna Kea in Hawaii is home to one of the most renowned observatories in the world. Perched atop the 13,796-foot volcano sit 13 telescopes from 11 different countries, all using the area spectacular night skies to view space. Mauna Kea is considered a prime place to see the stars because its dry atmosphere is one of the most cloud-free spots on Earth. It also attracts very little light pollution.
Mauna Kea Summit Adventures offers an 8-hour tour which begins in the afternoon and ends once the entire starry sky is visible. Such packages also use of some of the most advanced telescopes out there allowing one to see planets like Jupiter, the rings of Saturn etc with great clarity. Alternatively, one can also book a hotel in Mauna Kea and enjoy the other benefits of being in Hawaii. They even have stargazing parties and nighttime boat cruises for people who don't wish to get into the depth of astronomy.
2. Aoraki Mackenzie International Dark Sky Reserve, New Zealand
Discovering the Real Night Sky in the Aoraki Mackenzie International Dark Sky Reserve @flightnetwork #pulsethis http://t.co/xSMTUllihs #ttot

— Charli & Ben Travel (@wanderlustersuk) November 28, 2013
Aoraki Mackenzie is a gold-rated dark sky reserve, in recognition of the quality of the almost light-pollution-free skies of the Mackenzie Basin. Located in the South Island of New Zealand the 4,300 sq km area of the reserve is bounded by a spectacular alpine landscape with the Southern Alps in the west, and the Two Thumb Range in the east.
It is the largest dark sky reserve in the world and a perfect spot for romantic getaways. In fact the Astro Cafe located atop Mount John Observatory is the best place for a coffee on planet Earth. Aoraki's recognition as one of the finest dark sky reserves has increased astro-tourism in the region. A number of firms such as Earth and Sky Ltd, Tekapo Starlight and Star Gazing tours offer guided tours that helps one to visualize, learn and appreciate the beauty of our universe.
3. Kruger National Park, South Africa
RELATED POST: Experience The Adventure At Every Step On A Kenyan Safari Holiday
Not everyone is a soft lover at heart. Some couples get excited by the spirit of adventure and would prefer romantic getaways which also have their fair share of adrenaline. For such couples, Kruger National Park in South Africa offers the opportunity to experience the thrill of a Safari while also enjoying clear night skies.
The largest game reserve in South Africa, Kruger encompasses more than 7,300 square miles—and is home to the famous "Big Five" (lions, leopards, rhinoceroses, elephants, and water buffalo), along with many high-end safari lodges. The area's flat savanna and bushveld, far removed from pollution and sources of artificial light, make excellent terrain for training binoculars on the Southern Cross, Scorpio, and the rings of Saturn. Here one has the opportunity to watch some marvelous animals in their natural habitat during day-time while enjoying champagne and hors d'oeuvres under the stars at night, often accompanied by the roars of not-so-distant lions.
4. Kiruna, Sweden
This is not a digitally mastered picture from a sci-fi film showcasing the landing of some alien aircraft on earth. Its a real sight visible to the naked eye once in a while in Kiruna, Sweden. The sight here can at times be hard to believe. Not only can one see a starry night but on certain days of the year glowing, colorful, wavy bands of light also known as the aurora borealis, or northern lights appear.
This mostly happens during icy cold winter-months when particles driven from the sun by solar wind become trapped and magnetically charged in Earth's upper atmosphere. At world-famous Icehotel, set 11 miles from Kiruna in the village of Jukkasjärvi there are a multitude of packages which offer the chance of seeing the Northern lights.
Do you feel mesmerized at the sight of a star-filled sky? How many times have you seen such a sight before? What other places in the world offer a chance to witness such a natural phenomenon? Share your thoughts by leaving a comment.