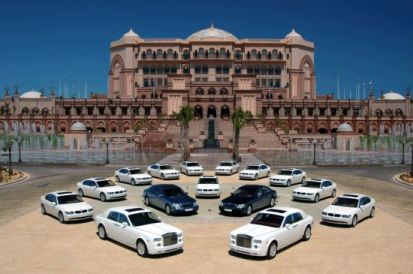 Imagine a vacation where you get to stay in a three bedroom-suite lined with gold and marble – with crystal chandeliers, a lounge with a 1.5m plasma TV and laptops. If that isn't exotic enough then add the fact that there would be a personal butler to tend to you 24 hours a day between private jet excursions, where you can claim a handmade Persian rug in Iran, receive a spa treatment at the Dead Sea and hit Bahrain to dive for pearls – which will be fashioned into gifts by on-site jewelers.
Well, if all of this sounds like a dream then you'll be amazed to know that sometimes it just takes a lot of money to change dreams to reality. Apparently, all of this is on offer at the Emirates Palace Hotel in Abu Dhabi, reportedly the world's first seven-star hotel. Built at a construction cost of over US$3 billion, the hotel has 302 rooms and 92 suites and is reputed to be the most expensive hotel ever built. Much of the interior decor is in gold and marble. The main central area houses an expansive marble floor, balconies and a large patterned dome above, picked out in gold.
For a cost of $1,025,000, the hotel offers a seven-night package with all of the above. In addition to this, the deal includes all food and drink at the hotel's 13 bars and restaurants and an on-demand chauffeur-driven $410,000 Maybach supercar. The boys can play at the ultra-exclusive Abu Dhabi Golf Club while the girls will make their own fragrance with experts from Yas Perfumes. Other adventures include a desert island tour, deep-sea fishing, and champagne at a romantic venue at sunset.
Another global city which offers a similar experience and is home to another seven-star hotel is Dubai. Dubai has become an increasingly accessible city. Most people are able to Find Dubai Flights online with Dial A Flight while planning their trip to the city. One of the most awe-inspiring sights on the Dubai coastline is a legendary and symbolic hotel which has attracted international attention, ensuring its place as one of the most photographed structures in the world. Designed to resemble a billowing sail, Burj Al Arab soars to a height of 321 meters, dominating the Dubai skyline. Illuminated at night by choreographed lighting representing water and fire – Burj Al Arab is simply individual, inspired, impressive.
This all-suite luxury hotel in Dubai reflects the very finest that the world has to offer. With a discreet in-suite check-in, private reception desk on every floor and a brigade of highly trained butlers, you can be assured of the ultimate in personal service throughout your stay. If the Emirates Palace offers a Maybach the Burj Al Arab offers a chauffeur driven Rolls Royce.
Now, that's what you call a "Million Dollar Vacation", which also sounds like a nice idea for a new reality T.V Show.