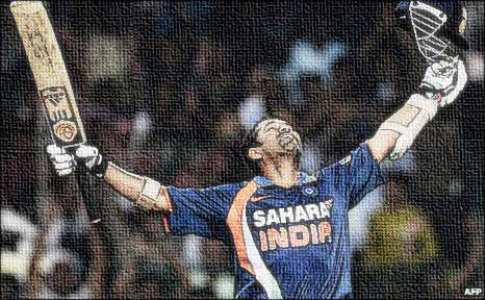 On 24 April 1973 at Nirmal Nursing Home located in the Dadar West area of Mumbai, Ramesh and Rajni welcomed their new born son into the world. Ramesh, the father was a big fan of acclaimed music director Sachin Dev Burman and for lack of a better option named his son Sachin. Coupled with his family name the child came to be known as Sachin Tendulkar. And so began an unbelievable journey of a soul whose name would reverberate across the world and carry the burden of expectations of a billion people for many years to come.
Sachin Tendulkar doesn't need an introduction in the same manner as God doesn't need an introduction. A career spanning 24 years, largely at the top of his field has and will continue to inspire millions of people in the decades to come. This feature written post the announcement of his retirement from all forms of Cricket in not yet another ode to his greatness and his achievements. Instead its time to delve into the qualities that made Sachin Tendulkar the "Little Master" and use them as foundations for building meaningful enterprises in India and other countries.
Several parallels and corollaries can be drawn from the life and times of Sachin Tendulkar as a cricketer and what entrepreneurs go through in running businesses. Just like cricket, entrepreneurship is also a team game and budding entrepreneurs need to showcase rigor, will power and discipline both on and off the field to succeed. Lets then take a look at five leadership lessons for those inspired individuals who aim to achieve even just 10% of the success gained by Sachin Tendulkar during his cricketing career.
1. Naturally gifted or not there is no substitute for practice
Not many people can claim to be half as good as Sachin when it comes to Cricket. Yet for those who have seen him practice before the start of every game, he makes you feel as if its his first match. Indeed, practice makes a man perfect and there is no substitute for the same. Whether you are naturally-gifted or not doesn't matter, 10,000 hours worth of high quality practice is what it takes to change one from a novice to an expert.
This rule also applies to entrepreneurs and start-ups. Prepare to slog out it out for atleast 10,000 hours or about four years before you can start dreaming about reaping millions. Once there try and treat each day as day one to keep yourself humble and grounded. Case in point, Amazon.com which prides itself for its internal mantra of innovation that states "Its always day one at Amazon".
2. Titles don't matter; Contribution does
Captain of the Indian Cricket team, a highly prestigious title that is akin to being the CEO of a billion dollar organization. Sachin Tendulkar began his career in such a grand fashion that he was asked to be the captain of the national team at the age of 23. However he soon realized that being captain was a curse if he could not enjoy his game and perform for the country. He relinquished captaincy and since then played under multiple captains including the likes M.S. Dhoni and Rohit Sharma, who were many years junior to him. Not once did he allow the arrogance and ego of being the senior most or most accomplished player in the side to come in the way of his duties towards the team he played for.
Similarly an entrepreneur, who starts a company as a co-founder may not be the best CEO for the organization as proven by the examples of Google, Twitter and LinkedIn. However if the firm thrives without the co-founders being in direct leadership positions they still gain from the success of their venture and so does everybody else. An entrepreneur should thus not let any arrogance or ego of being the one who started the company affect his openness to other factors behind the success of his firm.
3. Form is temporary, Class is permanent
Form is temporary. Class is permanent. Good companies stay good, bad ones near impossible to turn around. Long View: http://t.co/jE2aebao7k

— John Authers (@johnauthers) August 5, 2013
An oft-heard phrase especially when a batsman or a bowler is going through a lean patch is "Form is temporary, Class is permanent". So while Sachin Tendulkar had a phenomenal career that lasted almost two and half decades, he too went through many lean patches and was dismissed cheaply on many occasions. Despite the low-phases at various points in his career, no one doubted his ability to bounce back because even in failure he always exhibited the traits of being a great player. His technique was built on solid foundation, the fundamentals of the game were etched in his mind and he never stopped learning from his failures.
An entrepreneurial venture is similar, be it the core idea behind the business or the design of the organization. A start-up launched without any long term vision, lacking basic business fundamentals is bound to fail in the long-term even though it can be successful in the short-term. However, an idea that seeks to address a pain-point and plans to be around for many decades will eventually be successful if given the right environment to foster. Entrepreneurs should be ready to go through lean patches during their journey. As long as your have the right fundamentals in place and an unquenchable thirst to learn from your failures you will able to bounce back and break your previous records.
4. Adapt to change and Re-Invent
A few thoughts on the rebirth of IT: http://t.co/OmFNThN043 @GoogleAtWork

— Eric Schmidt (@ericschmidt) October 10, 2013
The game of cricket has undergone tremendous change over the last two decades. Today there are newer formats, a lot more technology, an overdose of analysis on every game, every wicket, every shot; in short the stakes are much higher. It's interesting how Sachin Tendulkar adjusted to all these changes during his career, constantly tweaking his arsenal of shots in the game to keep up with the times and his competition. During the second half of his career post 2003 he reduced his aggression on the field and became more of an accumulator of runs than a swashbuckling opening batsman. This was in part due to the toll his injuries had taken on certain parts of his body.
An entrepreneurial business, which is built to last over a long period of time also needs to continuously adapt to change and develop new products, plans and strategies to combat competition. Else, it risks the fate of becoming redundant as evident by the demise of giants like Nokia, Blackberry, Kodak among others. Similar to how a sportsmen's injuries can force him to re-invent himself, an organization may also suffer occasional injuries from time to time. To arise from the same may require acknowledging the change, adapting to the same and re-inventing before its too late.
Last but not the least, entrepreneurs and business leaders must not feel elated about the converting their creation into a brand that is known and recognized widely. Brand resonance has no meaning if the possibility of producing a healthy balance sheet in bleak, it's the P&L which matters and not the PR.
At the peak of his career Sachin Tendulkar was among the most written about people in India. His endorsements ran into double digits and he himself was among one of the powerful brands in the country. Even so, Sachin never let any of the PR hype around himself affect his game. As he retires from the world of active cricket towards then end of 2013, his life has been based on the core aspects of hard work, humility, levelheadedness, continuous learning and a passion to keep going and never give up. His career stats also speak for his performance as does his net worth which came as a result of his passion for the game. Future generations will idolize Sachin for his qualities and his achievements in the same manner in which he idolized Sunil Gavaskar and Vivian Richards.
The end goal of an entrepreneur should be the same; to retire after creating an enterprise that is known for its principles, values and achievements rather than its stock price. If Sachin Tendulkar could stay young till his dying day he would have played professional cricket till then. Unfortunately, professional sport requires high degree of physical agility. Entrepreneurship however requires a high level of mental agility. Barring any life-threatening diseases an entrepreneur can go on and on till his dying day.
So to all entrepreneurs:
Enjoy the Game and chase your dreams, dreams do come true ~ Sachin Tendulkar
Note: The author is a Serial Entrepreneur pioneering in technology product innovation in the Internet and Media space in India.