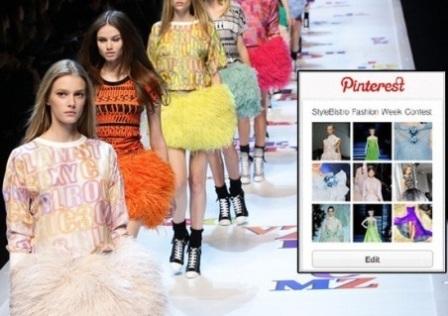 Since the start of 2012, a social curation platform born out of Palo Alto, California (where else could it be) has gone from relative obscurity to exalted status pitting it alongside the likes of Facebook and Twitter as the next big thing in social media. Pinterest, a social-bookmarking site with an unusually high user base of women in its biggest markets of US and Canada is now looking to establish a presence in more international markets. It's likely going to have to find a different user niche in each new market, as its current growth has largely been propelled by a female, Midwestern-skewing audience.
As explored in our Pinterest 101 feature, the tagging platform in its current form is an attraction for highly visual people. For anyone with an interest in fashion, arts and crafts, recipes, travel, and interior design, Pinterest is the place to influence and seek inspiration. However such may not be the case in other international markets of MENA and Asia given the difference in demographics and lifestyle. Cotton Delo explores this notion in her piece on Adage
Part of Pinterest's challenge in breaking out in new markets might eventually be finding the sweet spot of users who will have an obsessive love for the platform.For example, while a pervasive use of the platform in the U.S. is to post home improvement and design inspirations, there's not nearly as much of a cultural interest in DIY in Japan, where renting a home is more common and housing units tend to be much smaller
In its current form though Pinterest is revolutionizing the world of style and is increasingly being used as the chosen platform to showcase new fashion trends. Surely, if you are seeking to learn about what's hip and in-market its easier to view the creations rather than read about them. Scientifically speaking as well, our brains are more receptive to remembering things that we see as proved by the Dale's Cone of Experience model. This suggests that if Pinterest is able to succeed in expanding globally it can easily become a search alternative to Google. Similar to how Twitter is now the place to search for real-time trends and LinkedIn for looking up people.
Karah Street, an account director for Stratacomm, says Pinterest has been an alway-open browser tab since she started using the site in July, 2011. Meanwhile, her Facebook usage has decreased as her Pinterest use has increased.
Pinterest is less about engagement with people you know and more about discovery and idea curation," she said. "The pins you see are customized and pushed out based on self-identified interests…When I'm looking for new trends on specific topics like fashion or birthday party themes, I now search Pinterest first — not Google."
Now, that the growing supremacy of Pinterest as a search, discovery and sharing tool is established, its time to learn about the top influencers on the network. If 'Pinterest Fashion' were to become a verb soon, then one can rest assure that these pinners would be featured as the people to follow on the network. So lets have a look at some of the Pinterest accounts that are possibly threatening some fashion magazines and designers with their reach and following
Kate @ Wit + Delight (@katea)
Kate's boards are as close to a one-stop Pinterest shop as you can get. With boards ranging from "Ladies With Style", "Design", "Hair and Beauty", "Weddings and Events" to "For The Home", "For The Gents" and even food ideas there's something for everyone. With a reach of over a million followers (a number that grow's by the day), Kate is a celebrity in her own right on Pinterest. Each of her pins see massive engagement from her followers in the form of repins and comments which often lead to discussions. When it comes to 'Pinterest Fashion', Kate's board can easily qualify as the place to visit for ideas.
Lisa Salzer (@lulufrost)
If its jewelry and not clothing that captivates your attention, then Lisa Salzer's board for her brand Lulufrost is a must visit. The designer behind the celebrity-adored jewelry line showcases some fine creations covering mostly neck pieces that women love so much. On her boards one is able to find a variety of patterns ranging from simple beaded jewelry to power designs with sparkling gems and stones. She also has an "In the Lulufrost Studio Board", which gives her followers an intimate look at her work-space, projects that are in the works as well her favorite works and photographs that inspire her creative process.
Kimberly (@eatsleepwear)
Blogger and graphic designer Kimberly with close to 900,000 followers divides her style inspirations into two categories. In "Personal Style," she showcases real girls from street style sites and personal blogs while "Fashion," features editorials, ads and the biggest names in the business. The distinction allows for the realistic borrowing of ideas from normal girls and the more dream-worthy sect of less-practical-but-still-amazing images from magazines. Kimberly's "DIY," "Graphic Love," and "Color" boards are equally inspiring (as stated on fashionista)
#Pinterest is the chosen platform to showcase Badgley Mischka's new resort collection | #Fashionrunway.blogs.nytimes.com/2012/06/08/bad…

— Priyanka Serrao ♕ (@PriyankaSerrao) June 12, 2012
Pinterest is a little more than two years old, with no real business model in place and so it still has a long way to go. However, thus far it is showing all the traits of another social media powerhouse which can easily attract advertising spends of retailers, particularly female-focused brands. A recent survey on the influence of blogs and social media in the US highlighted that 81% of women trusted what they saw on Pinterest. Furthermore, 47% of the respondents indicated that a recommendation via Pinterest actually led to a purchase. Both these numbers are higher than those seen by Twitter and Facebook (see the infographic).
Are you a Pinterest user? Do you use it to stay informed about the latest Fashion Trends? Share your thoughts by leaving a comment.