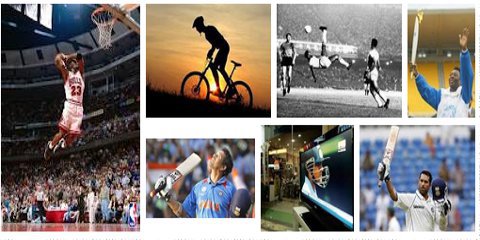 On 16 March 2012, at Mirpur in Bangladesh, Sachin Ramesh Tendulkar while on the score of 99 scored one run with a flick of his wrists onto the legside. In the game of Cricket, one run is the least that can be scored from a single delivery. However, just like an artistic masterpiece is incomplete without its creator's signature, Sachin Tendulkars 100th century was incomplete without that one run. While there were no arguments about his greatness even before 16 March 2012, post that date, his name got etched in stone as he joined the league of extraordinary gentleman in the world of sports.
Born on 24 April 1973 in the household of Ramesh and Rajni Tendulkar, Sachin was named in honor of his father's favorite music director Sachin Dev Burman. Encouraged to take up cricket by his elder brother Ajit Tendulkar, Sachin initially desired to become a fast bowler and even attended the MRF Pace Foundation for training. However, Dennis Lillee who was the bowling coach at the academy at the time was unimpressed by Sachin's bowling skills and urged him to focus on his batting instead. Thereafter, encouraged by his coach Ramakant Achrekar as well Indian cricket legends such as Sunil Gavaskar and Kapil Dev, Sachin made his debut against Pakistan in Karachi in 1989 at the age of 16.
Today, almost 23 years later Sachin Tendulkars 100th century has officially confirmed his unofficial title as the God Of Cricket.
Almost every sport in the world today has associated with it a name that signifies supreme excellence, strong will power and the ability to succeed despite all odds. In some cases these extraordinary men fall from grace showcasing their human side in the public eye. Certain individuals like Sachin Tendulkar however are able to showcase qualities like humility, calmness and levelheadedness despite tremendous success making us truly believe that they are unnatural. We term people that belong to this club as the League of Extraordinary Gentleman.
In this special feature inspired from Sachin Tendulkars 100th century we look at some other individuals who were also once regarded as God's of their respective fields. Unfortunately, most of these great masters have now retired and moved on to other interests in life with the exception of Sachin who still has an year or two left to go. So if you haven't yet seen the master in action, then make the most of the time left by booking last minute holidays to the next city where he is playing.
Nadia Comaneci – Gymnastics
Recognized as one of the foremost athletes of the 20th century by the Laureus World Sports Academy in 2000, Nadia Comaneci was the first female gymnast ever to be awarded a perfect score of 10 in an Olympic gymnastic event. Even today for any aspiring gymnast, Nadia is considered to be the ultimate icon and role-model worth emulating. Similar to Tendulkar whose name had started buzzing in cricket circles before the age of 16, Nadia too became one of the stars of the 1976 Montreal Summer Olympic games at the age of 14.
During the team portion of the competition on July 18, her routine on the uneven bars was scored at a 10.0. It was the first time in modern Olympic gymnastics history that the score had ever been awarded. The scoreboards were not even equipped to display scores of 10.0—so Nadia's perfect marks were reported on the boards as 1.00 instead. Over the course of the Olympics, Comăneci would earn six additional 10s, en route to capturing the all-around, beam, and bars titles and a bronze medal on the floor exercise.
Pele – Soccer
Born on 21 October 1940 as Edson Arantes do Nascimento, Pele is regarded as one of the best football players of all time. Similar to Nadia, Pele was also named "Athlete of the Century" by the International Olympic Committee in 1999.
They say that great men often share common traits if you study them closely and comparing Pele with Sachin one can see a number of uncanny similarities between the two:
Pele was spotted by Brazilian football star Waldemar Brito and first played for his country at the age of 16. Sachin Tendulkar was also first noticed by Mumbai captain Dilip Vengsarkar and made his debut for India at the same age
Both Pele and Sachin are short in stature and hold insurmountable records in their areas of expertise, i.e Sachin for the most number of runs and Pele for the most number of goals
Tendulkar is often referred to as the "God Of Cricket" while Pele was also famously known as "The King of Football" during his career
This is just the tip of the iceberg and if you delve deeper you will finding even more congruence between the lives and achievements of Pele and Sachin Tendulkar. No wonder then that they are both part on an extraordinary league of achievers.
Lance Armstrong – Cycling
In many ways Lance Armstrong is similar to Sachin Tendulkar whose name doesn't only signify genius, great skill and talent but also perseverance and commitment. Cycling isn't among the world's most popular sports and you would have a tough time naming even a few famous professional cyclists, but Lance Armstrong isn't just a world champion cyclist but a brand in himself.
Reading lance Armstrong's book "It's not about the bike " I'm sure it will motivate me and pull me throu this time! Livestrong yuvistrong!

— Yuvraj Singh (@yuvisingh09) January 28, 2012
Upon being detected with cancer recently, Yuvraj Singh sought inspiration from Lance Armstrong who overcame stage three testicular cancer and went on to win seven Tour De France cycling championships. Post-retirement, Lance has done some amazing work for the Lance Armstrong foundation, which supports people affected by cancer. The foundation has become one of the top 10 groups funding cancer research in the U.S., raising more than $325 million from the sale of yellow Livestrong bracelets.
Join hands with me to give a new lease of life and hope to children afflicted from cancer. http://bit.ly/sachins_crusade

— sachin tendulkar (@sachin_rt) May 13, 2010
Sachin too is an active philanthropist who sponsors 200 underprivileged children every year through Apnalaya, a Mumbai-based NGO associated with his mother-in-law, Annabel Mehta. A request from Sachin on Twitter raised more than 1 crore for the Crusade against Cancer foundation in May 2010.
Michael Jordan – Basketball
His biography on the National Basketball Association (NBA) website states,
By acclamation, Michael Jordan is the greatest basketball player of all time
Similar to Sachin, Michael Jordan was one of the most effectively marketed athletes of his generation and was considered instrumental in popularizing the NBA around the world in the 1980s and 1990s. During the peak of his career when he played for the Chicago Bulls, he was the leading game-maker who could on his day, single handedly defeat his opponents. His leaping ability, illustrated by performing slam dunks from the free throw line in slam dunk contests, earned him the nicknames "Air Jordan" and "His Airness".
So there you have it, Sachin Tendulkars 100th century wasn't just an achievement for the record books. It was an accomplishment that put an Indian and a cricketer in a highly distinguished club of super-achievers.