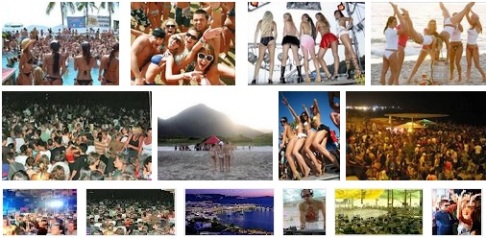 You might have often imagined or dreamed of a place separated from the rest of the world by miles of azure crystal waters, surrounded by powdery white sand beaches, where all you need to do during the day is relax and all you have to do during the night (only you feel like) is partying. Not to mention meeting and interacting with people from different countries, appreciating the beauty of nature and living out some of your fantasies. Such an experience doesn't only exist in the realms of your imagination but is very much present in the real world today.
While there are countless island destinations in the world which offer you a chance to relax and soak in the local culture, there are only a few that can be termed as the ultimate party destinations. These crazy party towns situated near some stunning beaches are as close as you can get to utopia particularly if you are a reveler and party animal. Each of them offer a unique and different experience however they do have a few things in common: the atmosphere is hot, the parties are wild and the hangovers seem easier to handle when on the beach.
Lets find out more about these crazy party towns
Ibiza, Spain
If you breathe Trance, Electronica and House music and think of Tiesto, Paul Van Dyke, Armin Van Bureen etc as your Gods then Ibiza is where you should definitely spend at-least two weeks of your youth at.
Pronounced as Eivissa in Catalan which is the local language here, Ibiza is an island in the Mediterranean Sea 79 km off the coast of the city of Valencia in Spain. It is the third largest of the Balearic Islands, an autonomous community of Spain. Ibiza is world-famous for its summer season which starts in Mid-June every year and ends by early September. It is home to some of the biggest and most well-known clubs in the world such as Space, Amnesia, Pacha, Privilege and Eden. It is also home to Cafe Del Mar which is where lounge and ambient music was born.
At the peak of the summer season is late July, Ibiza is where you can literally party 24X7, so much so that you by the end of your trip you wouldn't think about partying again for a long time. The party calender for the city is decided months in advance and the town boasts of a party bus that plies from 11 pm to 11 am ferrying passengers from one club to another. Most restaurants are also open throughout the night with some special one's that only open in the night.
The clubs at Ibiza are a world of their own in themselves and if you start enjoying yourself you won't even realize when the night turns into day and day into night.
Mykonos, Greece
Mykonos, part of the Cyclades in Greece, is a fabulous summer destination with amazing beaches, constant sunshine, relaxing atmosphere and fantastic water sport opportunities. That's just during the day. The night brings on a bustling nightlife scene, with great selection of bars, night clubs and restaurants. Vibrant beach bars dotting the seaside, numerous clubs open till the break of dawn, party beaches and friendly crowd make the place an excellent destination to have fun, dance, drink and enjoy the holidays.
Mykonos nightlife focuses mainly on beach bars rather than clubs and at the Super Paradise Beach, you will find the most beautiful and uninhibited people you can ever meet. If you are not a party-animal and find Mykonos to be too wild for your tastes then try searching for flights to skiathos. Skiathos is a small island in Greece whose many beaches and wooded landscape attracts tourists who prefer quiet and secluded vacation spots.
Hvar, Croatia
Hvar in Croatia is a city and port on the island of Hvar. The city of Hvar has a long and distinguished history as center for trade and culture in the Adriatic. The port of Hvar, set in a picturesque natural bay, is a safe haven for boats year round. The city is a popular port of call for yachts sailing around the Adriatic, especially in the summer months.
Summer night life in Hvar is by many said to be the richest on the Adriatic. Parties literally last all night long, and guests can visit numerous cultural events in the form of plays, exhibitions and concerts. Later in the night, people are gathering around many bars such as "Archie's bar", "Atelier", "Loco bar" and "Kofein". If you are into more serious partying then checkout Nautica and Kiva where a party is almost guaranteed every night during summer.
Koh Phangan, Thailand
Finally, the last crazy party town that is a must visit is the island of Koh Phangan in Thailand that adds an element of meaning of its parties. The island, located in South East Thailand, is home to one of the world's famed celebration: full moon party. It's said that in the 1980s a group of backpackers were amazed with the extraordinary beauty of the Haad Rin beach during the full moon and decided to throw a huge party to celebrate this celestial phenomenon.
This party has evolved into a celebration that attracts party-goers in the tens of thousands as every type of party music is played all night long, with jugglers and fire-eaters to add to the atmosphere of the enormous dance. Of course, partying is not limited to only one night a month – there're also half moon, black moon and other celebrations going on almost every night on Koh Phangan.
Ibiza, Mykonos, Hvar and Koh Phangan, which crazy party town have you visited or would like to visit. Drop a comment and let us know.