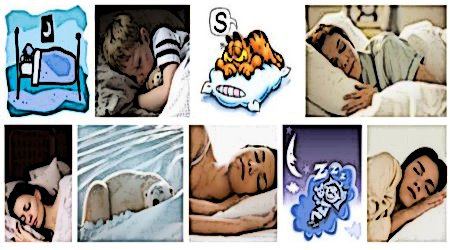 A naturally recurring state characterized by reduced or absent consciousness, relatively suspended sensory activity, and inactivity of nearly all voluntary muscles. It is distinguished from quiet wakefulness by a decreased ability to react to stimuli, and is more easily reversible than being in hibernation or a coma. Observed in all mammals, all birds, and many reptiles, amphibians, and fish it is a heightened anabolic state, accentuating the growth and rejuvenation of the immune, nervous, skeletal and muscular systems.
So goes, the definition of Sleep according to Wikipedia, an activity that is omnipresent across all living organisms and has been around since eternity with even gods depicted as needing some of it. And yet, despite the tremendous advances made by medical science in understanding the human body and its functions the purposes and mechanisms of sleep are only partially clear. In fact the topic of sleep and particularly dreams has been the subject of intense research for many decades which has led to plethora of books on the subject and more recently Hollywood blockbusters like Inception, the success of which made Leonardo Di Caprio one of the highest earning stars of 2011.
In today's hyper-active, always-on and connected world where the alarm clock has been replaced with an iPhone it is extremely essential to get the right amount and right quality of sleep on a daily basis. This raises the perennial question as to what does it take to get a good nights sleep? Does it require a great bed or does it just require the right amount of tiredness and exhaustion? Since people are known to doze off on trains, buses, sub-ways, cars and sometimes even while standing up, the latter seems to be a reasonable conclusion. However, most people will agree that there's nothing like crashing into your own bed after a day of intense work or a night of crazy fun. Which is what brings the focus on to the kind of bed that you must possess to make sure you wake up refreshed everyday.
People sleep for approximately one third of their lives, so on average we spend 25 years of our life in bed. The things that happen within our body while we are asleep are absolutely necessary for us to stay healthy and feel well during the 50 years of our life that we are awake. Infact, the more comfortable and relaxing those hours are, the better it is for your immune system, your healing power, your memory and learning power, your heart, your sense of humor and your overall physical well-being. Research has shown that a number of life giving bodily processes benefit from a good nights sleep.
The above is the mantra and business philosophy of Hastens, a 160 year old Swedish brand known for being the bed of choice for celebrities like Tom Cruise and David Beckham, as well as royals. Unlike other luxury brands which are designed to be ostentatious and create envy among less fortunate people, Hastens is a mark of private luxury catering to one of mankind's most basic needs. Sure, the beds can cost more than first class flights to singapore or any other destination in the world (they range between $2000 to $6000) but its worth the expense if you can afford it.
Recently, the brand launched their flagship store in Delhi to tap into the rising disposable income in various parts of the country. The 2,500 sq. ft. state-of-the-art store is designed as an experience zone where visitors can test Hästens full range of beds along with all natural pillows, duvets and other bed accessories in a luxurious environment. The store with its indulgent ambient lighting and plush beds invites customers to come and live the experience. Hastens beds are homemade and 100% eco-friendly and come in three collections
Frame Beds
Known for their special all-natural upholstering, heat-treated spring system, and their softness, Frame Beds are excellent value for money and ideal for North India's hot temperatures.
Continental Beds
With their high-end spring system and multiple layers of upholstering materials, Continental Beds are very high in luxurious feeling and perfect for anybody with back and neck problems. The individually pocketed springs allow heavier parts of the body, such as shoulders and hips, to sink deeper in the bed so that spine could remain perfectly horizontal and straight preventing the bed from pushing against the body, allowing complete relief.
Adjustable Beds
With an in-built massage system and flexible positions, the Adjustable Beds are the perfect piece of furniture to help with complete relaxation while reading in the bed, watching TV, or surfing on a laptop computer.
All three ranges of bed are designed to provide fullest relaxation and deep sleep so that one makes the most of the rest hours available in a day and lives a long, healthy life. In addition, the beds are ideal for pregnant women, providing their growing baby bumps with extra support at night. Surely, Hastens is a luxury bed brand but if you were to choose between buying an expensive watch, premium branded clothing and a super-comfortable bed, the preferred choice would have to be the last one.