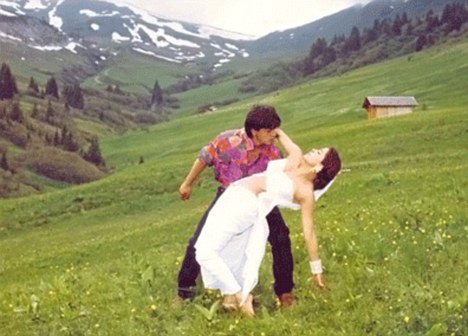 While most of the world associates it with its beautiful snow covered alps and breathtaking landscapes, Bollywood fans from around the world relate to it as the setting for many of their most loved movies. Switzerland, one of the world's few politically neutral countries that hasn't seen war since 1815 and is most commonly known for its Swiss Banks, chocolates and watches, has over the past decade seen numerous Bollywood films shot here become blockbusters.
The European ski destination has long been associated with the Indian film industry, providing the backdrop to some of its cinematic blockbusters such as Dilwale Dulhania Le Jayenge and Kabhi Khushi Kabhi Gham. It is also one of the most famous destination for honeymooners, specially from India who are all there to walk the same turf as their favorite Bollywood stars.
At first glance, Switzerland is exactly what Yash Chopra promised it would be, it is incredibly beautiful. The mountains are just a bit higher, the valleys just a bit deeper, the greenery just a bit greener, and the scenery just a bit prettier than anywhere else. In-fact words like "majestic", "awe-inspiring", "incredible" will often cross your mind when you tour the amazing landscapes. Oddly however the typical notion of sleepy, sensual romance as depicted in the movies is not visible at all here.
In fact, Switzerland is anything but sleepy for tourists who come to the country, mentally prepared to experience holidays filled with all kinds of adventure sports such as hiking, mountaineering, skiing, biking, swimming, parasailing and gliding. Interlaken in particular where most Bollywood fans go for there honeymoons, is filled with Americans and Canadians in their ganjis and shorts talking about how "awwwesome" their bike ride was that day. You'll be extremely lucky to find a "chiffon-sari" clad gorgeous women romancing a handsome man in the adventure filled spirit of this city.
Another thing Bollywood never showed you is how horrendously expensive Switzerland is. Nothing dampens the warmth of romance more than worries about cold cash. A sit-down meal in any reasonably interesting restaurant can cost you up to 50 euros. You could go cheap – eat and live on a budget, but that doesn't really sound very romantic. Infact if you are honeymooning in Switzerland specially in the Interlaken and Lucerne regions, finding a romantic spot will first require you to awaken some of your adventurous spirit, since most of these locations are in the forests.
To make your journey a little bit easier you can easily find information about the DDLJ locations in Switzerland and the Tulip fields from Silsila with some simple Google power as these have become really famous and well-known destinations by now.
A Bollywood enthusiast visiting Switzerland for a honeymoon is a highly niche segment of people so if you happen to be one of them then do share your thoughts about your experience with us.
Checkout Indian Compass for more interesting and engaging stories about travelling in Europe. It not only talks about destinations, but also advises on travel between different countries, budgets, accommodation, paperwork, food and practicalities.