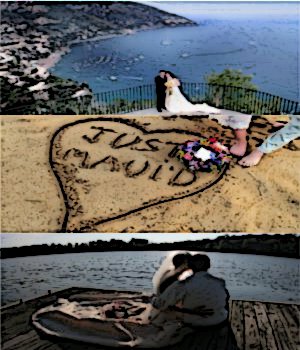 A period of unusual harmony especially following the establishment of a new relationship.
Thats how the Merriam Webster dictionary defines the term "honeymoon". The use of the word "unusual" gives us a clear indicator of what life is like after a honeymoon, unless of course one makes the right start. If you think about it the start to a marriage begins with the Honeymoon and so in way it is like the first step in what should be a long and mutually beneficial relationship.
Honeymoon is a hot topic right now given the secrecy behind Will and Kate's chosen location who as per reports are said to be in Seychelles (see here). Most unmarried couples and bachelors when asked about places they would like to go for a honeymoon mention routine destinations like Queensland, Seychelles, Mauritius, Switzerland, France etc. While these places do have special attractions and packages designed for newly weds that will make your visit pleasant there is also a danger of losing out on an opportunity of exploring a new destination which would otherwise be out of one's consideration set for a vacation.
In this feature we explore three such locations that are not very well-known but offer miles and miles of breathtaking, romantic and as some of the natives term it "death defying" scenery.
Amalfi Coast, Naples, Italy
There is perhaps no place in the world more romantic than Italy and perhaps no region there more picturesque than the Amalfi coast. This location provides breath-taking views, first-rate hotels and a slow pace of life creating the perfect environment for a romantic getaway. You can breakfast on a hotel balcony overlooking the sea, or take a leisurely boat trip along the dramatic coastline. There are also several charming resorts along the shore. Ravello, high above Amalfi, is a quiet and romantic location, with beautiful gardens where one can enjoy evening concerts in the summer.
For someone with an adventurous streak, the city and its neighboring locations also offer a variety of options such an Active Volcano in Mount Vesuvius, a boat trip through the Emerald Grotto or maybe some fishing along the coasts of Amalfi.
Oh, and we forget to mention the lip-smacking authentic Italian food that you wouldn't find anywhere else in the world. After all, the way to man's heart is through his stomach.
Maui, Hawaii
Amongst those living close to the Americas, Maui ranks as one of the top honeymoon destinations. Those who love the sand find Maui as a tropical paradise with its top notch resorts, surf activities and beaches ranging from white to black and red in color. Romantic moments are around nearly every bend in Maui, whether watching the sunrise atop Haleakala or simply strolling barefoot on the beach.
Maui receives close to 3 million tourists a year with a majority of them coming from USA and Canada. It generates close to $3.5 bn in revenue from tourism alone and thus has a mature ecosystem that should make for a hassle free and relaxing honeymoon.
Nevis, British West Indies
The British West Indies was a term used to describe the islands in and around the Caribbean that were part of the British Empire. Today, however most of the territories, including all the larger ones, are independent and operate as separate countries. The Federation of Saint Kitts and Nevis is a federal two-island nation in the West Indies and is the smallest sovereign state in the Americas, in terms of both area and population.
Given its small size, it is the ideal place for those seeking beauty, serenity and solitude. The sunsets at Nevis are legendary and at the end of your honeymoon you will surely have a bunch of great looking pictures that can go up on your Facebook account.
Again, we forgot to mention the sound of Caribbean music which is almost synonymous with "fun and good times".
Finally, if you're not very flexible on your budget but still wanna have a nice time, then perhaps a few short trips in the first year of your matrimony is a better idea. If you live in India, love beaches and are a fan of good music then make sure to plan your Goa holidays around the last week of December. With the Sunburn festival becoming a regular feature here, its surely an amazing place to be celebrate the new year.